Height

Width

Quantity

Unit

Thickness

Tempering

Edges

Calculate

Price

Cart

$0.00
How A Dielectric Mirror Works
Dielectric Mirrors are the cutting edge of tv mirror technology. They allow flawless quality and incredible brightness compared to a two way mirror, ideal for bedroom and living room mirror tv projects.
Dielectric Mirror TV Example Projects
Dielectric glass is the latest in tv mirror technology. The high quality, semi-transparent mirror provides flawless clear text and graphics through the tint-free mirror. To build your own Mirror TV, you'll need:
The mirror, which we can cut to any size you need.
Television – The thinner the better
Frame Moulding (2x the usual amount needed)
IR Repeater to relocate eye of TV
A mirrored tv becomes a centerpiece of your home, a hot decor item with plenty to chat about, especially when you made it from scratch. Considering the full systems from other companies are sold for several thousand dollars each!
Superior optical quality
35% Reflective, 65% Transparent
Shipped fully insured
Easy to clean
Waterproof
Works with PCAP foil
Cuts like regular glass
Edges sanded for safety
Scratch-resistant coating
Polished & beveled options
Temperable for extra strength
Better quality than 2-way glass
Size & Price Chart – Samsung Q60B
Order the mirror by itself to make your DIY Mirror TV project affordable. If you do not see the size you need, use the price calculator to order a custom size up to 96″ x 126″.
TV Size

Mirror Size (Q60B)

Price

Add to Cart

32″

28.5 x 16.8″

$659.60

   

$659.60Add to cart

43″

38″ x 22″

$1,416.18

   

$1,416.18Add to cart

50″

44″ x 25.4″

$1,936.36

$1,936.36Add to cart

55″

48.5″ x 27.9″

$2,260.86

   

$2,303.18Add to cart

60″

53.3″ x 30.6″

$2,643.59

   

$2,697.45Add to cart

65″

57.1″ x 32.7″

$2,968.97

 

$3,031.17Add to cart

70″

61.4″ x 35.5″

$3,399.51

 

$3,449.55Add to cart

75″

66″ x 37.8″

$3,833.60

 

$3,896.28Add to cart

85″

74.8″ x 42.7″

$4,796.76

$4,768.85Add to cart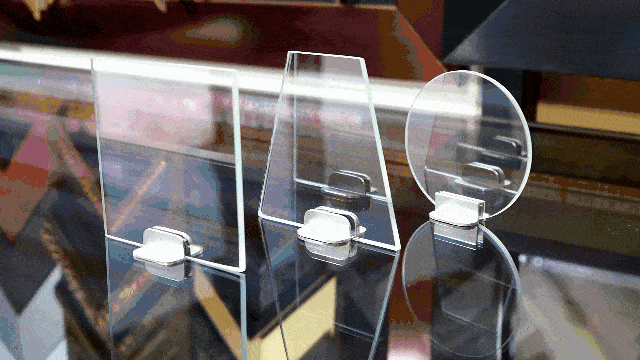 Maximum Size: 96″ x 126″
Temperable Pyrolytic Coating
One Side Transparent
Clear Glass Substrate
Thicknesses: 5/32″ (4mm), 1/8″ (3mm) & 1/4″ (6mm)
35% Reflective, 65% Transparent
Can be laminated
Cutting Accuracy +/- 1/16″
We have been building mirror television systems for 20 years, constantly perfecting our support, manufacturing, and packaging. We provide superior mirrors compared to our competition. Our TV Mirror products are backed by extensive documentation, specifications, videos, and guaranteed quality.
Shipping and Delivery Time
Our team is standing by to process your order right away. Cutting and packaging is typically done within a couple hours. If your glass is tempered, please allow one week for manufacturing.
Lead Time: 1 day until shipped for Custom Sizes* & Samples
Tempered mirrors are 1 week until shipped
Ships worldwide
*For mirror sizes larger than 63″ x 96″, the lead time is 1 week until shipped.
Frequently Asked Questions
Can the Dielectric Mirror be cut into different shapes?
We can cut glass to various sizes and shapes. Send us an email to sales@twowaymirrors.com to request a quote on a custom shape.
Yes, we offer quantity discounts directly through the online shopping cart. For quantities 2+, there is a 15% discount automatically added when you check out. For higher volume orders, please contact us for a quote.
What size mirror should I order?
You will want to order the mirror to be the same size as the overall size of the TV. That way, you can frame it up right to the screen for the best look. Here are some examples of TV sizes to get you started:
32″ Samsung Q60A – 28.5″ x 16.625″
43″ Samsung Q60B – 38″ x 22″
50″ Samsung Q60B – 44″ x 25.4″ 
55″ Samsung Q60B – 58.5″ x 27.9″ 
65″ Samsung Q60B – 57.1″ x 32.7″
75″ Samsung Q60B – 66″ x 37.8″
85″ Samsung Q60B – 74.8″ x 42.7″
We like using Samsung because they are thin, lightweight and bright. You can use any brand/model for a mirror tv project.
Which way do I install the mirror?
Which is better to use, a monitor or TV?
Preferably a thin TV. A TV typically has a flat backside and you can turn it on and off with a remote straight through the mirror. If you are framing right to the view-able area of the screen, you will need an IR Repeater so the remote will work through the television.
Can the mirror be larger than my TV?
Yes, if you're not using a touch overlay. Simply back paint the backside with black paint everywhere except the TV and IR sensor. We recommend masking off the area with blue painters tape, and using a paint that works well on glass such as Black Rust-Oleum UltraCover 2x.
What are the advantages and disadvantages of tempering?
Tempered glass is heat-treated to increase the strength 10x. In addition, if tempered glass should break, it breaks into small shards which are less sharp than regular glass. The main disadvantage of tempered glass is that it causes distortion, similar to a fun-house mirror effect. For that reason, it's generally not recommended unless going in a public installation.
How do I mount this mirror to the wall?
Assuming the mirror is being framed to connect it to the TV, you'll want to use an ultra slim TV mount (0.4″ or less) behind it to keep it close to the wall. Alternatively, using an ultra thin tilting mount (0.75″ or less) will allow you to tilt it, connect cables or USB, then push it back against the wall when needed. Don't forget to use anchors if you're attaching it to plaster or drywall. A stud finder is recommended for mounting a TV wall mount, so you can drill into studs instead of drywall.
The Inland 05319 Ultra Slim Wall Mount is an excellent value at less than $20.
If the mirror is not being attached to the TV and it's simply mounted in the wall, you can still use a wall mount within the wall, attached to a 2×4 board screwed into the studs.
How do I black out the back of the mirror?
You can paint the back (the non-mirror side–unless it's beveled) with black spray paint such as Rust-Oleam High Heat or Ultra Cover 2x. Be sure to mask off the viewable area using a high quality blue painters tape such as Scotch Delicate Surface Masking Tape. Be sure to take careful measurements before painting to avoid mistakes, and you may consider purchasing a product sample from us for practice before painting the larger mirror.
Alternatively, you can use Gila Black Privacy Window Film, and be sure to also buy their application kit.