Product

Height

Width

Quantity

Unit

Thickness

Tempering

Edges

Calculate

Price

Cart

$0.00
Dielectric Mirrors are the cutting edge of hidden television technology. They allow flawless quality and incredible brightness compared to a two way mirror.
Smart Mirror DIY Project
Hidden Television
Interactive Commercial Displays
Augmented Reality Displays
Digital Signage & Advertising

Photobooth Displays
Touch Overlay Displays
Hidden Camera Recording
Teleconferencing & Skype
Photography
8″ x 8″ Dielectric Mirror 1/8″ Thickness  

$0.95

   

$0.95Add to cart

8″ x 8″ Dielectric Mirror 1/4″ Thickness   

$0.95

   

$0.95Add to cart

12″ x 12″ Beveled Dielectric Mirror 1/4″ Thickness   

$24.95

   

$24.95Add to cart

14″ x 14″ Tempered Dielectric Mirror 1/4″ Thickness   

$29.95

   

$24.95Add to cart
Dielectric glass is the latest in smart mirror technology. The high quality, semi-transparent mirror provides flawless clear text and graphics through the tint-free mirror. To build your smart mirror, you'll need:
The mirror (purchased from us)
A monitor, tablet, or TV (purchased separately)
Raspberri Pi, tablet, or PC. (purchased separately)
Touch overlay (optional)
I know it's tough. Sometimes you just want the DIY look without actually DIYing. Our Raspberry Pi comes preconfigured for your mirror tv. Just plug it into your television and you're all set with all the top programs such as clock, calendar, weather, news, and more! In stock, ships immediately.
If you already have a Raspberry Pi 3, follow the steps at magicmirror.builders to configure your smart mirror software.
Superior optical quality
30% Reflective, 70% Transparent
Careful packaging & fully insured
Easy to clean
Waterproof (Glass)
Works with touch overlay
Cuts like regular glass
Edges sanded for safety
Scratch-resistant coating
Polished & beveled options
Temperable for extra strength
Better quality than 2-way glass
Finding an inexpensive touch overlay
Monitors and TVs compatible with touch overlay
You can save time and frustration by choosing the correct display for your touch overlay. You'll need a non-touch display with a flat bezel. The bezel should be black, not silver or white. Avoid curved screens, as the overlay won't be able to lay flat on them. Televisions with too small a bezel (under 0.5″) may pose a problem when laying the overlay on them, as there is nothing to set it on.
We have been building smart mirror and mirror television systems for 20 years, constantly perfecting our support, manufacturing, and packaging. We provide superior mirrors compared to our competition. Our Smart Mirror products are backed by extensive documentation, specifications, videos, and return policy.
Our team is standing by to process your order right away. Cutting and packaging is typically done within a couple hours. If your glass is tempered, please allow one week for manufacturing.
Download Catalog & Instructions
How fast do you ship?
We start cutting and packaging the mirrors as soon as you place your order. Glass & acrylic mirrors are cut and shipped right away, and tempered glass takes 1 week until shipping. When ordering tempered mirrors, lead time is about one week.
Can you do different shapes?
We can cut glass to various sizes and shapes. We only sell acrylic in rectangles and squares, but is easy to cut or drill using standard tools. Please email us a drawing and we will quote it for you.
Do you offer wholesale discounts?
Please email us with the size and quantity you're looking for and we will send a price quote and vendor application form.
What size should I order the mirror?
Usually, the mirror is the same size as the exterior measurements of the television or monitor (excluding stand). For example, the Samsung mu6300 series is very popular and here is a list of overall sizes:
40″ un40mu6300 – 36.1″ x 21.1″
43″ un43mu6300 – 38.4″ x 22.4″
50″ un50mu6300 – 44.4″ x 25.8″
55″ un55mu6300 – 48.9″ x 28.3″
60″ un60ku6300 – 53.7″ x 31.1″
65″ un65mu6300 – 57.6″ x 33.2″
70″ un70mu6300 – 61.9″ x 35.8″
Which is better to use, a monitor or TV?
If you're making a small smart mirror, a tablet is often the best choice. For a large smart mirror, it's generally better to use a TV, preferably a thin TV.  A TV typically has a flat backside and you can turn it on and off with a remote straight through the mirror.
Can the mirror be larger than my display?
Yes, if you're not using a touch overlay. Simply back paint the backside with black paint everywhere except the TV and IR sensor. We recommend masking off the area with blue painters tape, and using a paint that works well on glass such as Black Rust-Oleum UltraCover 2x, which is available from your local Wal-Mart, Home Depot, Lowes, or Menards.
Advantages and disadvantages of tempering?
Tempered glass is heat-treated to increase the strength 10x. In addition, if tempered glass should break, it breaks into small shards which are less sharp than regular glass. The main disadvantage of tempered glass is that it causes distortion, similar to a fun-house mirror effect. For that reason, it's generally not recommended unless going in a public installation.
Difference between sanded, polished, and beveled mirrors?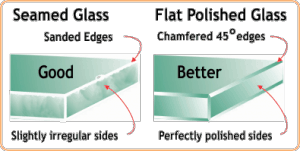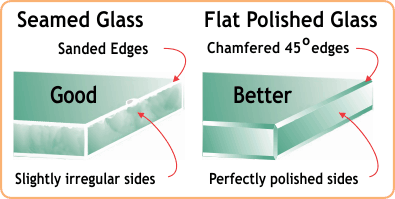 We sand all the edges to prevent cutting, which is also referred to as "seaming" glass. A polished edge using increasingly fine belts until the edges are smooth. Beveling glass polishes the edge at an angle, creating the following appearance: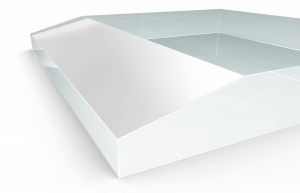 Maximum size
The largest size is 96″x126″ and you can position the display anywhere behind the mirror.
Mirror durability
One of the best features of our glass mirrors is that the mirror coating is extremely durable. You can clean it with standard glass cleaner and paper towels without worrying about scratches. The acrylic is a lot more prone to scratches, but no more so than regular acrylic. Novus 1 cleaner and Polish Mates are recommended to minimize abrasion and repair small scratches.
Electrical requirements
The mirror doesn't require any power, but you'll want to choose your display carefully. If the power plug installs in the side of your monitor/TV/tablet, you should be fine. If the power plug goes straight out the back, you may have a challenging installation which may require cutting into your wall and hiring an electrician.
Drilling holes
Glass: Please email us a diagram for a quote.
Acrylic: Use a regular drill bit to drill holes.
Mounting
Use standard mirror clips or a j-channel to mount a mirror flush to the wall.
Backpainting glass
You can paint the back (the non-mirror side–unless it's beveled) with black spray paint such as Rust-Oleam High Heat or Ultra Cover 2x. Be sure to mask off the viewable area using a high quality blue painters tape such as Scotch Delicate Surface Masking Tape. Be sure to take careful measurements before painting to avoid mistakes, and you may consider purchasing a product sample from us for practice before painting the larger mirror.
Alternatively, you can use Gila Black Privacy Window Film, and be sure to also buy their application kit.
Mounting a TV
Assuming the mirror is being framed to connect it to the TV, you'll want to use an ultra slim TV mount (0.4″ or less) behind it to keep it close to the wall. Alternatively, using an ultra thin tilting mount (0.75″ or less) will allow you to tilt it, connect cables or USB, then push it back against the wall when needed. Don't forget to use anchors if you're attaching it to plaster or drywall. A stud finder is recommended for mounting a TV wall mount, so you can drill into studs instead of drywall.
The Inland 05319 Ultra Slim Wall Mount is an excellent value at less than $20.
If the mirror is not being attached to the TV and it's simply mounted in the wall, you can still use a wall mount within the wall, attached to a 2×4 board screwed into the studs.
Routing a frame to a TV bezel
Take your frame sticks to a wood worker or use a router table to route out the frame to the correct size such as the Bosch RA1181 Benchtop Router Table.