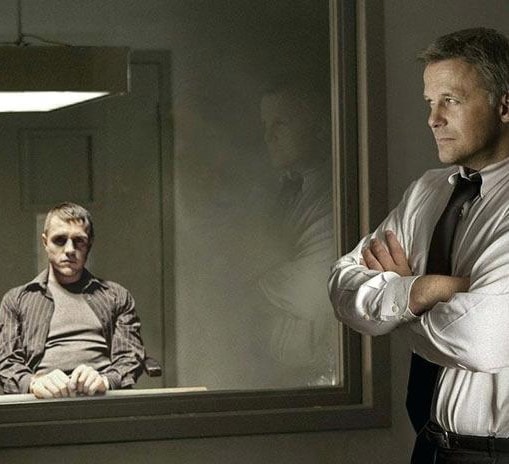 A two way mirror, also known as a one way mirror, is reflective from one side and transparent from the other. Two way mirrors are ideal for observation, privacy, infinity mirrors, and optical illusions. It is manufactured by baking the mirror coating on grey tinted glass. This results in a highly durable, waterproof coating that's easily cleaned and can resist scratches.
Wondering what a two way mirror looks like in action? Check out the two way mirror we supplied to Mr. Beast for an observation room:
On the inside of the cell, Mr. Beast is unable to see outside due to the high reflection of the glass, while the rest of his crew is able to observe his behavior from the non-reflective side. This is also a common setup for reality shows such as Big Brother and Couples Therapy.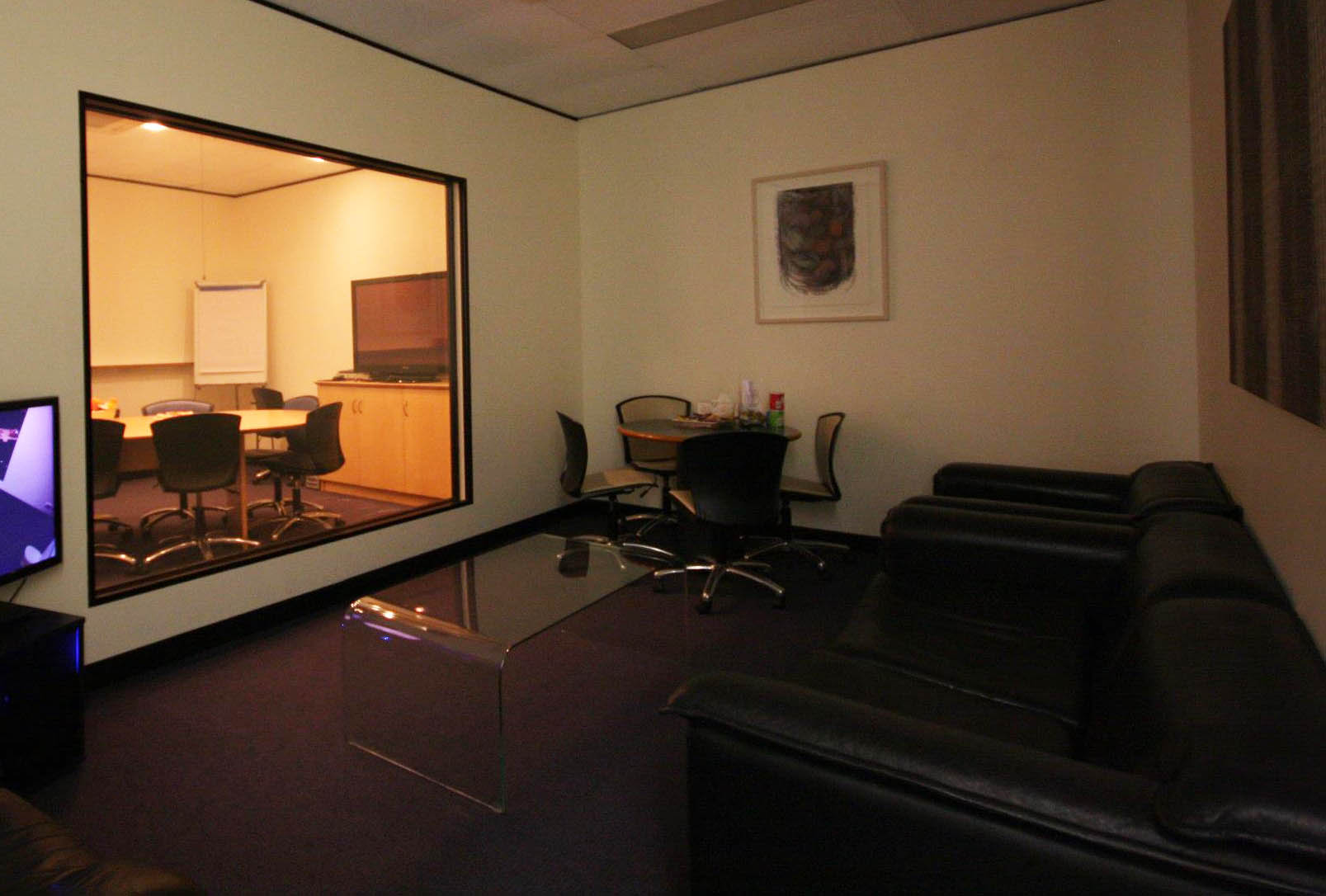 We stock large sizes of two way mirrors, and experts are standing by to cut and package them immediately. Our price calculator allows for instant pricing and ordering. Edge polishing is offered for applications needing an elegant exposed edge. Tempering is offered for applications where high strength is needed to prevent breakage. If you're looking for a custom shape, please contact us for pricing. In addition to two way mirrors, highly transparent mirrors can be purchased from us for custom applications such as teleprompting, smart mirrors, and TV mirrors.
Buy the Glass Two Way Mirror directly online in rectangles or squares. We can also do custom shapes. To get pricing for special shapes, simply email us at sales@twowaymirrors.com with a quote request.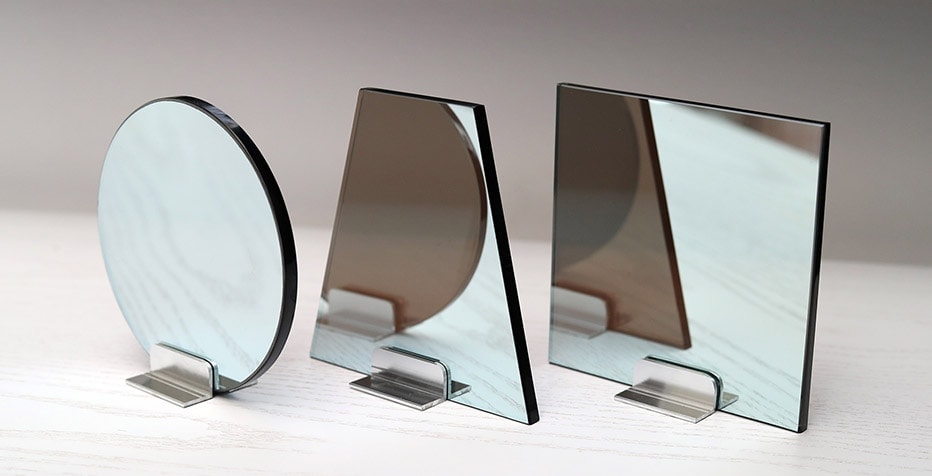 A two way mirror, also known as a one way mirror, is transparent on one side and reflective on the other. A durable coating is created by permanently baking a thin layer of aluminum on grey tinted glass.
Glass Two Way Mirror Features
The appearance of a glass two way mirror depends on which side you are looking through–it is only reflective from one side. With lighting darker on the observation side, the observer is able to see straight through it, but from the other side all you see is a regular mirror. We can temper the glass to increase its strength by tenfold. The glass is rated for both indoor and outdoor use and has a highly durable coating which can be cleaned with standard glass cleaner and paper towels.
Flatter than the acrylic.
1 side reflective, other side is transparent.
Temperable to increase its strength by 10x.
Lead time: 1 day until shipped if 65″ x 96″ or smaller
Durable coating can be with standard glass cleaner.
70% Reflective, 11% transparent for optimal privacy
Add window tint to non-reflective side to increase privacy.
Stage Effects
Animal Research
Safe Room
Education
Architecture
Home Privacy
Store Security
Scientific Research
Market Research
Reality Television
Stage Magic
The easiest way to test the lighting with just a small piece is to cut a hole in a large piece of cardboard and place the sample over the hole. This will allow you to judge the reflective properties in a larger area.
Maximum Size: 96″ x 130″
Temperable Pyrolytic Coating
One Side Transparent
Grey Substrate
Thickness: 1/4″ (6mm)
70% Reflective, 11% Transparent
Can be laminated
Tempered Versus Non-Tempered
Tempered glass is heat-treated to increase the strength 10x. In addition, if tempered glass should break, it breaks into small shards which are less sharp than regular glass.
The main disadvantage of tempered glass is that it causes distortion, similar to a fun-house mirror effect. For that reason, it's generally not recommended unless going in a public installation.
In the image below you can see the visual distortion it has along the 1″ perimeter of the mirror.
We took the image by having a screen show striped lines and angled the camera so the mirror is reflecting these lines on its surface. The display setup is shown below as well.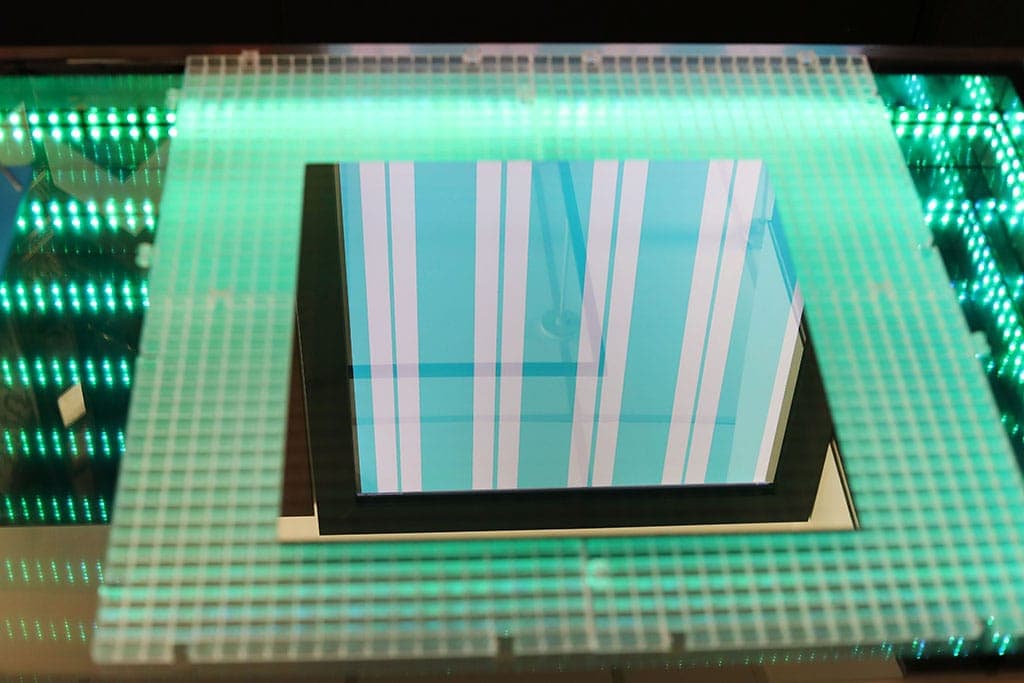 Frequently Asked Questions
How do I install a two way mirror?
You can install a two way mirror just like you would a regular mirror or window, depending on the type of installation.
How does 1 way glass work?
One-way mirrors are the same as two-way mirrors. It has a semi-transparent mirror coating so it is see through and reflective at the same time! How it looks depends on the lighting on either side of the mirror. Keep the "backside" dark and the mirror side bright to turn it into a mirror.
What is a 2 way mirror?
A two-way mirror is also known as a one-way mirror. When you hold the mirror up in the air, it is see through. When you make the back side dark and the front side bright… it turns into a mirror. This is because it has a semi-reflective/semi-transparent mirror coating on a gray glass substrate.
Is it one way mirror or two way mirror?
A one way mirror is also called a two way mirror. Both terms describe the same type of mirror. To create the one way mirror illusion you must work the lighting. You must make one side dark and the mirror side bright for it to look like it is not transparent.
Which way is the Glass Two Way Mirror installed?
The glass two way mirror we provide is one-directional. You must install it with the mirror coating facing the brighter (subject) side to work. This is because the two way mirror coating is on a gray glass substrate. If you want something two-directional, see the acrylic two way or glass smart mirror.
Can you manufacture sound proof two way mirrors?
Yes, we offer 1″ insulated sound proof glass. Please contact us with the size and quantity you need and we can send you a price quote.
Can you manufacture bullet resistant (ballistic) two way mirrors?
Yes, we are able to laminate the two way mirror to other layers which offers bullet resistance. Minimum thickness is 1 3/16″ for the lowest level of protection which you can order directly online here. For higher levels of security, please contact us with your specifications and we will send over a quote via email.
What is the difference between sanded and polished edges?
We sand all the edges to prevent cutting, which is also referred to as "seaming" glass. A polished edge using increasingly fine belts until the edges are smooth.
What is the best tool to cut glass two way mirrors?
With non-tempered mirrors, the score-and-break method is used with a glass cutting wheel, just like regular glass. Tempered glass can't be cut. Check out our ultimate cutting tool guide with tips and tricks here.
Cutting Tools We Love
What is the difference between a two way mirror, tv mirror and smart mirror?
A glass two way mirror is extremely dark, preventing people from seeing through it. Our other products are more transparent, to allow better viewing quality to the display.
Can you cut different shapes or drill holes?
We offer full fabrication services, please contact us with the size, quantity, and diagram in JPG or PDF format for a quote.
How fast do you ship?
We are standing by to cut and package your mirror immediately. Untempered glass is typically shipped within 1 day, tempered glass takes about 1 week.
Can you laminate the glass two way mirror?
Yes, we can laminate the two way mirrors to clear glass to enhance safety. Please feel free to contact us for a quote.
How strong is the Glass Two Way Mirror?
Our glass is exactly the same strength as regular glass. If you need a high level of strength, the 1/4″ thick acrylic mirrors can easily withstand a high-speed impact from a blunt object such as a hammer. The glass is brittle unless you get it tempered, which increases the strength by 10x.
What glue should I use with the Glass Two Way Mirror?
For glass we recommend UV glue or CRL black mirror mastic. We recommend you practice first on a sample piece to make sure you are satisfied with the effect before trying it on larger mirrors.
How do I figure out which is the mirror side of the glass two way mirror?
The easiest way to figure this out is to put your fingernail against the mirror. If there is a gap between your finger and its reflection (i.e., you can see the entire tip of your finger in the mirror), it is the uncoated side. If there is no gap between your finger and its reflection, it is the coated side.
How likely is it that my mirrors will break in shipping?
It's very unlikely that our mirrors will break in transit. Our mirrors are fully insured and packaged in custom boxes and wrapped in strong, flexible packing materials to ensure that they're well-protected during transit. If they should arrive broken, send us a picture of the broken glass and the outside of the box, and we will send replacements right away.
Can the mirrors be used outside?
The glass mirrors work great outside and as windows. The acrylic mirrors don't work outside because moisture damages the coating.
What should I use to clean the surface of the mirror?
The coating of the glass is extremely durable and can be cleaned with any standard glass cleaner such as Windex and paper towels.
Cleaning Products We Love
How can I make my own two way mirror?
It is advisable to purchase it premade from us to avoid handling silver nitrate, a dangerous chemical. If you attempt to make them on your own, be sure to wear protective gear to avoid exposure to it.
The best way to turn clear glass into a two way mirror is to use the Two Way Mirror Film.
Can you use two way mirrors in a shower to increase privacy?
Glass two way mirrors work great in a shower. You'll want to make sure you order tempered glass or even tempered laminated for enhanced safety. If you send us a diagram including any holes you want drilled, we can send a custom quote.
What is the recommended light ratio for privacy?
An 8:1 subject side to observer side light ratio is recommended.
How can I make a two way mirror?
*This page contains Amazon affiliate links.