Type

Height

Width

Unit

Quantity

Calculate

Unit Price

Cart

$0.00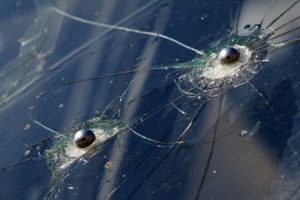 Ballistic Two Way Mirror Sample
Multiple laminated layers
Thicker than normal glass
Thickness: 1 3/16″ (customizable)
Clear or Two Way Coating
Max Size: 96″ x 126″
Approx 13 lbs/sq.ft. (varies)
Cutting Accuracy +/- 1/16″
Level 3 Bullet Resistant Glass
Lead time is 3 weeks
Thickness plays a huge part in a product's ability to resist bullets. Ballistic glass is designed to remain intact for one bullet or one round of bullets. Depending on the force of the bullet being fired and what type of weapon is used, a thicker piece of bullet-resistant glass is needed to stop a bullet with more force. For instance, a shot fired from a 9mm pistol is less powerful than one fired from a rifle. Therefore, the required thickness of bullet-resistant glass for a 9mm pistol is less than is needed for a rifle. The final thickness of bullet-resistant glass usually ranges from about .25 inches to 3 inches.
Our Ballistic Glass comes in Clear or with a Two Way Mirror coating. In our price calculator we offer the 1 3/16″ thick ballistic glass because it is the industry standard. The thickness can vary depending on what level of security that needs to be met.
Ballistic Glass consists of several layers, combining the toughness of tempered glass with the strength and shatterproof abilities of plastics.
Frequently Asked Questions
This glass is tested to resist bullets when used in vehicles and buildings. We can help you order the perfect composition for maximum security.