Teleprompter Mirror Product Information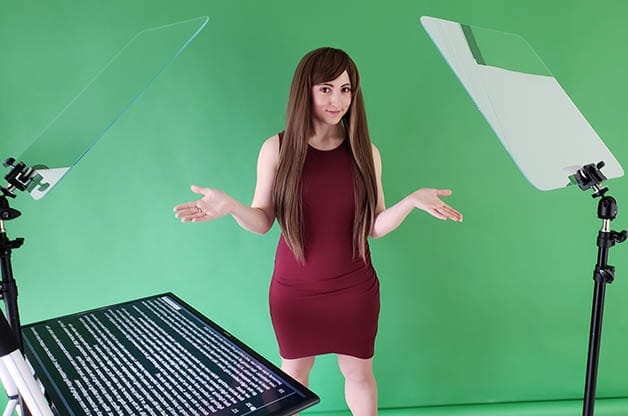 A glass teleprompter mirror, also known as a beamsplitter mirror, is a semi-transparent mirror that reflects text while allowing flawless recording through it. The back side of the mirror has an anti-reflective coating which prevents "ghosting," which is a double image you'd see when using standard glass.
Our glass teleprompter mirrors are the same mirrors used in professional teleprompters. They have the highest optical quality on the market. Providing flawless recording quality in 1080p, 4k, and 8k.
Buy the Teleprompter Mirror directly online in custom sizes. We can also do custom shapes. To get pricing for shapes not listed below, email us at sales@twowaymirrors.com with a quote request.
Heavy duty stand and clip prevents tipping
Instant assembly and disassembly
14″ x 14″ Optical Grade Beamsplitter Mirror
Custom size glass available
Outdoor teleprompter glass available
Compatible with 10″ to 24″ tablets, laptops, & monitors
Use with larger displays with optional stand
Free teleprompter software included
Adjustable height up to 8 ft
Adjustable glass angle
Guaranteed Quality
In stock, immediate shipping
Expert customer support
Great value at only $799.95
Frequently Asked Questions
We have 20 years shipping glass, and make sure everything is perfectly packaged. If the glass should break, just send us pictures right away and we'll replace it at no cost to you.
The mirror coating is extremely durable and scratch-resistant. It is unlikely to be scratched by most objects. You can use paper towels on it without worrying.
The mirror coating is very durable, so you can simply use glass cleaner and paper towels. Read our full guide on cutting, cleaning and maintenance with optical mirrors.
*This page contains Amazon affiliate links.
A teleprompter mirror is extremely transparent so it is ideal for recording in the absolute best quality. A two way mirror is for privacy since it only allows 11% of the light through the mirror. Read the full article on the teleprompter mirror versus the two way mirror.
Making your own teleprompter can be easy and fun! Follow our diy teleprompter guide and start teleprompting now!
Duties & taxes are billed separately for international shipments by FedEx or UPS.