Sales, Quotes, & Information
We're available via phone, email, and online chat to provide information and quotes. With 20 years experience manufacturing two way mirrors, our team of engineers and optical mirror specialists has the expertise to quickly and accurately answer any questions you have.
Factory / Showroom Address:
Two Way Mirrors
5232 Airport Hwy
Toledo OH 43615
We are experts in delivering custom cut glass in a very tight time-frame. If you have a project with urgent needs, contact us via email for a quote and we will confirm the project deadline is possible.
As a guide, here are the basics of our lead times:
Custom cut glass is 1 day until shipped for most sizes
Tempering is 1 week until shipped
Lamination is 1-2 weeks until shipped
Urgent processing is available to put your project to the front of the queue.
For government orders, we do have a DUNS and CAGE code. A DUNS code is a unique 9 digit number that corresponds to our physical business location. It identifies, validates and links more than 280 businesses worldwide. It is what allows us to do business with the U.S. Federal Government.
DUNS: 859769122
CAGE CODE: 7SCR5
We are glass AND packaging experts. Our shipments are fully insured and we ship worldwide. You can order directly online – or feel free to contact us via email to place an order.
With glass we can do custom shapes, including but not limited to rectangles, squares, trapezoids, and circles.
For extremely custom shapes we can work up a quote and fabricate using a Waterjet. Waterjet machining opens up the ability to have an extremely high precision cut with a complex shape. Generally to have this done we would need a .DXF file to work from for the best result.
Wide Range of Thicknesses
Often times a client will come to us for a special type of mirror need where the thickness is critical. We offer a wide range of thicknesses for each mirror type that are difficult to find elsewhere.
For example, our Teleprompter Mirror in 2mm thickness is quite niche but as soon as we started making it available, there was a need for it and it is now a best seller! Another specialized thickness we carry is the Glass First Surface Mirror in 0.5mm thickness. While this may seem like overkill, some clients need that ultra thin glass for specialized artwork in the coldworking glass industry, as well as scientific and optical applications.
When it comes to thickness, sometimes you may need a really thick piece of glass. For example, most float glass is 1/4″ or thinner. To get a thicker material for specialty glass like the Glass Two Way Mirror, we can laminate it to clear or low iron glass to make it thicker. The most common thickness in that case is 1/2″ thickness overall. We can also Soundproof it to 1″ thickness, or even go ballistic for additional safety.
Different Styles of Polished Edges
Sanded Edge:
Standard orders with no specifications on edge work have sanded edges. The sanded edges prevent cuts and minimize glass sharpness on the edge. This creates safety when handling the glass. If the edge of your glass will not be seen (frames, standard windows, etc.), this is ideal.

Polished Edges:
Polished edges require a special process when sanding the glass. The outcome resolves in a shiny, elegant edge. If the edge of your glass will be showing (tables, art, cabinets, etc.) a polished edge would be the best option.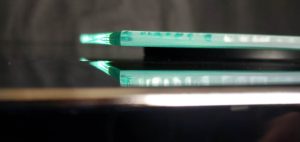 Beveled Edge:
Similar to a polished edge, a beveled edge is used for creating an elegant design. A beveled edge gets lower towards the edge. It is often used for fancy windows, cabinets, and more!