Height

Width

Quantity

Unit

Tempering

Calculate

Unit Price

Cart

$0.00
Anti-reflective glass, also known as museum glass, AR glass, and invisible glass, offers crystal clear transparency. It eliminates reflections to a fraction of standard glass. As a result, it's ideal for applications which require a high level of visual clarity, such as display cases, multimillion dollar artwork,  museum exhibits, and upscale architecture. On this page, we'll go in-depth on the applications, benefits, and frequently asked questions about the glass.
How AR Coating Technology Works
AR coatings are dielectric nanotechnology and are created by dipping low iron glass into special metal oxide solutions.  The glass is then heated to 500 degrees Celsius to create oxidic layers that eliminate reflections.
The end result of this process has an extremely high clarity, which can be used in a wide variety of applications, especially in bright areas, where reflection would prevent visibility.
For pricing & ordering, you can use the price calculator at the top of this page or contact us for a custom quote. We accept CAD drawings, PDFs and JPG images of special shapes. Shoot us an email with what you need and we will provide a fast quote which includes all of your specifications. 
Museum Exhibits
Engineering & Science
Observation Windows
Protect Valuable Art
Upscale Architecture
Luxury Retail & Restaurants
Display Cases
Hospital Windows
Retail Storefronts
Zoo & Aquarium Exhibits
VIP Stadium Seating
Recording Studios
Low Iron Substrate – Eliminates the green tint normally seen in glass.
Optical Grade – Dielectric technology provides high level of light transmission
UV Protection – Protects people and valuable items from harmful UV light.
Fast Shipping – We're standing by to cut and ship your order immediately.
Expert Packaging – Carefully packed and fully insured to protect your investment.
Sanded Edges – The edges of the glass is carefully sanded for your protection.
Durable Coating – Clean with standard glass cleaner and paper towels.
Worldwide Service – We carefully package and ship the glass from our factory in the USA.
Guaranteed Quality – Backed by our industry-leading return policy.
AR glass has a hard coating that withstands tempering to enhance safety and security. This makes it perfect for upscale applications where the general public or children may be close to the glass.  When people are pressing up against the glass, for example, in outdoor applications such as zoos, this is a crucial feature to ensure the glass is strong enough to keep people safe. Because it's anti-reflective, viewers are able to maintain more of a distance from the exhibits to see clearly, so they have the ability to stand back from the glass. It's the high light transmission combined with the reduced reflection that makes the Anti-Reflective Glass a truly magical piece of glass. This combination will eliminate the sight inhibiting reflections from the glass, allowing the potential customer to see the showcased item with crystal clear clarity.
AR glass simultaneously offers high transmission while blocking 99% of harmful UV rays. That makes it perfect to protect expensive works of art and keep people safe behind it.

Why is Anti-Reflective Glass a must have:
Anti- Reflective glass is important for a lot of displays, such as jewelry cases, store fronts, and Aquariums. Why? Say you go into a nice jewelry store, you want the perfect ring, the one. The jewelry store is super nice inside, you can tell it's expensive. As you are looking for the perfect ring, and you can't see through the glass. All you can see is terrible reflections from the light above the display, or even your own reflection. The reflection doesn't allow you to see all the great options. Which can be a huge problem for the seller, losing business. It goes the same for store fronts and aquariums.
UV radiation is harmful rays that can hurt paintings and drawings.  Too much exposure of UV Radiation can damage works of art over time. This will cause fading, cracking, distortion, as well as lifts the surface of the art. Using Anti- Reflective glass is only the first step for Museum Exhibits. Museum directors invest a lot of money and time in making sure the art is safe. They have to keep the humanity to a low, using a UV meter, as well as proper lighting. Most Museums block all harmful UV radiation from coming into the building so it is less to worry about. Anti- Reflective glass is MUST have for museums, as you can see.
Mona Lisa, Leonardo da Vinci
One of the most famous paintings, the Mona Lisa painted by Leonardo da Vinci, has completely changed from over time. It has faded, shrank and even has a yellow layer over it. Scientists have proven it is from flash photography, UV radiation, and just ageing from over time. Scientists removed age spots in the 1950's, very carefully. Today, the Mona Lisa is in an air conditioned frame, no flash photography is allowed, and people are required to stand back from it.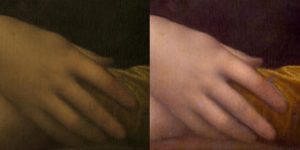 Applications
Image a world without Anti-reflective glass… Your glasses would have back-glare (light hits the back of the lenses, right into your eye). Customers couldn't see your display on the outside of your store, leading towards a lack of business. There would be point in picture frames or museum exhibits when you can't what's on the other side due to the high reflection.
Museum Art Framing
Picture Framing
Shadowbox Frames
Storefronts
Windows in Showrooms
VIP Seating Areas in Stadiums
Aquariums
Pinball machines
Arcade machines
Jewelry cases
Interpreter cabins
Recording studios
1% reflective (clear glass is 8% reflective)
Best color stability with variable viewing angle
Super durable coating
Clear and neutral
Blocks 99% of UV light
1% luminous reflectance
Increases natural daylight in rooms
Weatherproof
Easy to clean
Extremely scratch resistant
Low iron substrate
best possible color stability with change in viewing angle
Frequently Asked Questions
Is Anti-Reflective Glass clear?
Yes! It looks like a standard piece of glass, clear and neural.
Can I use this outside?
This glass has a weather resistant coating, able to with stand weather condition.
Does it protect against anything?
This glass protects against UV radiation, making art behind the glass, last much longer as well as prevents from fading.
Can you order Anti-Reflective Glass tempered or laminated?
Yes, you can! Give us a call or shoot us an email and we will send you a quote right over.
What is the difference between sanded and polished edges?
All of our glass is shipped with sanded edged to ensure safety for our clients. Polished edges are create using a fine belt until the edges are smooth.
Can we cut you a custom shape and size?
Yes, that is our specialty! Email us a image of the shape you need along with the specific measurements and we will send you a custom quote.
How quickly can I receive my glass?
Most of our orders are cut and shipped the day of your purchase!