Check out the video below that shows the simplicity of the infinity mirror illusion.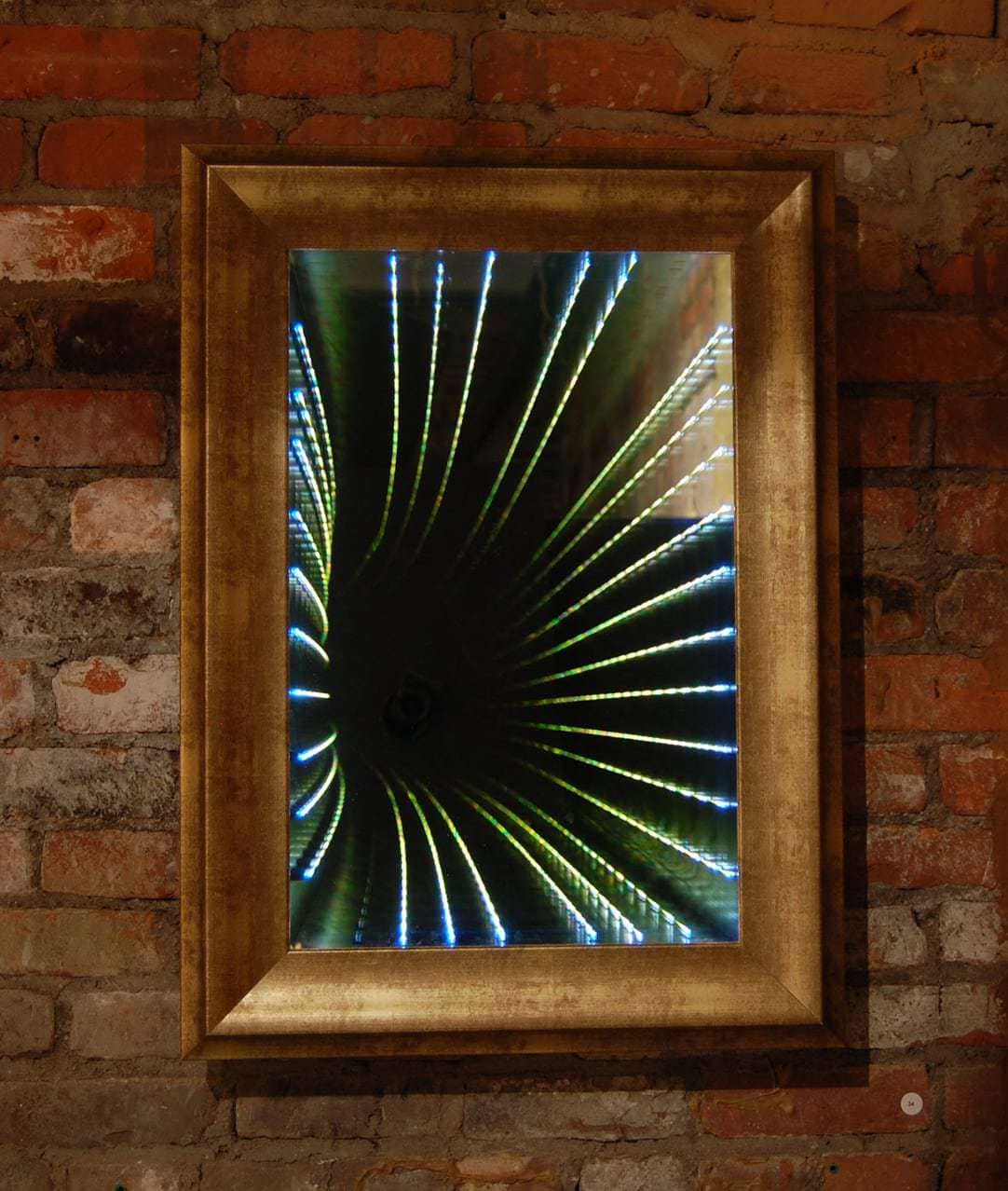 Framed Infinity Mirror with Glass Two Way Mirror
Infinity Mirror Description
Infinity mirrors are one of the greatest and easiest optical illusions to create. By using three simple things: two mirrors and a light source. When these are combined, it creates the illusion that the lights are trailing off to infinity, into the abyss, by placing the lights between the two mirrors.
Traditionally the setup uses a glass two way mirror and a standard mirror to create the effect. People have taken this to the ultimate level by making tables, cubes, different designs, signs and so on by manipulating lights and different types of glass.
I know that is a lot to throw at you, so here are the basics to create your own infinity mirror:
What You Need
Glass Two Way Mirror (or other semi-transparent mirror)
Standard Mirror (or First Surface Mirror)
Lights to put in-between (LED light strips are recommended)
Something to hold it together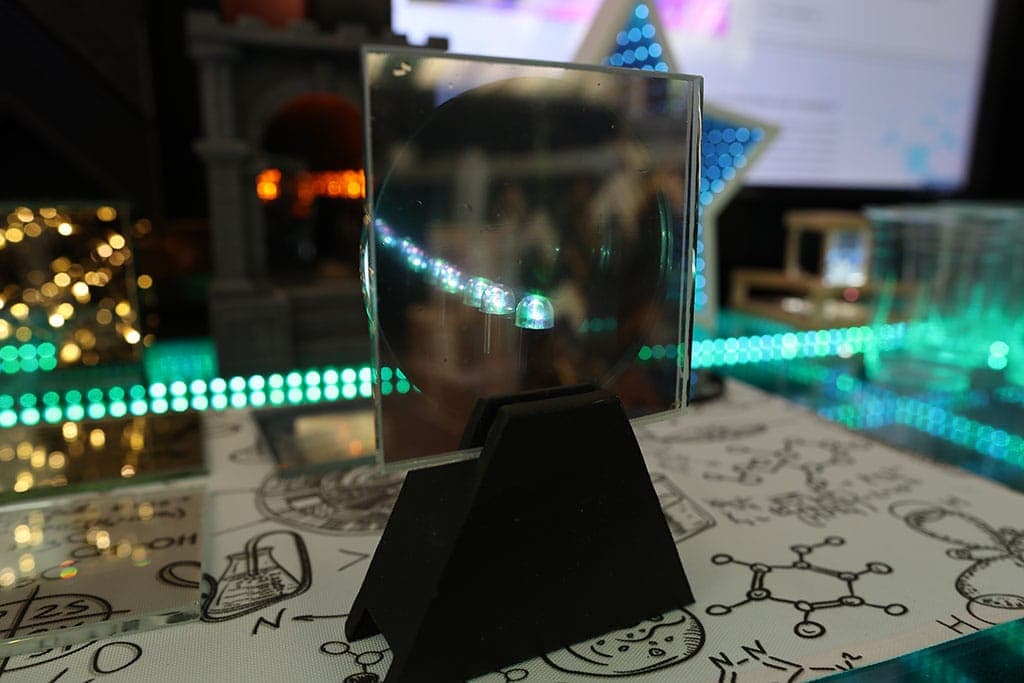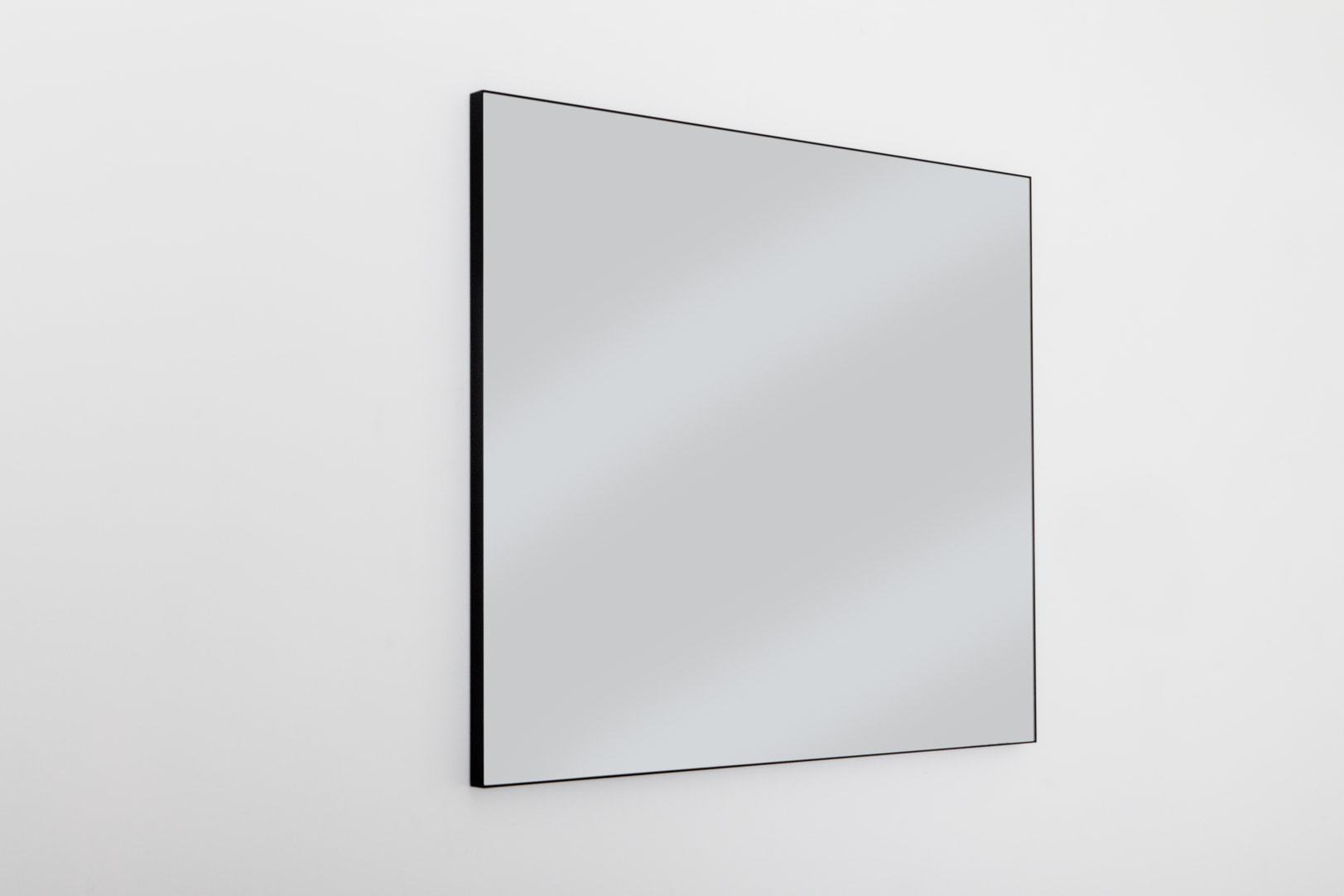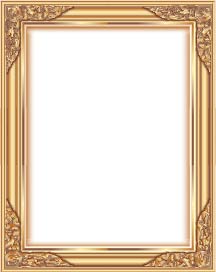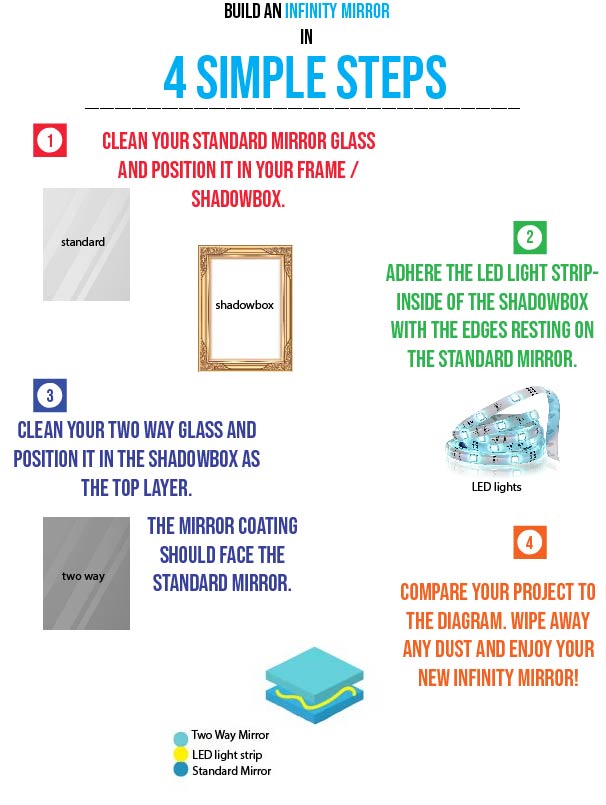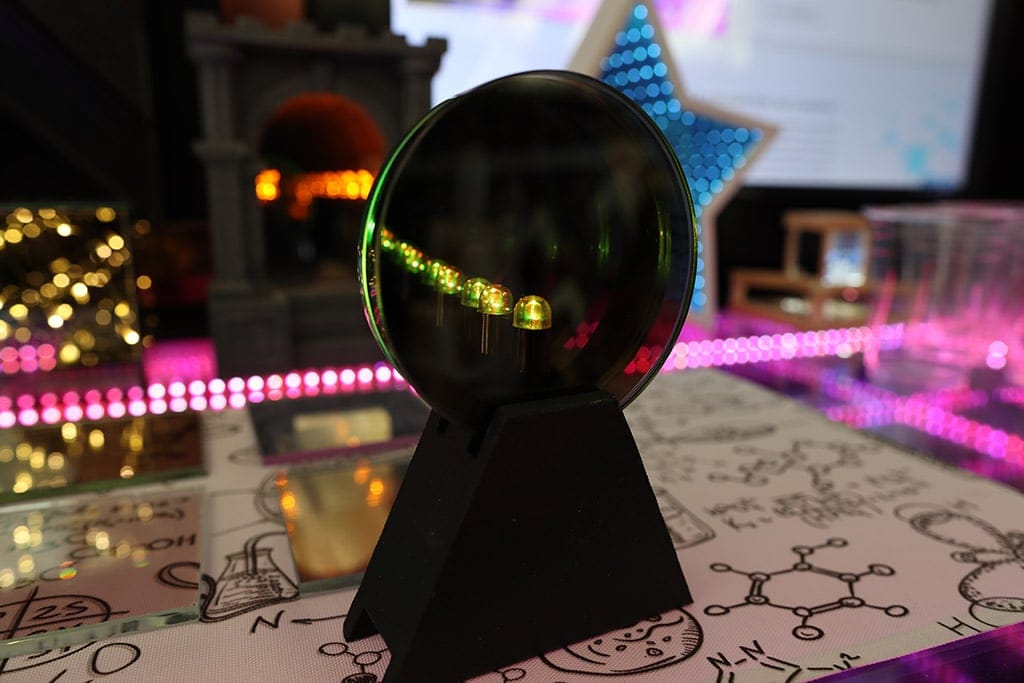 The Glass Two Way Mirror is great to use if you want minimal ghosting in the infinity effect and you want the viewer to see the infinity without seeing themselves at the same time. The result is a dark, twisty infinity with a lot of depth. As if you were in a endless tunnel of illusions.
70% reflective, 11% transparent
Best for most infinity mirror illusions
Can be tempered and/or laminated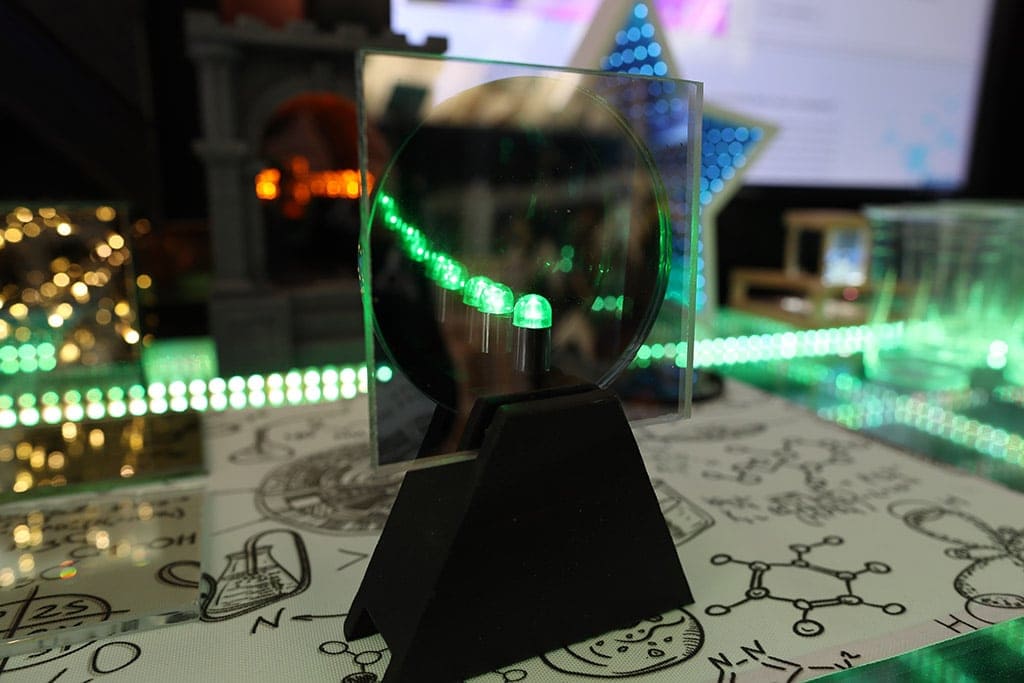 The Acrylic Two Way Mirror is ideal for projects that need a mirror that is more durable and less likely to break. Avoid it for larger projects because it will create a funhouse effect.
70% reflective, 30% transparent
Max size recommended is 12″ x 24″ for 1/8″ thickness
Max size recommended is 24″ x 48″ for 1/4″ thickness
Colored Acrylic Two Way Mirror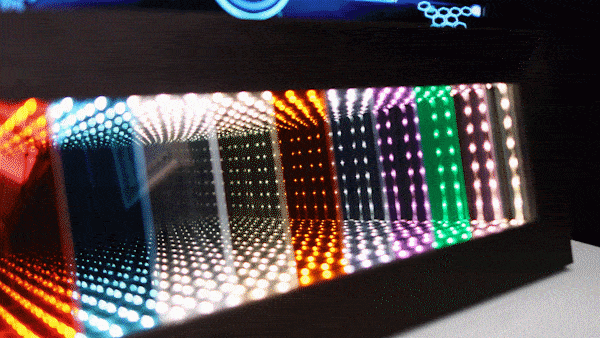 The Colored Acrylic Two Way Mirror is just fun! Imagine all of the possibilities with these color tints. You can have any color mirror you want to match any room or space.
Fun colors for unique effect
Comes in 1/8″ thickness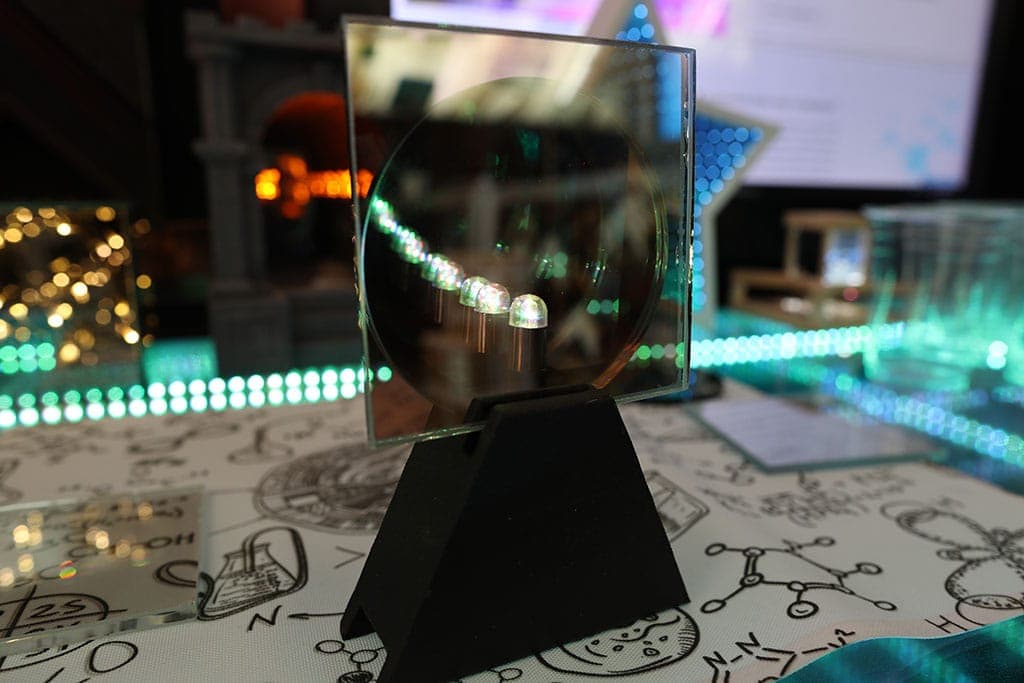 Glass Smart Mirror
The Glass Smart Mirror is great for projects that require switching the mirror effect when the lights off so that it is a regular mirror. A Glass Two Way Mirror will just appear like a dark tinted glass when the lights are off.
70% reflective, 30% transparent
Can be tempered and/or laminated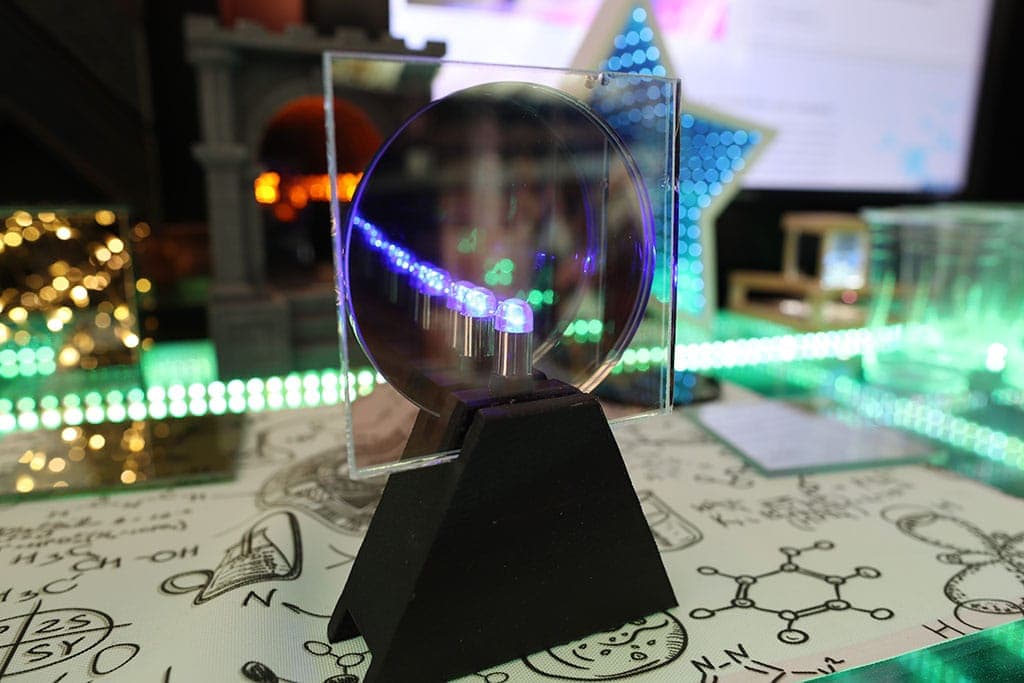 Dielectric Mirror
The Dielectric Mirror also can provide an infinity illusion. This could be awesome for projects that need a larger clear glass case and then utilize only a portion of the mirror for an infinity effect.
45% reflective, 55% transparent
Can be tempered and/or laminated
For instance, this Lego Millenium Falcon Coffee Table could be encased in Dielectric Glass and then on the bottom for the infinity elevator the glass floor would be seamless and the lego would appear to be sitting on a mirror. One would just need to add the LED strips and standard mirror to the bottom of the coffee table and paint the rest of the bottom black to achieve this effect.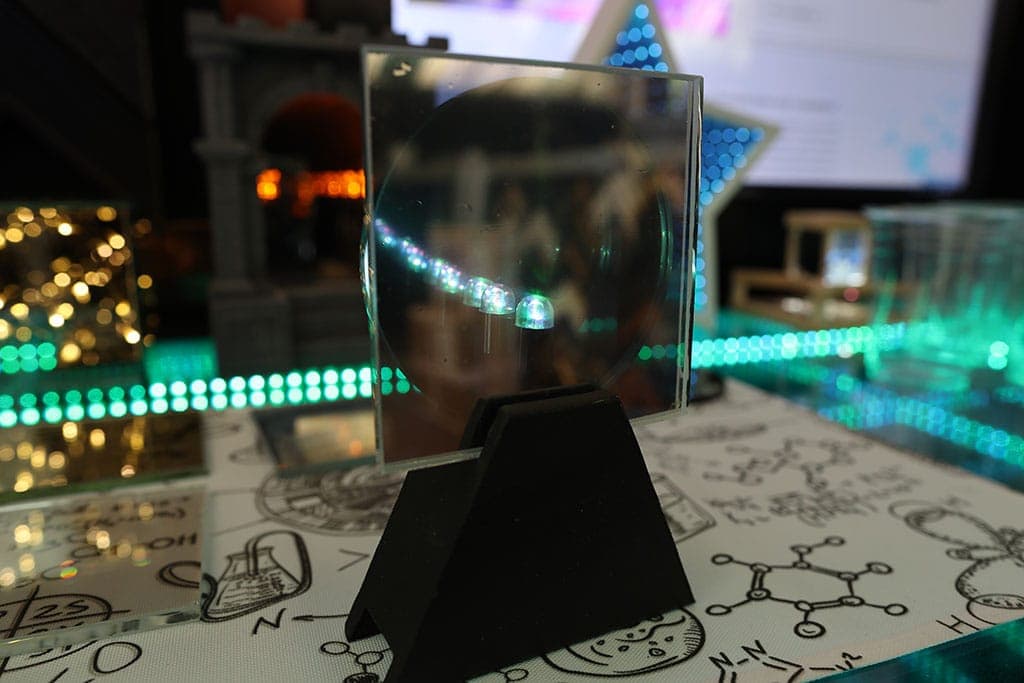 Two Way Mirror Film
The Two Way Mirror Film can be used on clear glass to create an infinity mirror. This is a great budget option but notice that the mirror quality is much more foggy, not as crisp as the glass and acrylic options.
80% reflective, 5% transparent
Great budget option
Shop Infinity Mirror Products
Frequently Asked Questions
How do I clean the inside of my infinity mirror?
As long as you build your mirror properly, you will not have to clean the inside at all. Pre-clean all the pieces before you start assembling your infinity mirror. Ensure that there is a snug, tight seal upon assembly and all you will have to clean is the top layer.
Can I use two standard mirrors instead of two way glass?
Two standard mirrors would not create the infinity effect desired. The two way glass allows just the right transparency and reflection to cause the effect. There are a number of other options below to choose from that will also work for your one of a kind infinity mirror.
Can I use a regular frame for my infinity mirror?
A regular frame most likely does not have enough space to insert two panes of glass and the lights. For this reason, we recommend using a shadowbox frame for regular wall mirror projects.
Does the size of my project matter?
As long as you have the required materials, the size of your project doesn't matter. You can make a small functional mirror or a large gaming table.
What other projects can I apply the infinity effect?
The infinity effect can be applied to tons of ideas. We make chess boards, tables, and even corn hole boards! Follow the basic structure and get creative – we have everything you need!
Should I order tempered or non-tempered glass for my infinity mirror project? Tempering is great for infinity mirrors that are being used as a tabletop or in a public space where risk of breakage is higher.
It will create a small distortion in the reflection around the 1″ perimeter of the glass – not very noticeable in this type of project.