DIY Infinity Mirror: Top Projects
Today, I'm going to show you how to make an Infinity Mirror. (Step-by-step)
In addition, I'm going to reveal the science & history of infinity mirrors and show you the coolest infinity mirror projects ever made.
It is unbelievably easy to create an Infinity Mirror with a couple mirrors and an LED light strip. Let's get started: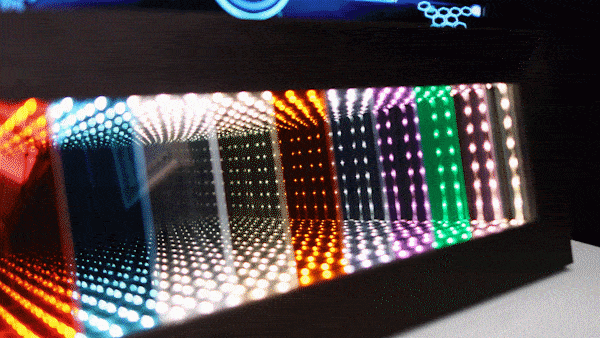 Framed Infinity Mirror (Colored 2-Way Acrylic)
On this page, you'll find tons of amazing infinity mirror designs I want to share with you. At our factory in Toledo, Ohio, we've worked on a ton of cool Infinity Mirror projects ranging from beer pong tables to dresses. After reading this guide, you'll be able to learn how to do the same for yourself.
It's Me! Wearing The Infinity Mirror Dress
Infinity Mirror Cube (The Hypercube)
Dichroic Infinity Mirror Pyramid
Frameless Infinity Mirror
Yayoi Kusama: Infinity Mirror Rooms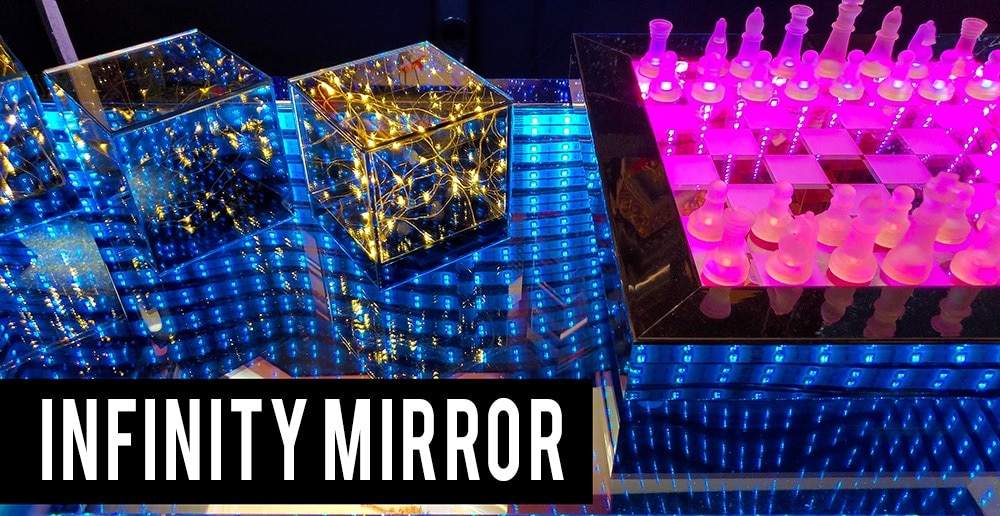 To create an Infinity Mirror, there are four main components you will need: a two way glass mirror (aka one way mirror), a standard reflective mirror, a frame, and LED lights.
Infinity Mirrors are designed to give the illusion that the lights within them are trailing off into the abyss, continuing on forever into infinity and beyond. This is achieved through the placement of your LED lights between the two glass mirror panels.
It takes two perfectly parallel mirrors positioned directly across from one another to achieve this visual effect. If one is slightly out of place, you will instead have your lights curving endlessly to one side or the other.
Often times the front mirror is half silvered, aka a one way mirror, which allows a certain percentage of transparency to show through and permit light to be fully emitted.
When it's finally time for you to start your project, you're going to need to find the right kind of glass mirrors to use to achieve the infinite tunnel illusion.
First and foremost is picking your Two Way (One Way) Mirror glass, and Standard Mirror. Two Way Mirrors are known as semi-transparent mirrors, meaning  70% of the light will be reflected while 11% is transparent. The distance between the two parallel mirrors can really play a significant role on the overall effect and look of the depth perceived in the illusion.
Below is a list of mirror options you can use as the top layer for your infinity mirror setup: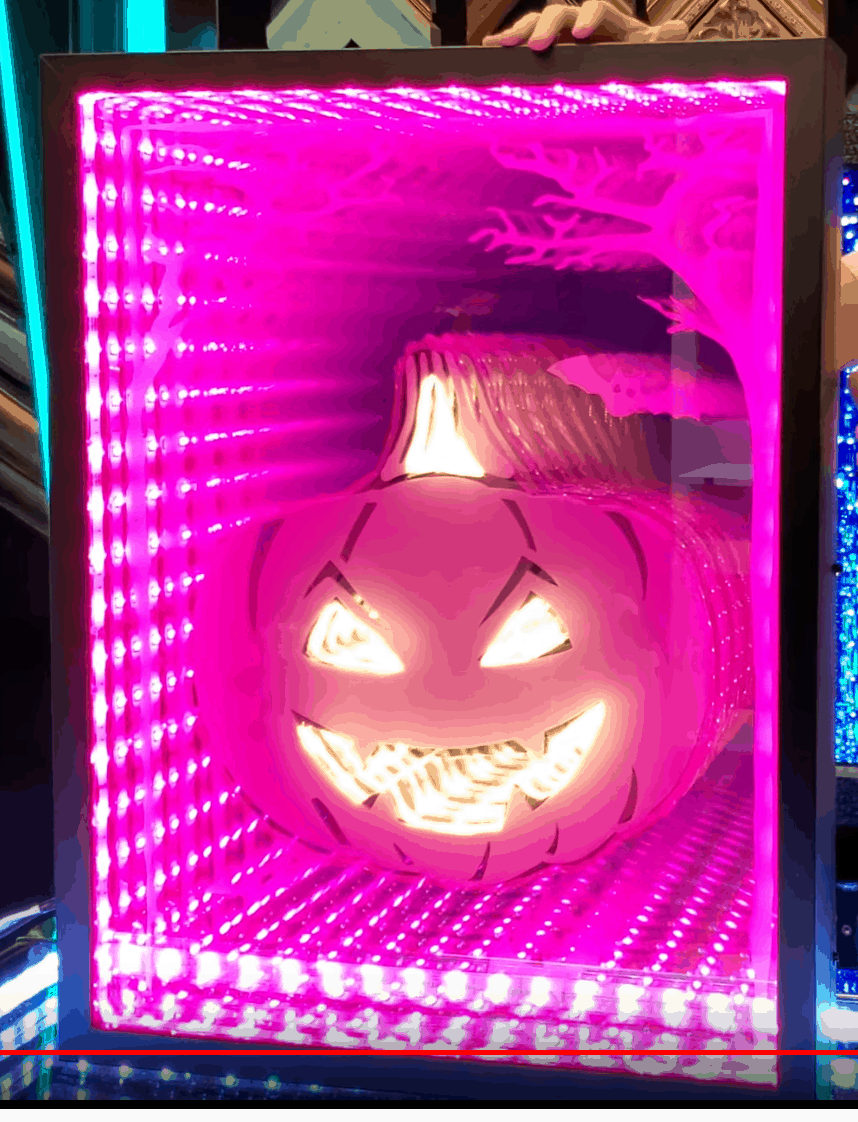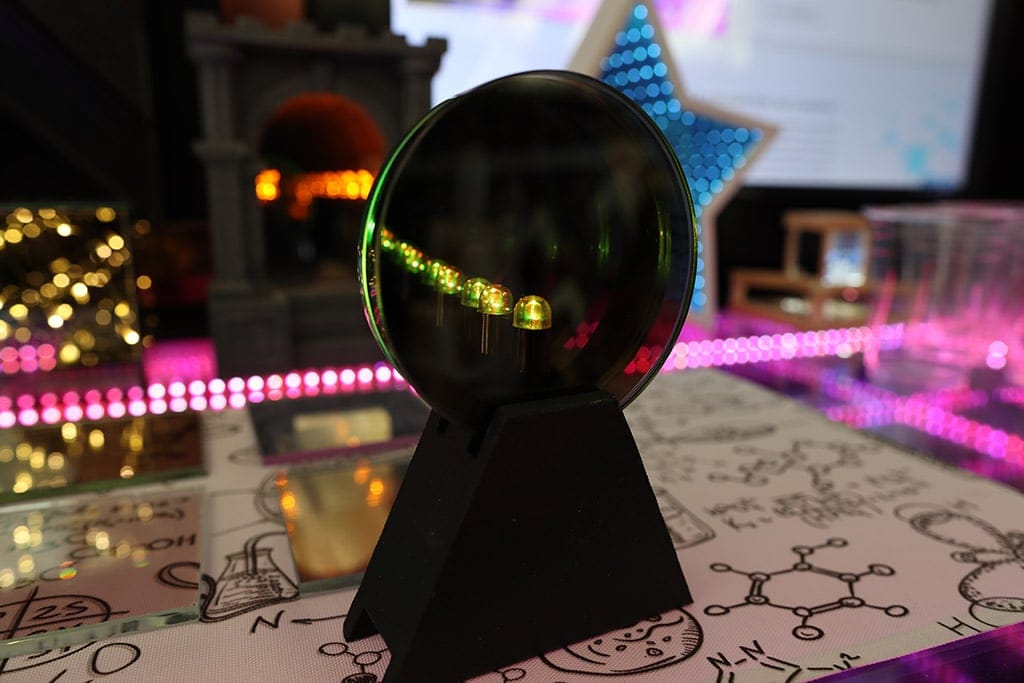 The Glass Two Way Mirror is great to use if you want minimal ghosting in the infinity effect and you want the viewer to see the infinity without seeing themselves at the same time. The result is a dark, twisty infinity with a lot of depth. As if you were in a endless tunnel of illusions.
70% reflective, 11% transparent
Best for most infinity mirror illusions
Can be tempered and/or laminated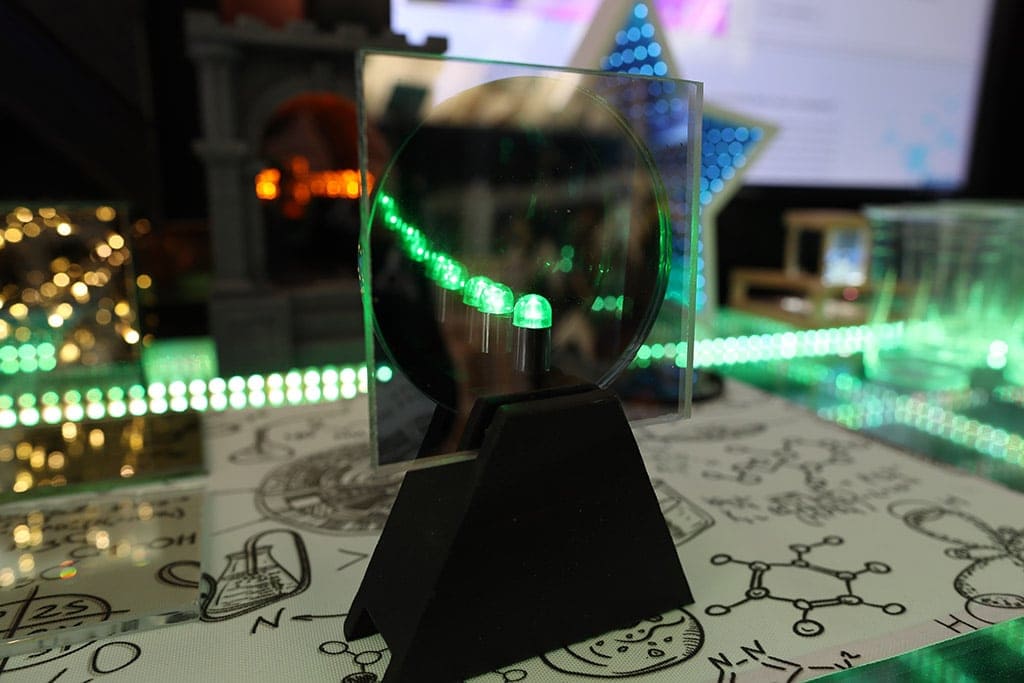 The Acrylic Two Way Mirror is ideal for projects that need a mirror that is more durable and less likely to break. Avoid it for larger projects because it will create a funhouse effect.
70% reflective, 30% transparent
Max size recommended is 12″ x 24″ for 1/8″ thickness
Max size recommended is 24″ x 48″ for 1/4″ thickness
Colored Acrylic Two Way Mirror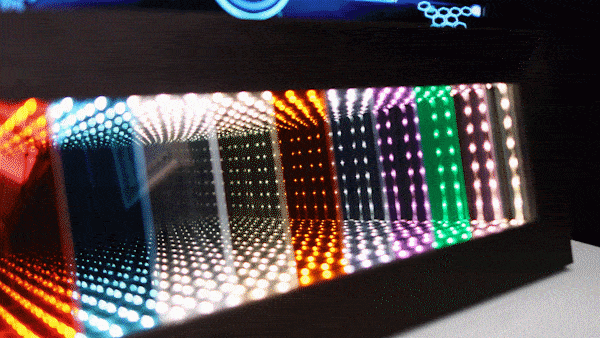 The Colored Acrylic Two Way Mirror is just fun! Imagine all of the possibilities with these color tints. You can have any color mirror you want to match any room or space.
Fun colors for unique effect
Comes in 1/8″ thickness
Standard Mirror (Bottom Layer)
One HUGE advantage to using Acrylic on the bottom layer is if you want to add a special inside shape like pink pumpkin picture. Acrylic is easy to drill into so you can hide the wires and plug it in seamlessly.
For the bottom layer, any of the semi-transparent two way mirrors can be used to get a wide variety of special effects.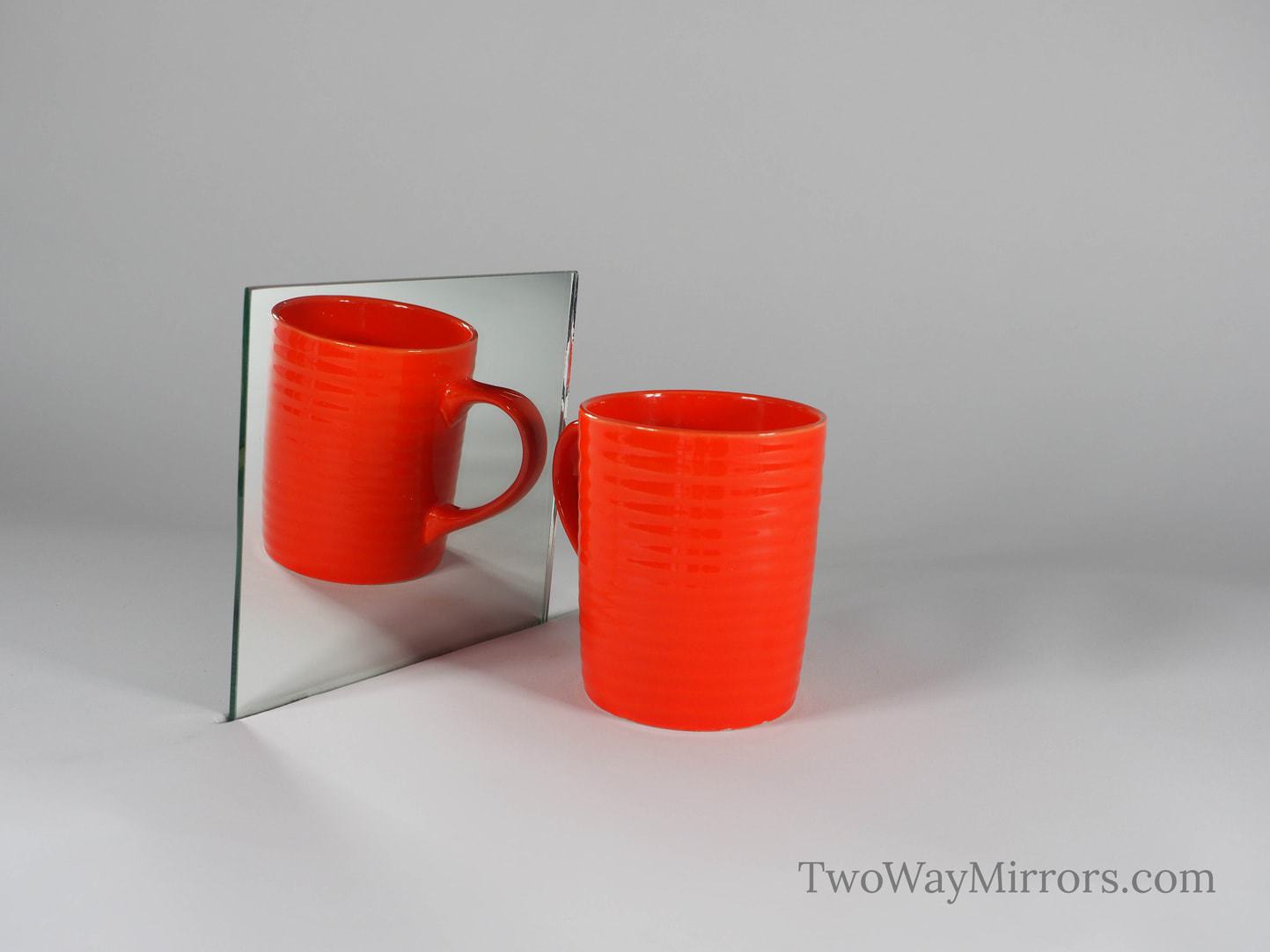 Standard Mirror
The Standard Mirror has a nice chrome polish that allows light to around within a room to create the effect of a larger space. Brighten up your room by letting natural light bounce throughout your space.
96% Reflective, 0% Transparent
Custom sizes available with worldwide shipping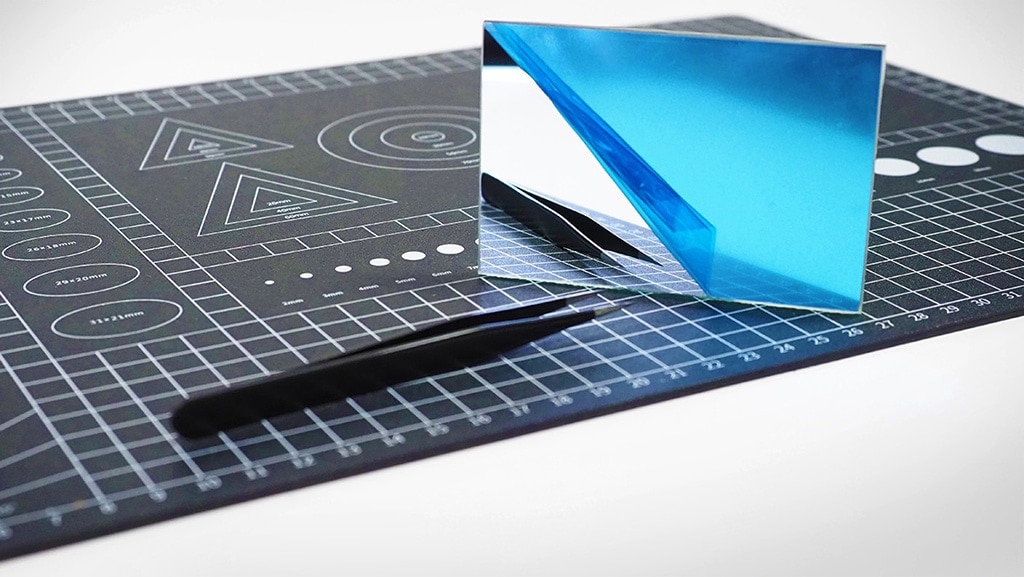 First Surface Mirror
The Glass First Surface Mirror has an optical grade mirror coating on the top of the glass that minimizes distortion for the best reflection possible. Ideal to use for when you want to avoid double image or ghosting appearance that standard mirrors posses.
Custom sizes available online
Custom shapes available upon request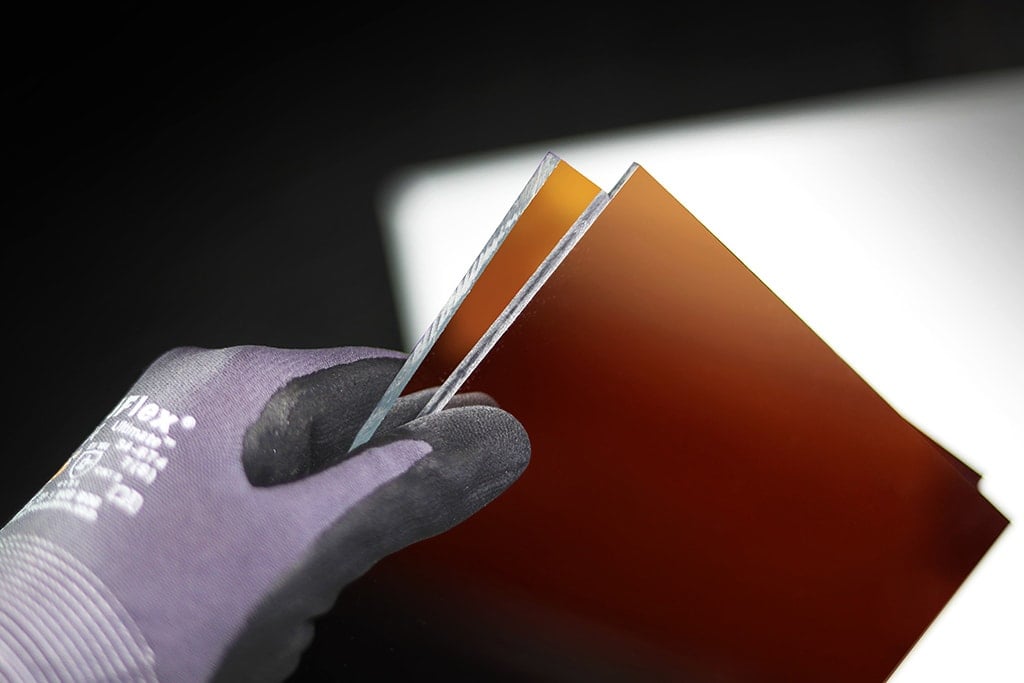 Acrylic First Surface Mirror
The Acrylic First Surface Mirror has a mirror coating on top of the glass instead of the bottom compared to standard mirrors. This prevents the ghosting and double image standard mirrors provide.
94% Reflective, 0% Transparent
Custom sizes available online
Choosing The Best Lighting
You cannot achieve your illusion without picking your lights! LED lights provide quick and convenient results when applying them into your mirror display.
With their small size, LED lights are easy to measure to the length you need, and cut down to size for your piece's frame. They come in a variety of options in both size and color. You can purchase single colored, multicolored, and remote controlled colored LEDs. Some can even be paired with Alexa or Google Home for voice command and app controlled features.
Click the images below to see low to high priced LED light options
Buying vs Building Your Frame
Your last "must have item"  for this project is the frame you'll be keeping all your materials packed into. A place that's big enough to hold both your mirrors, LED lights and the battery pack powering your lights.
If you're content with a pre-defined size, the IKEA Ribba is a good choice for an inexpensive frame. Alternatively, you can purchase shadowbox frame moulding or just order the completed frame from us in a custom size.
You can make this be simple by purchasing a pre-made shadow box that has an inch depth within the frame for ample space to display your lights. The only adjustment you'll need to make is carving out a slot for your battery pack and its wires to come out of your frame.
If you're more of an adventurous designer, you can build your frame from scratch. You will need to grab additional materials to do this type of custom frame for your mirror display, starting with the type of wood you want to work with using. We chose to keep things simple and utilize a pre-made frame to save time during our building process.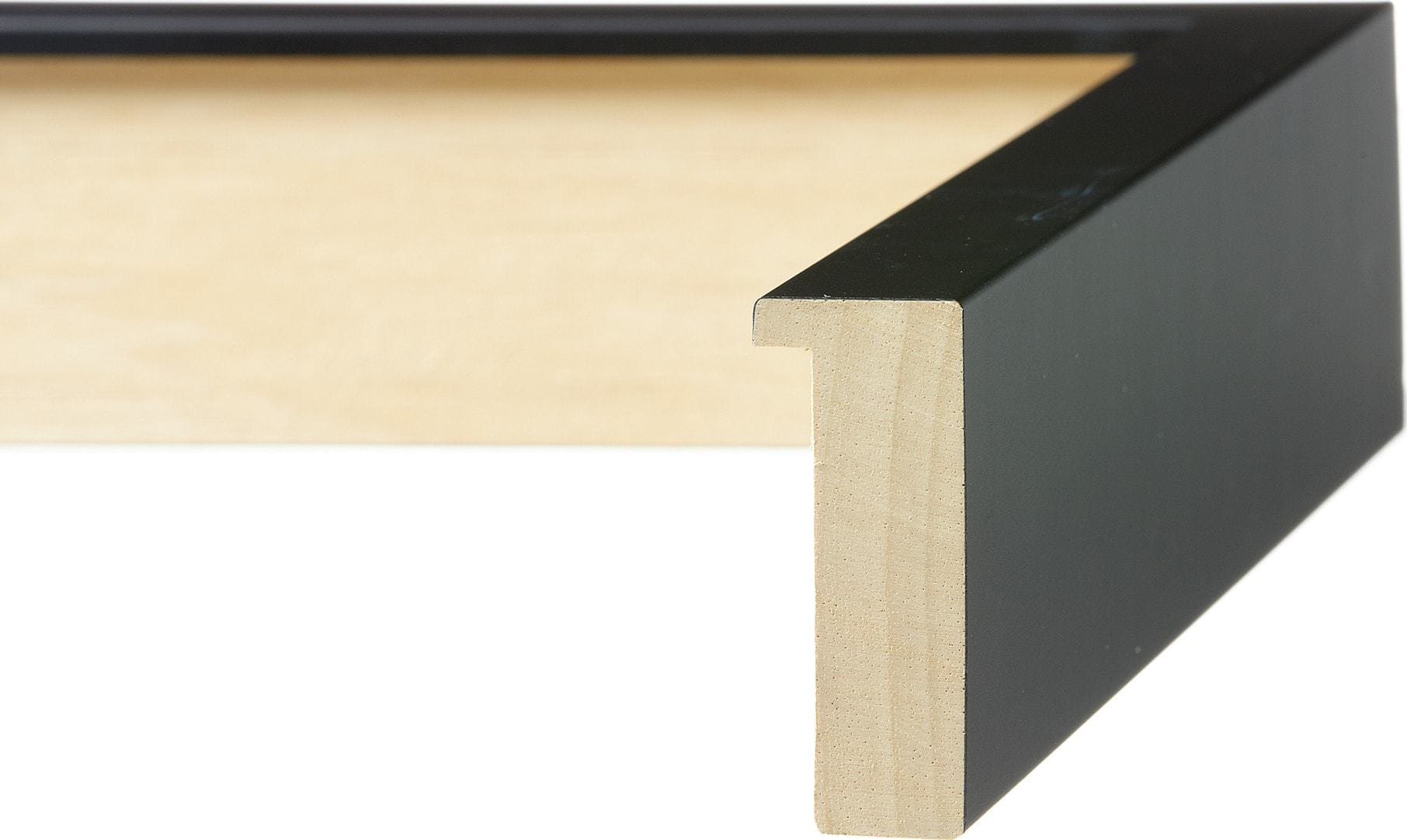 IKEA "Ribba" Shadowbox Frame
Check out our video on buying or making the perfect shadowbox frame for your project:
Aside from the displays we've made in our factory, there are other Infinity Mirror products out there you can make or purchase. Below is a list of other ideas you can consider looking into making that we highly recommend.
Here's what we found that made us geek out over Infinity Mirrors:
Infinity mirrors are also often times used in the art world, through the works of both sculptors filmmakers. Adding an Infinity Mirror can really heighten the visual impact behind a movie or sculptural work. Below are some examples of artists that work with mirrors, as well as films that use infitinty mirrors to create some of their sequences.
Interested in art like we are? Check out some of these artist's work:
Anthony James – Absolute Zero
Unexpected Places To Find Infinity Mirrors
Endless Hallway
Museum Art
Home Decor
Bottomless Pit
Room Dividers
Artistic Centerpieces
Tables
Haunted Houses
Stage Illusions
Mirror Mazes
Infinity Mirror Hypercube
Frequently Asked Questions
How do I clean the inside of my infinity mirror?
As long as you build your mirror properly, you will not have to clean the inside at all. Pre-clean all the pieces before you start assembling your infinity mirror. Ensure that there is a snug, tight seal upon assembly and all you will have to clean is the top layer. Compressed air can help blow out any debris inside.
Can I use two standard mirrors instead of two way glass?
Two standard mirrors would not create the infinity effect desired. The two way glass allows just the right transparency and reflection to cause the effect. There are a number of other options below to choose from that will also work for your one of a kind infinity mirror.
Can I use a regular frame for my infinity mirror?
A regular frame most likely does not have enough space to insert two panes of glass and the lights. For this reason, we recommend using a shadowbox frame for regular wall mirror projects.
Does the size of my project matter?
As long as you have the required materials, the size of your project doesn't matter. You can make a small functional mirror or a large gaming table.
What other projects can I apply the infinity effect?
The infinity effect can be applied to tons of ideas. We make chess boards, tables, and even corn hole boards! Follow the basic structure and get creative – we have everything you need!
Should I order tempered or non-tempered glass for my infinity mirror project? Tempering is great for infinity mirrors that are being used as a tabletop or in a public space where risk of breakage is higher.
It will create a small distortion in the reflection around the 1″ perimeter of the glass – not very noticeable in this type of project.
There you have it:
My ultimate DIY Infinity Mirror Guide for 2020.
Now I'd like to hear from you…
What design did you find the most interesting that we have in our factory?
Are you interested in the other products we listed in the Bonus section?
What will you create as your custom design? Will you go with your own frame, or recycle using a pre-made shadow box like we did?
Either way, let me know by leaving a comment below right now.