How to Clean Acrylic- WITHOUT Damaging It!
Acrylic is one of the most popular materials chosen for both residential and commercial use. Acrylic is a client favorite because of how sturdy, lightweight, and modern it is.
Today I am going to take you through my favorite acrylic cleaning supplies and go into detail on how to clean it without damaging it.
Acrylic Mirrors are prone to scratches and chips in the mirror coating. Proper maintenance is a must to keep it looking amazing. In this video, you will learn how to properly clean acrylic without damaging it.
Additional benefits of acrylic include that it's virtually shatterproof, comes in multiple different colors, and how simple it is to use. We've been manufacturing acrylic for over twenty years, so we know first hand what not to do when cleaning your acrylic. Just like any material or surface, acrylic will accumulate dust and other particles from the air in its environment. In this guide, you will learn how to clean your acrylic- WITHOUT damaging it.
Regular care and cleaning of your acrylic will help keep it looking pristine and clear- brand new! The best part is, the materials needed to perform an acrylic cleaning are typically already in your household. This guide will outline the exact tools that you'll need to keep your acrylic appearing as shiny as the first day it was unboxed. Additionally, this guide will go over the detailed step-by-step instructions and what exactly you need to avoid.
Cleaning Acrylic - Products
To be successful when cleaning acrylic, you will want to ensure that you are using the correct products and avoiding the use of harmful ones. Some products are too harsh for the surface of the acrylic and will cause permanent damage. 
Microfiber cloths are perfectly ok for cleaning acrylic. Just make sure that there is no dust, dirt, or debris accumulating on the cloth's surface.  
Cleaning Acrylic - Products to Avoid
Water
Ammonia-based Cleaners
Windex
Lysol Wipes
Abrasive Sponges
Brushes
PRO TIP: Never use a cloth that has been used to clean other household items. Acrylic is easily scratched, old cloths often contain dirt as well as leftover cleaning products. 
Why Avoid the Use of Windex?
The use of ammonia-based cleaners, such as Windex, will harm your Acrylic SUBSTANTIALLY and should never be applied to its surface. Ammonia-based cleaners will eat away the surface of the acrylic, causing it to appear cloudy.  Because of this, ammonia-based cleaners are commonly referred to as "acrylics number one enemy. If ammonia-based cleaners touch the surface and cause it to appear cloudy, it is impossible to reverse, resulting in you having to purchase a new piece of acrylic. In conclusion, NEVER place ammonia-based cleaners onto the surface, or else you will be forced to purchase the piece all over again.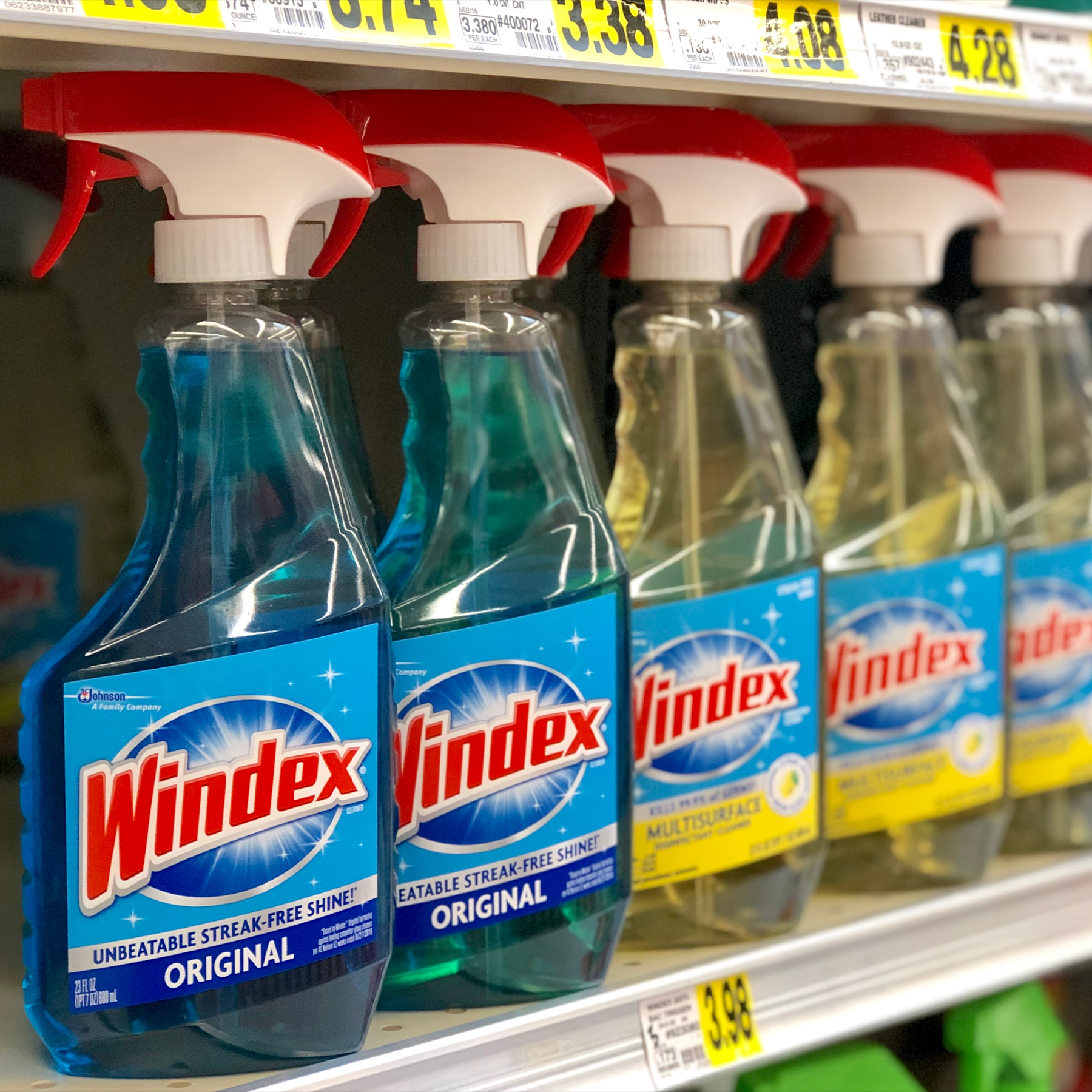 Cleaning Loose Dust and Debris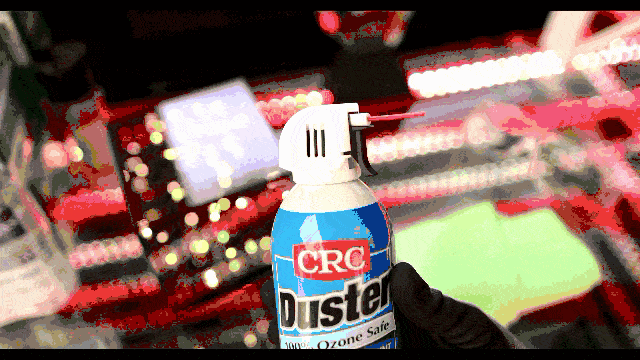 Is your acrylic beginning to collect a layer of dust and debris from the air surrounding it? If so, you're going to want to keep reading. Cleaning loose dust and debris from the surface of acrylic is simple. All you will need is a can of air. Canned air is sold at almost every big box store and is commonly used to clean out keyboards and computer ports.
Once you've obtained your canned air, spray the air on the surface of the acrylic. The compressed air will provide enough force to eliminate any dust or debris accumulated on the surface.
PRO TIP: Ensure that you do not shake the canned air and be sure to keep it level so the coolant does not come out onto the mirror.
Cleaning Smudges, Fingerprints, and Stains
Smudges, fingerprints, and stains are often collected onto the surface of the acrylic. Everyday handling is enough to create fingerprints on the surface, but how do you clean them off? Simple! To remove the stains, fingerprints, or smudges, you will want to purchase some Novus 1 Spray and Novus Polish Mate Cleaning Wipes. Novus Spray and Polish Mate are specifically designed for use on acrylic. However, eliminating fingerprints, smudges, and stains are just one of the benefits of these products. Another show-stopping benefit is removing any small scratches on the surface while simultaneously removing fingerprints, smudges, and stains.
Polish Mate Wipes resemble the appearance of a napkin, but do not let that fool you! This cloth is ideal for cleaning acrylic because it is non-abrasive, is great at absorbing moisture, and is lint-free. The advantage of a disposable wipe is that there is a zero chance of dirt building up on the cloth over time, which could lead to scratching.
If Novus 1 Spray and Polish Mates are unavailable to you, don't worry, there is another option! Also known as a lens cleaner, you can use 50% isopropyl alcohol in the placement of the Novus 1 Spray. In the placement of the Polish Mates, you may use a clean and unused microfiber cloth.
In conclusion, the Novus 1 Plastic Clean and Shine Spray is ideal for buffing acrylic mirrors and will simultaneously help clear away minor scratches. In addition, it is also fog-resistant and repels dust. This cleaner is perfect for everyday maintenance and cleaning on your acrylic mirror.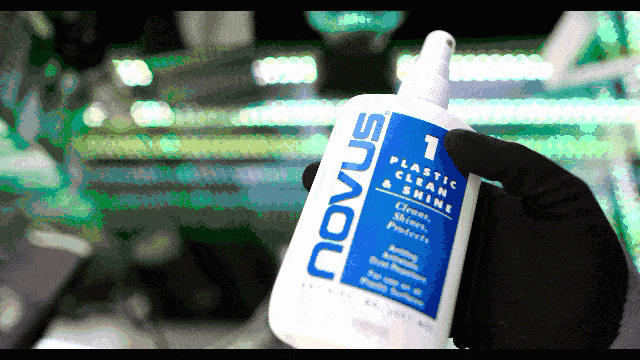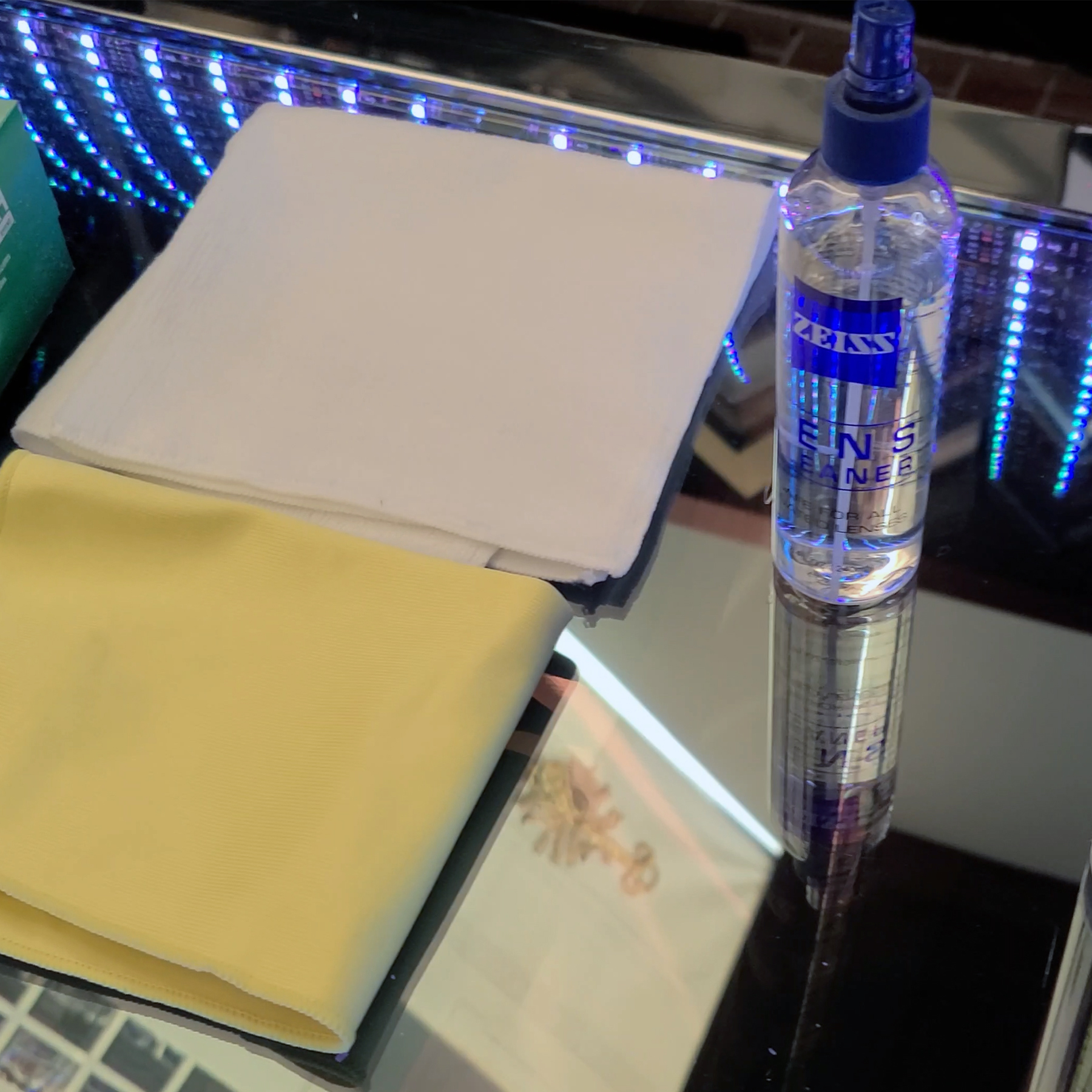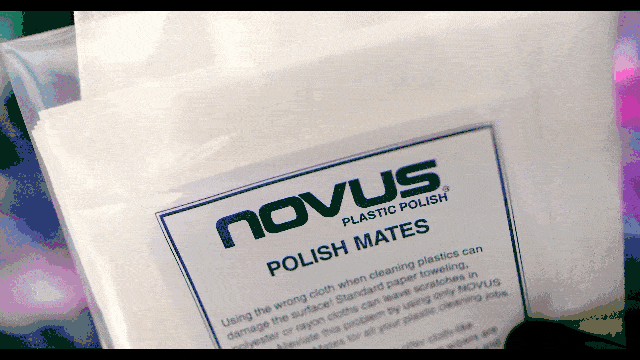 What Brand of Lens Cleaner Do We Recommend?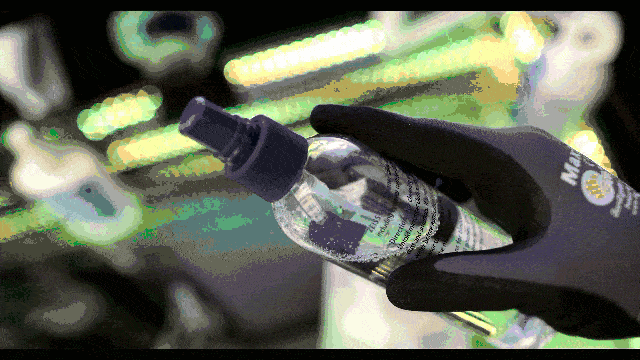 In general, our go-to 50% isopropyl alcohol mixture, also known as lens clean, is the Zeiss brand. Here in our showroom, we use this brand to clean all of our acrylic pieces.  Zeiss Isopropyl Alcohol is an established and trusted brand. The strength of Zeiss is 50% isopropyl alcohol, so it is not too extreme for any potential mirror coating on your acrylic. This is a nice go-to if you already have some in your home for cleaning eyeglasses.
Novus Polish Wipes Alternative
Are you unable to find Novus Polish Mate Wipes? Do not worry. We have an alternative to that as well. Kim Wipes are commonly substituted for Novus Polish Mate Wipes due to their thin, lightweight, disposable design. Kim Wipes are small, disposable wipes that come readily prepared to clean your acrylic, as packs can contain over two hundred and eighty wipes. Novus Polish Mate Wipes typically only include a handful of wipes per pack. So, if you're looking to stockpile your acrylic cleaning tools, Kim Wipes may be the best option for you.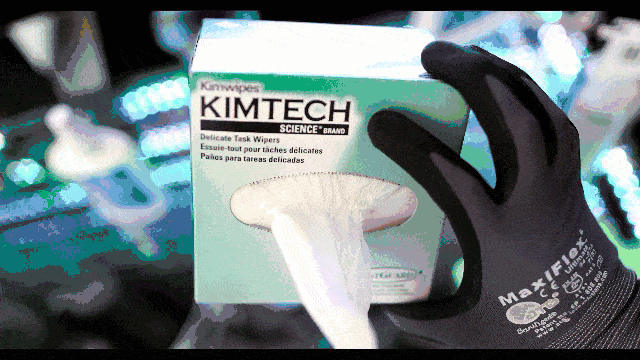 Purchasing Acrylic Cleaning Products
Are you looking to save a ton of time trying to figure out the best place to purchase the necessary tools and products to keep your acrylic in pristine condition? We've got you covered down below!
Purchasing Acrylic Mirrors
Now that you know the best products, techniques, and ways to preserve the pristine condition of your acrylic, you may decide to purchase more of it! Once again, we've got you covered with any acrylic product that you desire. We have over twenty years of experience manufacturing acrylic mirrors and taking pride in our mirrors' quality. We are able to cut custom sizes and shapes, simply email us with a quote request and we will get back to you asap. Our mirrors are typically cut and shipped the day of the order. Check out our links below to our acrylic products.