"My art originates from hallucinations only I can see. I translate the hallucinations and obsessional images that plague me into sculptures and paintings. All my works in pastels are the products of obsessional neurosis and are therefore inextricably connected to my disease. I create pieces even when I don't see hallucinations, though."

-Yayoi Kusama
Background Information of Yayoi Kusama
Yayoi Kusama is a renowned artist who has created some of the most stunning and mesmerizing art installations in the world. Yayoi Kusama's infinity mirror room illusion is a perfect example of her unique creativity and artistic vision. Kusama is known for her use of a wide variety of materials, from mirrors and lights to polka dots and pumpkins.
Her installations can be found in various locations across the globe, and each one offers a unique and immersive experience for the viewer. Her art is not only visually stunning, but it also has a deeper meaning and conveys important messages about mental health, identity, and social issues. Kusama's work has inspired and captivated audiences for decades, and she continues to push the boundaries of contemporary art.
Yayoi Kusama is an artist that went from being unknown and unappreciated, to being one of the most well known female artists around the world.
In 1929 Yayoi Kusama was born in Matsumoto, Nagano. She grew up on a seed farm with her family, which was also a plant nursery.
She started to discover herself as an artist at a young age. She faced challenges within herself that she used to help her create such beautiful and meaningful art.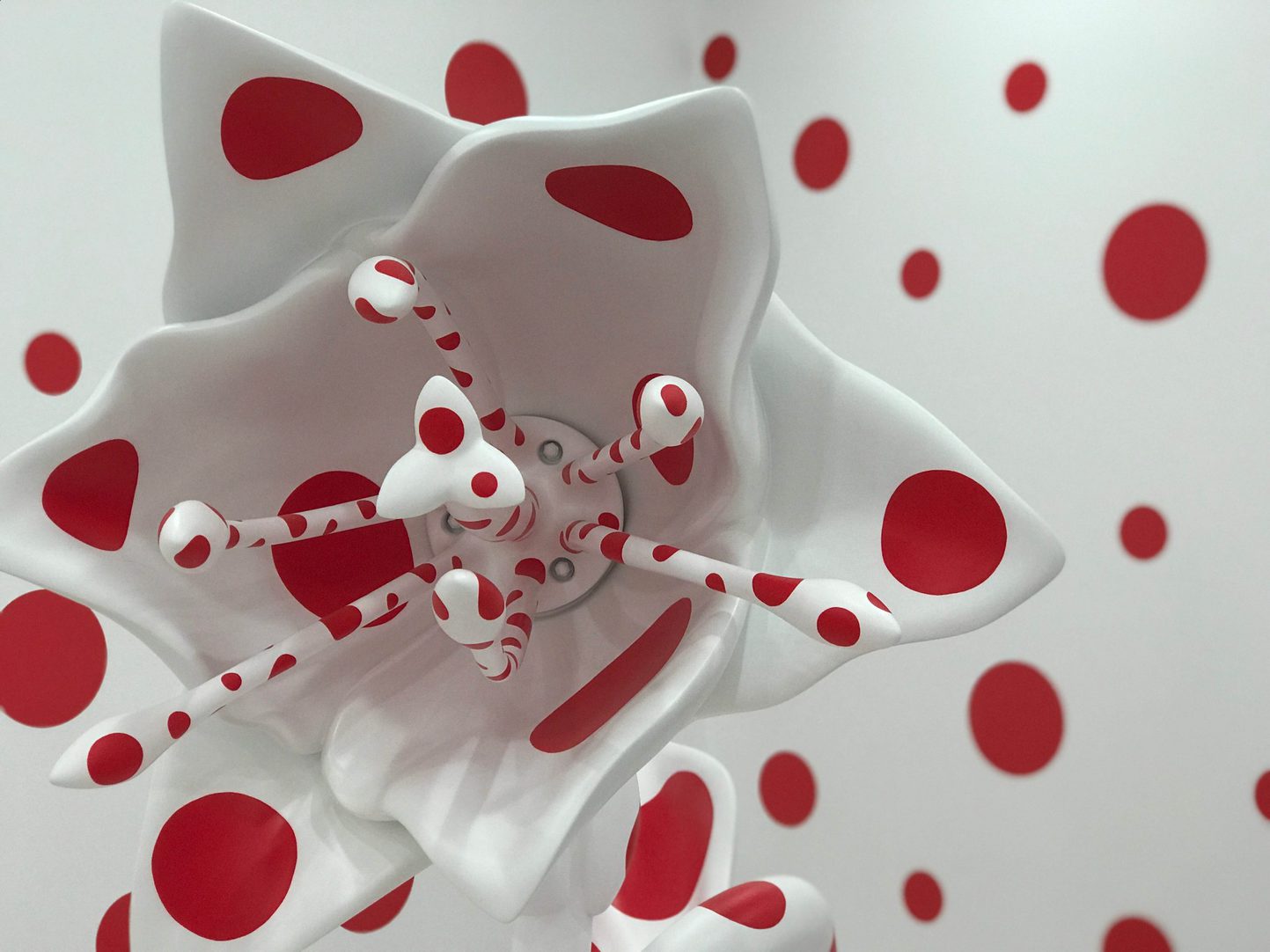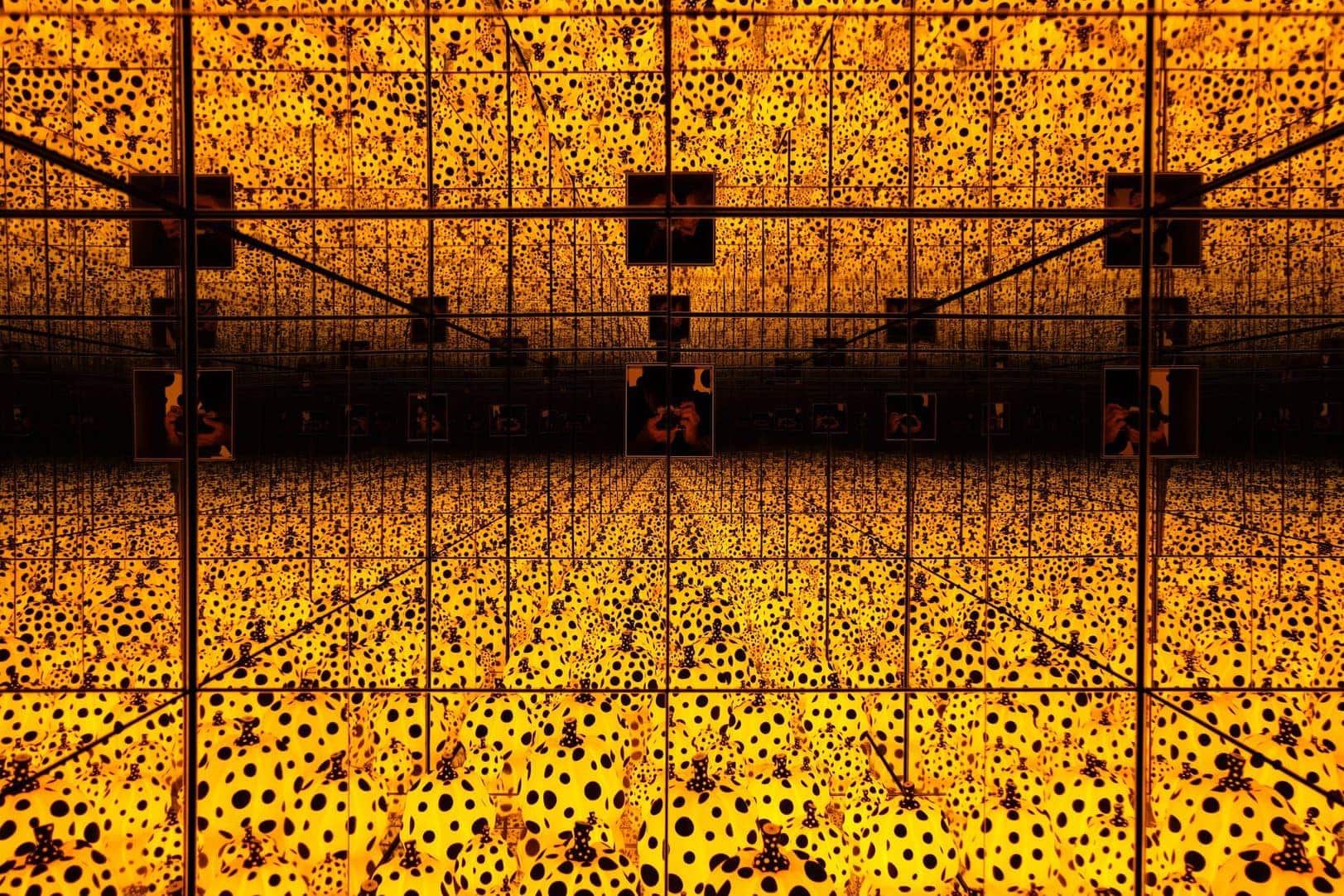 I fight pain, anxiety, and fear every day, and the only method I have found that relieves my illness is to keep creating art. I followed the thread of art and somehow discovered a path that would allow me to live.

-Yayoi Kusama
For example, one of the obstacles  she faced was her mother.
My mother beat me and kicked me on the derriere every day, irritated that I was always painting…When I left for New York, my mother gave me $1,000,000 yen and told me never to set foot in her house again.

-Yayoi Kusama
Kusama's mother was always interfering with her art by not being supportive of it. She would rip the art away from Kusama, which leads to the reason why Kusama works so quickly on her art.
Because my mother was so vehemently against my becoming an artist, I became emotionally unstable and suffered a nervous breakdown. It was around this time, or in my later teens, that I began to receive psychiatric treatment. By translating hallucinations and fear of hallucinations into paintings, I have been trying to cure my disease.

-Yayoi Kusama
Around the age of 10, Kusama started to develop and experience vivid hallucinations. You can see how her trauma and hallucinations are implemented into her art.
She would visualize fields of flowers, or multiple dots that would come alive.
One day I was looking at the red flower patterns of the tablecloth on a table, and when I looked up I saw the same pattern covering the ceiling, the windows and the walls, and finally all over the room, my body and the universe. I felt as if I had begun to self obliterate, to revolve in the infinity of endless time and the absoluteness of space, and be reduced to nothingness.

-Yayoi Kusama
Her hallucinations of dots is one of the big factors in her art. If you simply Google "Yayoi Kusama Art", you'll see dots. Dots EVERYWHERE!
She said that she would see so many dots come to life and surround her that she felt obliterated.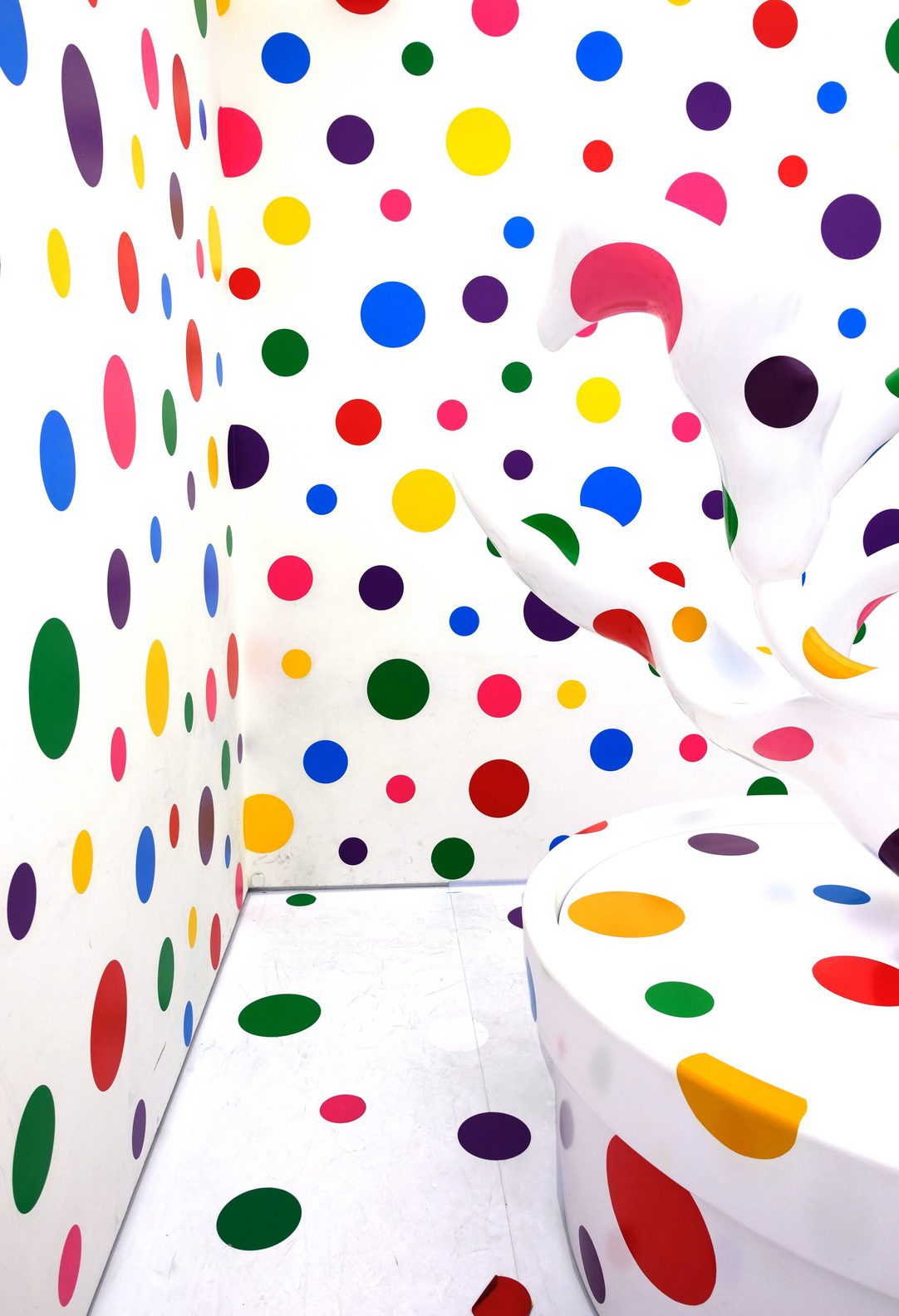 So, she turned her fears into obsessions by confronting them, and displaying them on a larger scale.
Large scale. Large. Very large. For example, check out her sculpture below titled "Pumpkin"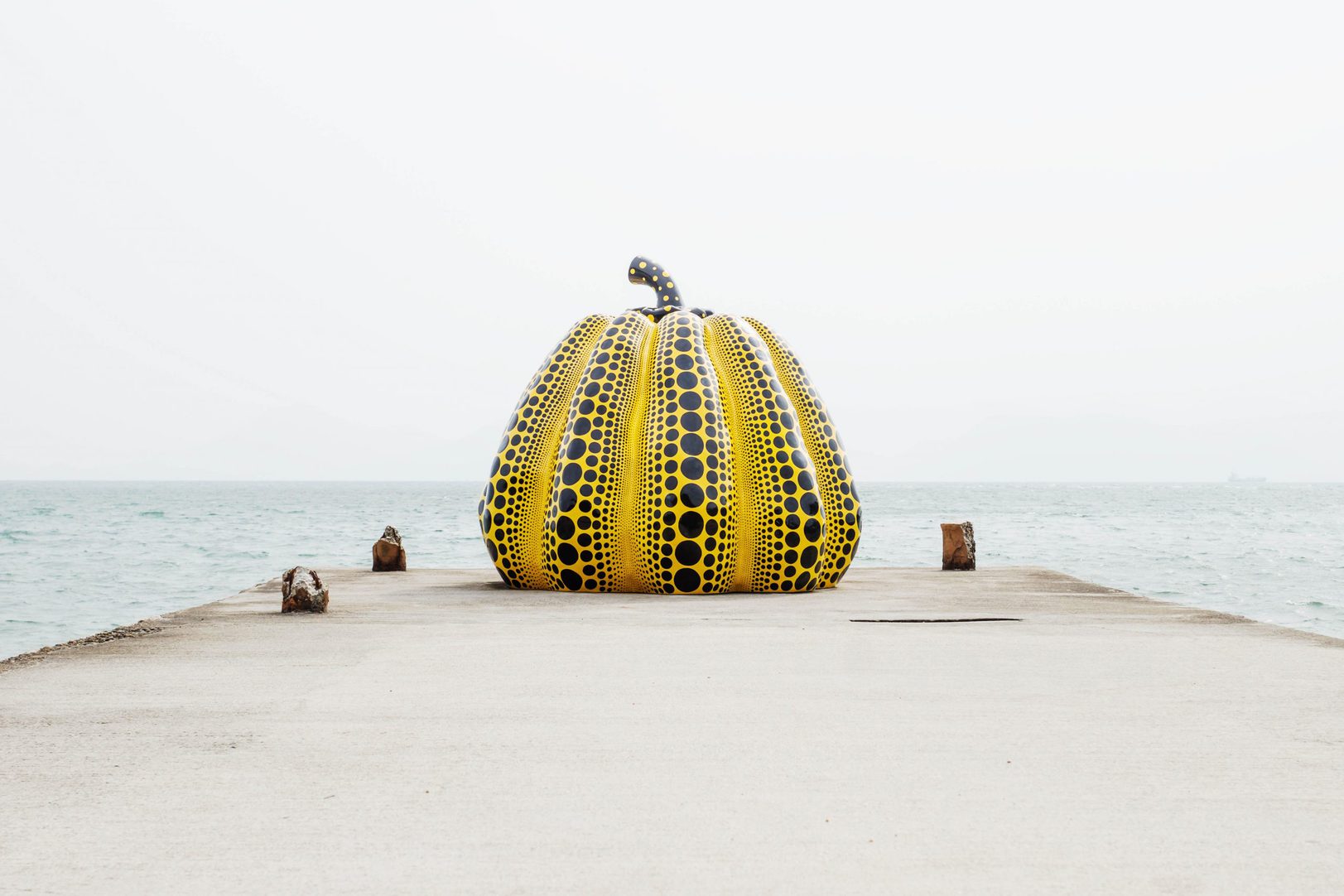 A lot of her art uses dots.
Polka dots can't stay alone. 

-Yayoi Kusama
Yayoi Kusama often felt obliterated during her hallucinations. Therefore, she also put that concept in her art as well. The feeling of infinity.
At age 27, Kusama left Japan for the United States.
Why did she do this? Kusama wasn't being noticed in Japan. She was having a hard time getting into art showcases and having people look at her art.
I want to become more famous, even more famous.

-Yayoi Kusama
So, she wrote a letter to an artist that inspired her. Who? Georgia O'Keeffe!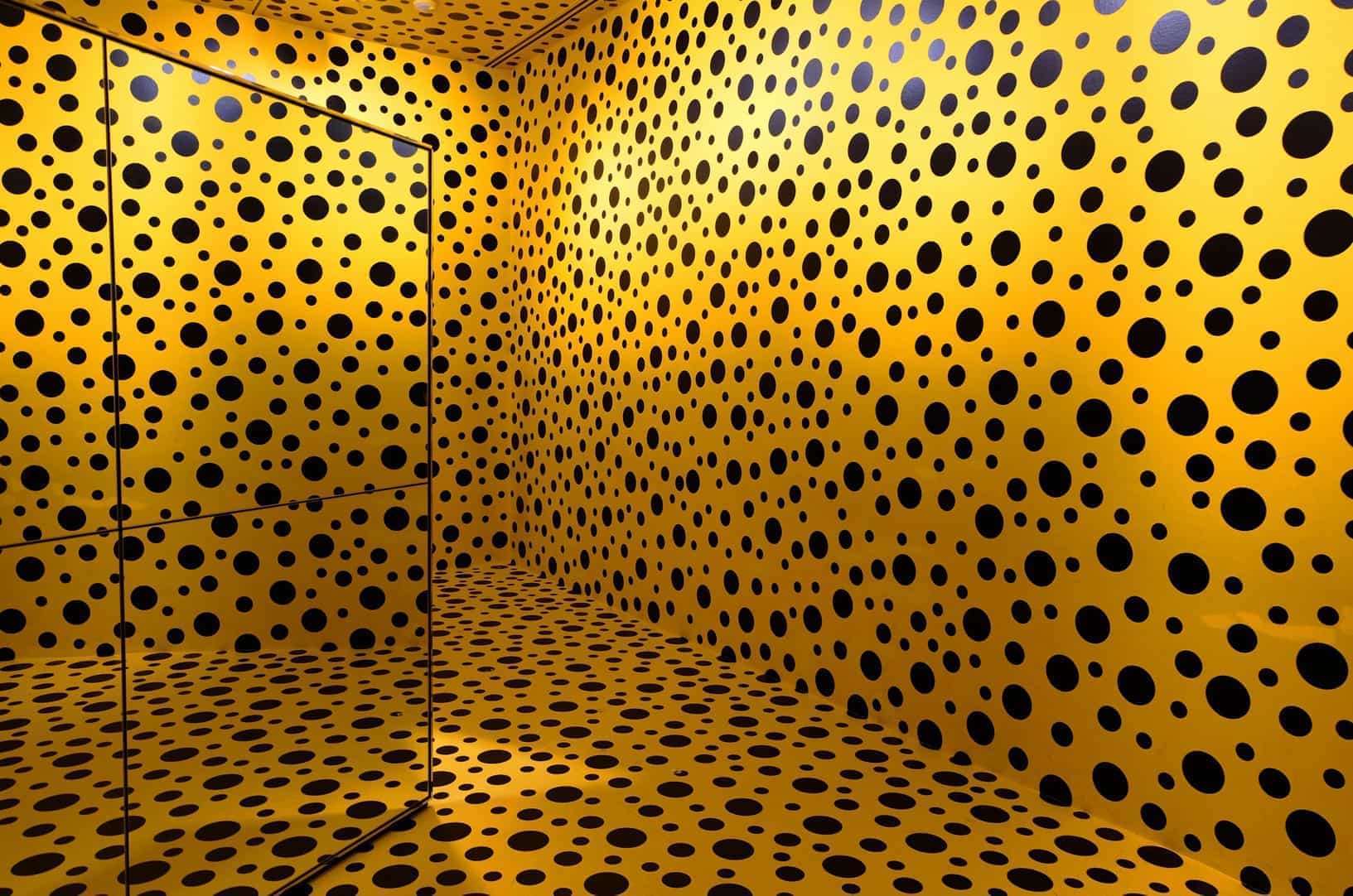 She asked O'Keeffe for guidance on what to do to become a successful artist. O'Keeffe recommended that she should move to New York City in the United States.
When I arrived in New York, action painting was the rage, de Kooning, Pollock and others. I wanted to be completely detached from that and start a new art movement.

-Yayoi Kusama
When Kusama moved to the United States, she had a slow start. Many male artist copied the style of her work, thus leading her into a depression of nonrecognition.
In fact, her soft sculpture Accumulation No. 1 inspired Claes Oldenburg's soft sculptures. Guess what? Oldenburg's soft sculptures are the pieces of art that became recognized, not Kusama's.
When I went to the opening of [Claes Oldenberg's] solo show held at the Green Gallery [in 1962], his wife led me to his piece Calendar and said to the effect, "Yayoi, I am sorry we took your idea." I was surprised to see the work almost identical to my sculpture.

-Yayoi Kusama
In the 1960's Kusama created the infinity mirror rooms.
Now, I'm going to take you through a list of Yayoi Kusama's infinity mirror rooms.
Kusama's first infinity mirror room was Phalli's Field. 
Take a walk through Phalli's Field with a few others discussing how the room makes them feel.
Kusama had a fear of phallus's since her youth when her mother made her spy on her father's affairs.
She made many soft sculptures with her fear of phallus's, and created her first infinity mirror room with the same concept.
So, from 1962-1964 Yayoi Kusama spent a majority of her time sewing these soft sculptures.
The breakthrough occurred when she was becoming physically and mentally exhausted from sewing and sewing the stuffed tubes. So, she started to use mirrors to replace the effect of infinity. Thus, creating the infinity mirror room.
Love Forever is the second infinity mirror that Kusama created. It is a hexagonal shaped infinity mirror installation. It has two holes in the side of the installation that allows you to look through it with another person.
Have you ever heard of the mirror superstition that when Newlyweds gaze into a mirror after being recently married, their souls will connected forever.
So Newlyweds, head on over to see Love Forever on your wedding day to unity your souls into infinity!
Here is a video that shows you Yayoi Kusama's Love Forever infinity mirror installation.
The Souls of Millions of Light Years Away
This infinity mirror room is similar to looking at stars in a galaxy. The artist incorporated hundreds of lights that are all around you. Infusing you with the spirit of the galaxies.
This particular room uses multiple elements to construct a beautiful masterpiece. It uses metal, wood, plastic, mirrors, an LED lighting system, and rubber!
Feel like you are one with the galaxy by watching the video inside Souls of a Million Light Years Away.
Dots Obsession – Love Transformed into Dots
This infinity mirror room is a peep hole that you look into! But, there is also an installation that you can walk in!
One of the installations is where you look through a peephole. So, when you look into the small hole you see an abundance of dotted spheres.
You can see in the video what it looks like when you look into the infinity mirror installation!
This specific "Dots Obsession" work is a peephole that you simply look into. You are able to see the infinity effect come alive when you look into it!
The Dots Obsession is also an infinity mirror room that you can walk into!
The infinity mirror room is filled with balloon like sculptures that hang from the ceiling that are covered in polka dots.
The floor and ceiling are also covered in dots! The walls are mirrors, thus creating the infinity mirror effect.
Infinity Mirrored Room—Aftermath of Obliteration of Eternity
This infinity mirror room is filled with golden lanterns that look like they're floating. The rest of the space is dark, thus letting the lanterns illuminate the room.
This particular installation is made with mirrors, plastic, wood, acrylic, aluminum, and LEDs. A lot of Kusama's infinity mirrors use various types of lights.
Take a spin through this room in this video! This type of artwork ties into the Japanese tradition of toro nagashi where lanterns float down a river. The lanterns are used to guide the spirits back to their resting places.
Infinity Mirrored Room—All the Eternal Love I Have for the Pumpkins
Do you like pumpkins? So does Yayoi Kusama! In an interview she was asked to tell a joke, and she said:
I don't have any. But pumpkins have always made me smile: they are the most humorous of vegetables.
So obviously there had to be an infinity mirror room with these lovely vegetables covered in polka dots!
Here is a video that shows the uniqueness of pumpkins in a field that lasts forever!
Earlier in this blog I noted that the artist grew up on a seed farm. Kusama discovered pumpkins at a young age and was intrigued with them ever since.
She has several pieces of arts with pumpkins including infinity mirror rooms, paintings, and even sculptures.
Pumpkins have always been a joy to Kusama's life.
This infinity mirror room is full of bright colors and LED lights. However, in this particular room you are only given 20 seconds inside of the room.
This room is located at the Museum of Modern and Contemporary Art. It has a permanent installation there since March 2019.
Take a spin through this beautiful and soulful infinity mirror room by watching the video!
It uses lights and water to illustrate a radiant, vibrant effect of color and art.
Love is Calling is another infinity mirror room that seems like you're inside the mouth of a monster.
This mirror room is filled with brightly colored tentacle-like sculptures that create a kaleidoscope effect.
What's different about this room? Well, when you walk through it a recording of Kusama speaking  love poem in Japanese plays continuously.
Kusama used the black dots in her project to combine the cosmos through her piece.  Illuminating Earth, space, and all of us as a combination of art.
The poem that she recites is called Residing in a Castle of Shed Tears. It is one of her own poems.
This is one of her larger infinity mirror rooms. You have two minutes to go through the exhibit.
My Heart is Dancing into the Universe
This infinity mirror room is located at Crystal Bridges in Bentonville.
This particular room is filled with giant spheres the emulate light. The colors of  the spheres vary, and you become emerged in a field of neon colors.
You are allowed in this room for 90 seconds!
The video shows what it is like to go through this particular infinity mirror room.
As you watch the video, you can see the lights change color throughout the video! The are similar to round, floating lanterns.
Fireflies on the Water is a beautiful exhibit that makes you feel like you're at a lake in the summertime, and when you look around you see all of these glowing fireflies.
To read more about this exhibit, click here!
The fireflies are simply little lights that hang above and around you.
Wood is used to form a small dock that you stand on, then surrounding you is water. There are wooden boats beside you to conduct the illusion that you are on a lake with a million little fireflies that surround you.
Here is a local news story covering the exhibition providing footage of the room.
Gleaming Lights of the Souls
This infinity mirror room is another room that is filled with breathtaking lights.
The lights resemble ping-pong balls that illuminate the area.
The lights change colors, so the image is constantly changing throughout your experience.
This infinity mirror room is another room that has a peep hole to look into!
Similar to Love Forever this room is hexagonal and has LED lights on the ceiling.
All you need to do is pop your head into one of the holes to be immersed with beautiful changing lights that go into infinity.
Look right into Longing for Eternity in this video!
Infinity Dots Mirrored Room
This infinity mirror room has polka dots of various colors all over the floor of the installation. However, there are mirrors on both the sides and ceiling.
As you look into infinity, you start to become lost in the infinite amount of polka dots that surround you.
This exhibit doesn't use a lot of lights like her other infinity mirror rooms. It's beautifully simple and colorful.
It has a glow-in-the-dark type of vibe to the room. You can view it in the following video!
Light of Life is another hexagonal infinity mirror installation.
Did you know that this particular piece has around 150 lights? That's it!
However, of course when you look into it you see an infinite amount. Never ending lights!
Also, a never ending version of you and two others (possibly). There are three peep holes in the installation for people to look into and view.
View this beautiful creation by watching the video!
This infinity mirror room is permanently located at the Art Gallery of Ontario. 
This infinity mirror room is 400 square foot. Also, up to four people can be inside it at the same time!
Some of Kusama's rooms only allow one person to be in it at a time. Not this one!
Visitors are only allowed to be inside this room for 60 seconds at a time.
This infinity mirror room is filled with silver orbs! They are both on the ground, and hanging from the ceiling.
This infinity mirror room is similar to Infinity Dots Mirrored Room. 
It is an infinity mirror room that has red polka dots scattered across the floor. However, there are also manikins placed in the room as well.
The lights are hanging from the ceiling, and the room is pretty much dark except for the balls of light hanging.
The manikins are also decorated with the polka dots, and are wearing grey wigs.
Take a look at Repetitive Vision! 
Soul Under the Moon is another infinity mirror room that uses neon colored lights.
The rest of the room is covered in mirrors. Including the walls and ceiling!
It makes you feel like you're in space starring at all the galaxies and being obliterated by them.
Check out the installation in the video!
That takes you through all of Yayoi Kusama's infinity mirror rooms!
Now, I want to hear from you! Which room was your favorite?
Article Author: Hannah
Twowaymirrors.com