Teleprompters have long been the preferred tool of amateur and professional videographers, with a wide variety of choices to cater to every application and budget. We've bought and tested over 15 of the best-selling teleprompters, and below you'll find our recommendations. In addition, we've posted our top gear recommendations for teleprompter accessories which will take your productions to the next level.
Advantages of Using a High-Quality Teleprompter
1. Improves Pace: A teleprompter helps you speak at a steady rate, which keeps your audience engaged and your information easier to follow.
2. Increases Confidence: When you're on camera and trying to remember your lines from memory, it's easy to get nervous and stumble over your words. Having your script in front of you on a teleprompter can help you feel more confident and in control.
3. Enhances Professionalism: A teleprompter can help you to look more professional, as it allows you to make eye contact with the camera while you speak. This can create a more personal connection with your audience.
4. Reduces Errors: It can reduce errors caused by memory slip or mistakes, if you are not familiar with the script, with the teleprompter, you can follow the script line by line, reducing the chances of errors.
5. Saves Time: Using a teleprompter can save you a significant amount of time when making videos, as it eliminates the need for multiple takes and editing.
6. Longer Script: With a teleprompter, you can have a longer script for the video, as you don't have to worry about memorizing it all or having cue cards.
It's important to note that the quality of the video will also depend on the other elements like lighting, audio, camera angle and editing. But, using a teleprompter can definitely help you to have a more professional and polished video.
Portability can be an important consideration when choosing a teleprompter. Teleprompters that are easy to fold up and put away are great for travel and using spaces for multiple purposes. Larger teleprompters are preferred for spaces that are set up as a permanent studio to record videos.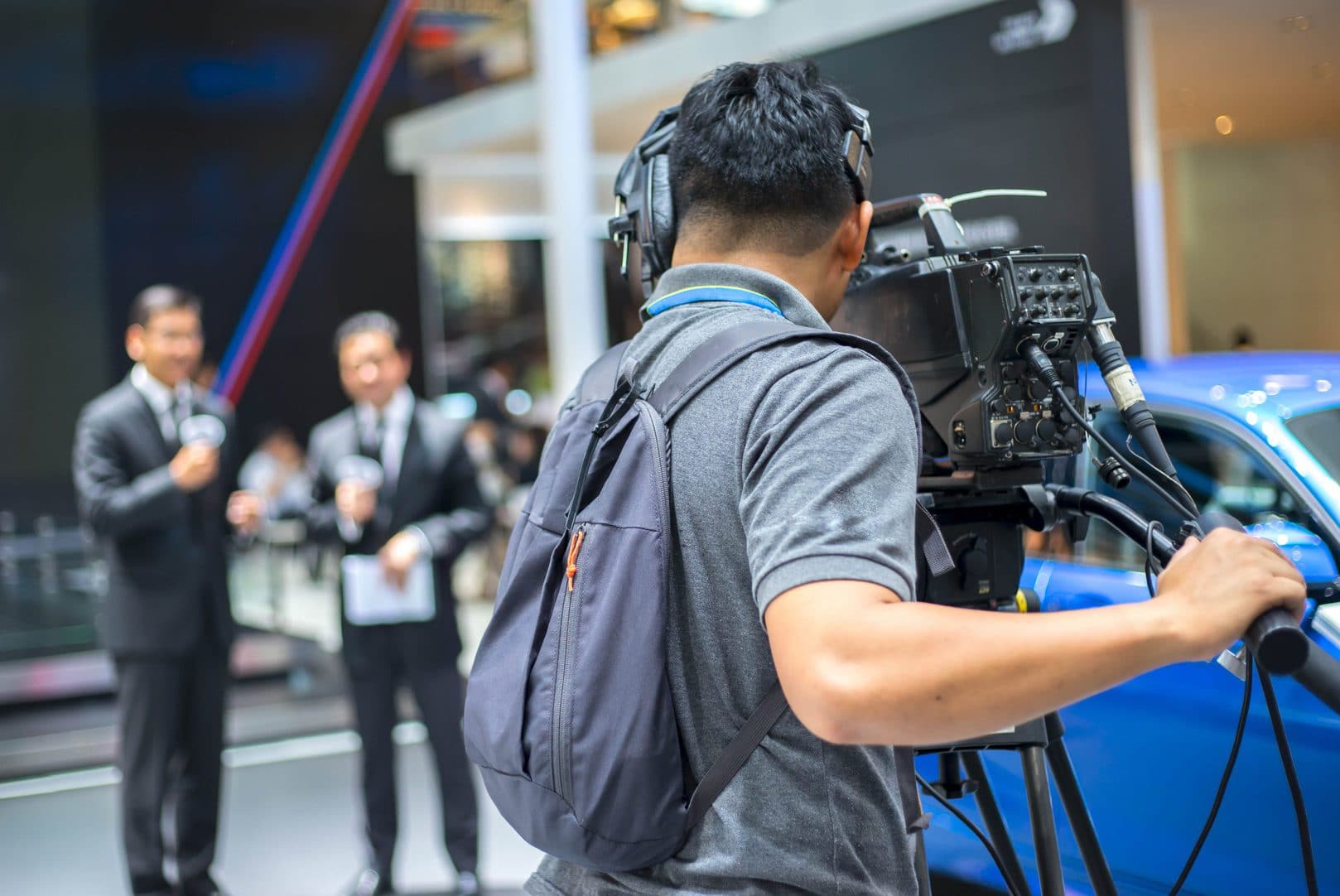 1. DIY Presidential Teleprompter
A Presidential Teleprompter offers a lot of flexibility for tablets and larger displays. They also allow a variety of different placements for the camera behind it. They're lightweight and can be assembled quickly and easily. While teleprompter companies sell them for thousands of dollars, we discovered it's simple to make one yourself using off-the-shelf parts from Amazon. We list the exact parts you'd need to make your own in our DIY Teleprompter guide. If you're using the teleprompter for online meetings, we've also written a guide on how to use them as a Zoom Teleprompter.
A high quality dielectric beamsplitter mirror allows flawless recording clarity, with virtually no tint. The anti-reflective backside prevents a double image known as "ghosting."
The double reflection, also known as ghosting, makes it hard to read the text off of the mirror. Our mirror coating prevents this from happening!
Recording straight through the glass without any discoloration is a huge bonus! Your footage will seem as if you memorized your script, and you aren't reading at all! How cool!
It's great for permanent or portable use. We use the laptop tray for our iPad, but it can handle laptops up to 15". The stand that it's on is adjustable, so you are able to lower it to the perfect eye level.
Overall, our Presidential teleprompter is the best to use if you need something that is both portable and sturdy. Not to mention the teleprompter glass is the best!
2. NEEWER Teleprompter X17 with RT-110 Remote
The professional NEEWER X17 Teleprompter is an all in one collapsible teleprompter that requires no assembly to use, whether you're giving a presentation, taking an online course, or recording a tutorial. The integrated design makes the X17 ready to use right out of the box – just open it up, mount it on a tripod via the bottom 1/4″ or 3/8″ thread, connect your camera and tablet to it, and you're ready to go.
3. Pad Prompter from OneTakeOnly
Another great portable teleprompter is the Pad Prompter from OneTakeOnly! It uses our top-of-the-line beamsplitter glass, so I can vouch that the recording quality is exceptional.
Their Pad Prompters are extremely affordable, and are known to ship at a fast rate! Also, the product is packaged really well, so you can tell that they genuinely care about their products.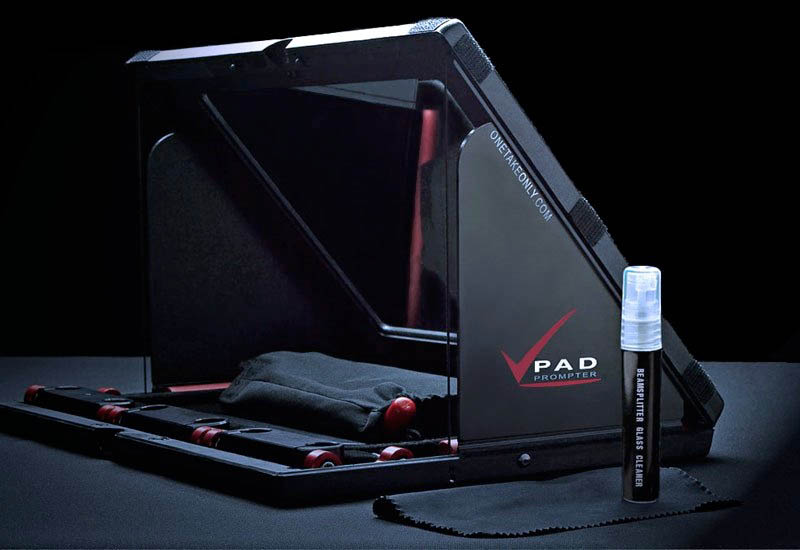 4. Glide Gear – iPad Smartphone Teleprompter
 It is also collapsible, so you can just grab it and go! It is a great teleprompter for the price, and it is light and compact.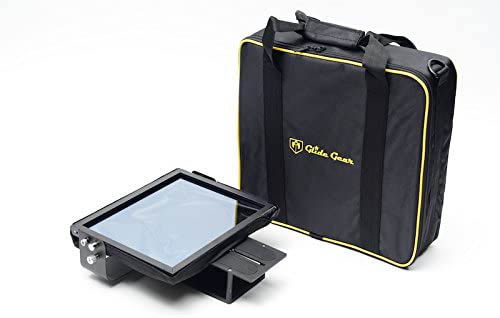 It even has a small bag that it fits into!
5. Padcaster Parrot Teleprompter
 It is extremely small. Unless you constantly need to read off of your phone for a teleprompter because you travel that much, then we don't really recommend it.
But it does have some perks! It's inexpensive, the size is fine as long as you don't have to stand at a distance, and almost any DSLR camera can be used. The parrot teleprompter is simple, compact, and effective!  It is a game changer and a must have in your travel bag!
Next up we have the Little Prompter. The Little Prompter is also inexpensive! It is 6x6x6 inches! Little Prompter uses our 30/70 teleprompter glass which is a great addition!
The key components are that it is compact and lightweight. It weighs less than a pound! However, you are more restricted on what you can use with it. For example, since it is so small, you can't use a camera that has a wider angle lens.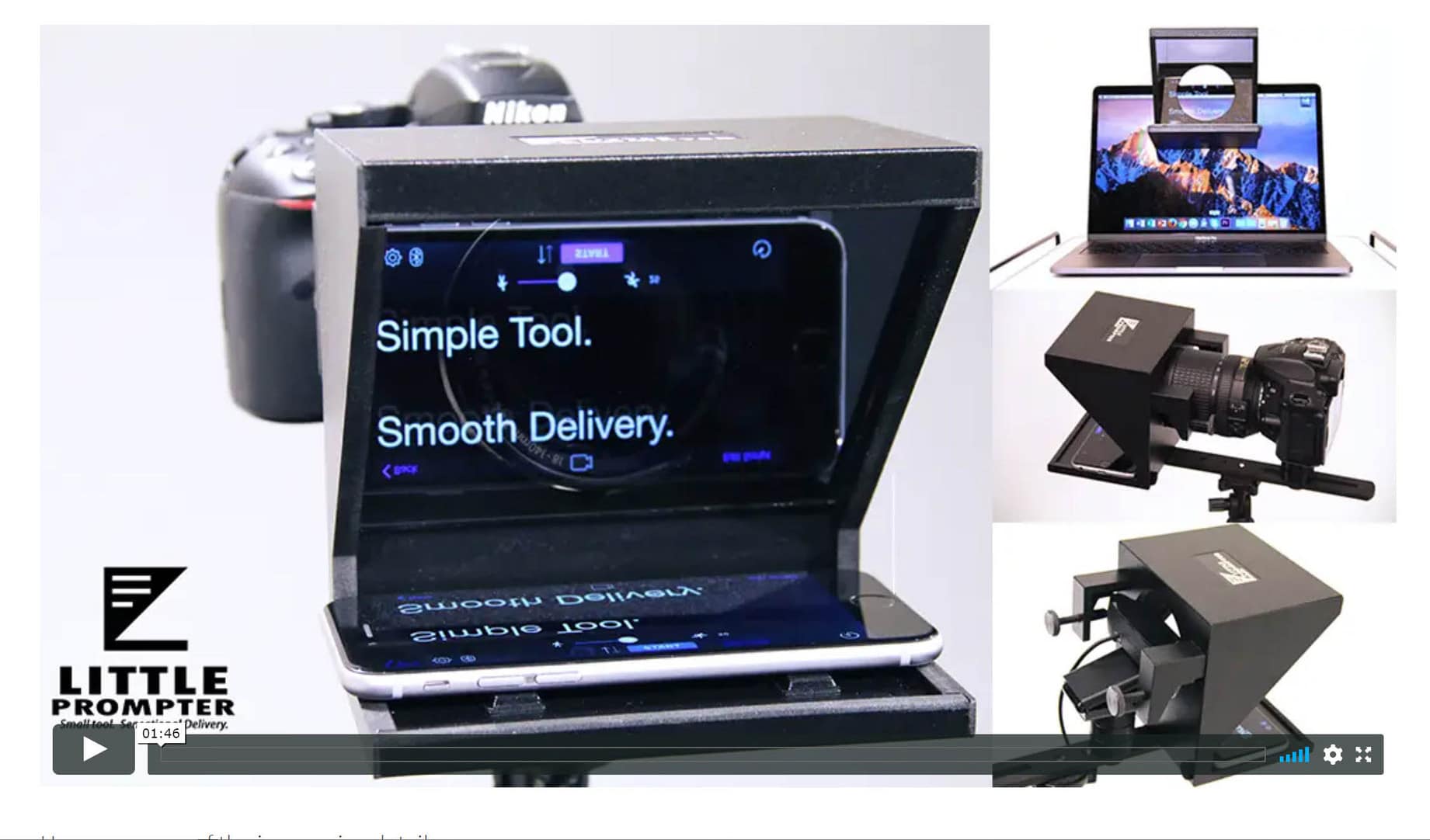 For easy setup and use, the Little Teleprompter has tutorial videos and instructions on their website. The little prompter is the best type for doing live webinars or zoom meetings since it fits so nicely on top of a laptop. 
Up next we have the Teleprompter Pad. This teleprompter uses the 60/40 dielectric glass. We recommend using 60/40 dielectric glass for the highest quality reflection which is awesome for live speeches.
It is compatible with most tablets and iPads. One thing to note is that they have a different model for the newest iPad Pro so when you go to the website, make sure it fits the screen you have!
The aluminum makes it lightweight and portable. It comes with a free remote control with your teleprompter!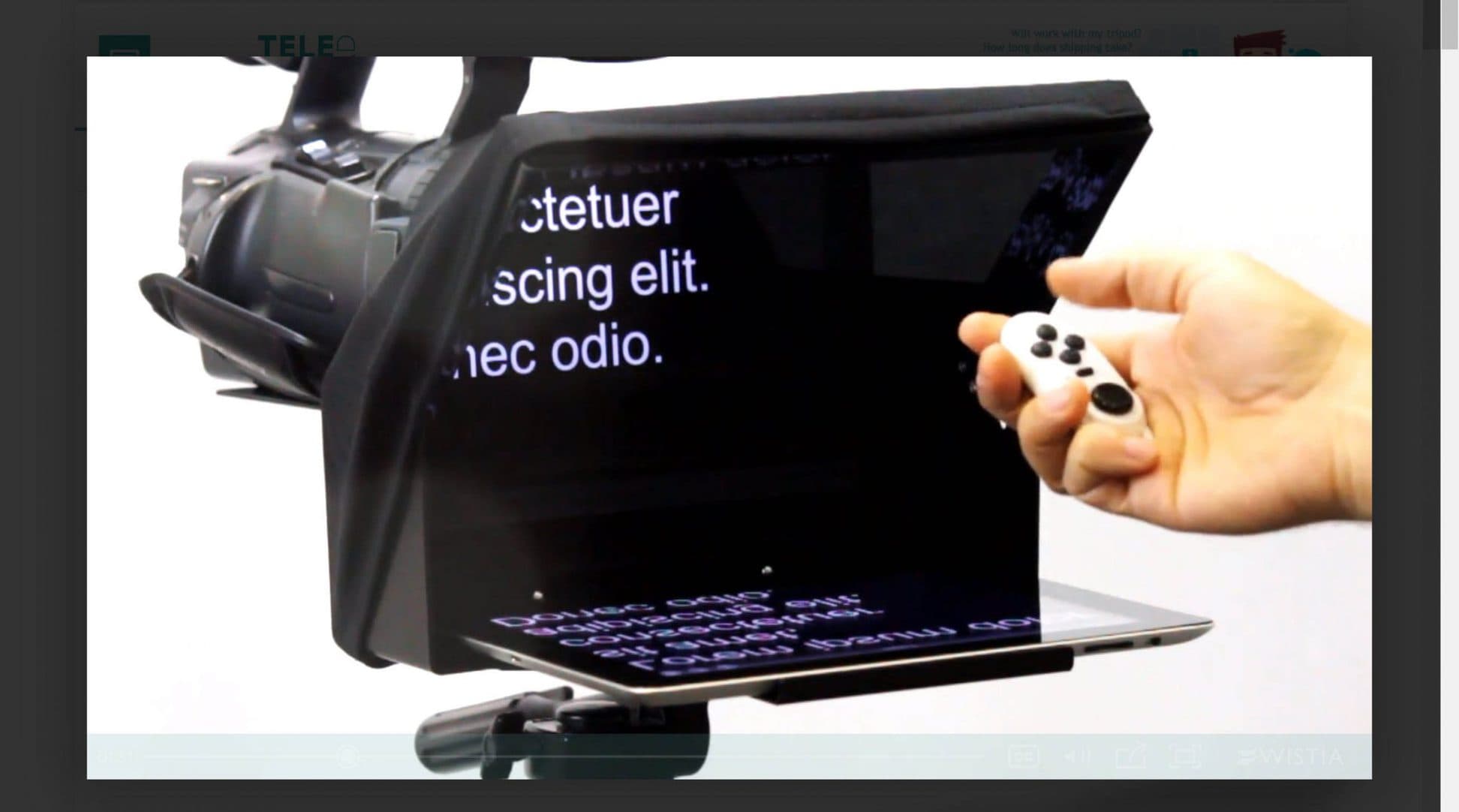 But, you can only use the remote if you have an apple or android system. The main advantage is how easily it sets up and tears down. 
8. Prompter People Teleprompter
Prompter People Teleprompter is next on the list, Prompter People's website has videos that introduce each teleprompter, which is great when you don't know which one you would want.
It even has a monitor selection diagram so you can test out your eyesight with each teleprompter. However, Prompter People is not the most cost effective if you're looking for a portable teleprompter.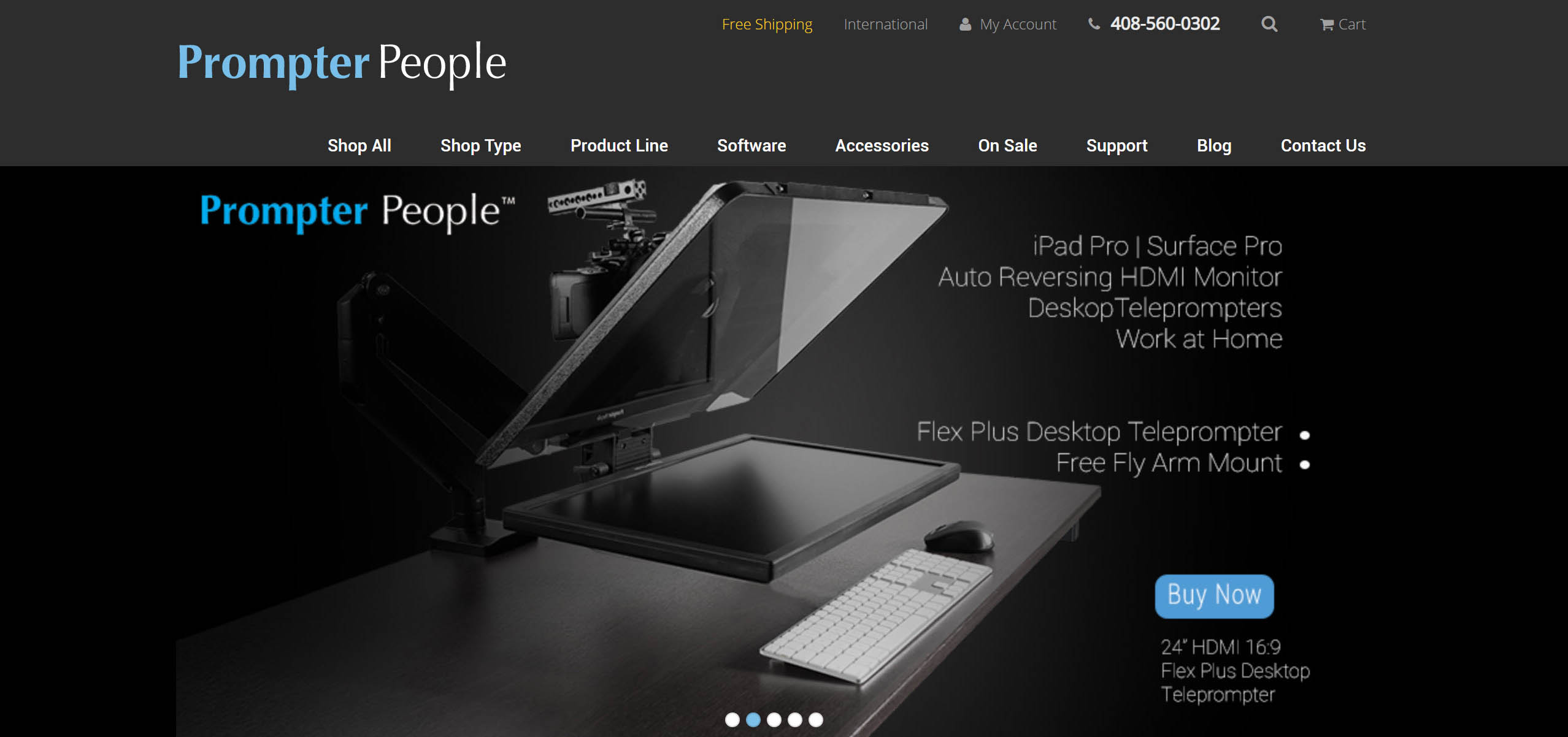 It is a high quality item from a vendor that you can trust with a sleek design. Having a great design is important for a portable teleprompter because it will be used for travel.
 Autocue has an iPhone teleprompter, iPad teleprompter, and an iPad/DSLR Lite Teleprompter. Their website has a great Q&A section that will help you understand your teleprompter.
Even though these teleprompters are portable, they are not cheap. They also sell teleprompter accessories such as an iPhone Carry Case and an iPhone Pistol Grip.
It is easy to read from more than 10 feet away though which means it is highly versatile. Some people have even used it for karaoke, and they loved it! 
Green screens work great with teleprompters! We love to use green screens when we make out YouTube videos!
Green screens, otherwise known as a chroma key background, allows you to change the background by placing an image or video behind you in the editing process. We use it to put up amazing visuals to better explain concepts and it results in a very professional video in the end. 
If you get one, I recommend using green screen paper rather than a cloth one because that cloth is really hard to get the wrinkles out.
Article Author: Hannah
Twowaymirrors.com