Height

Width

TV Size

TV Orientation

Position

Calculate

Price

Cart

$20.00
The Workout Mirror is a new mirror technology that allows you to watch and do your favorite workout routines while seeing yourself in the mirror. It combines the flawless reflection quality of the Glass Smart Mirror with your favorite brand of TV to allow seamless integration into your home.
It's not a one-size-fits-all. Customize the mirror size and TV size to satisfy all of your workout dreams.
Everyone has their favorites! Have you been scouting out the next 8K screen coming out soon, or did you go to Best Buy and find the perfect blend of vibrancy and sleekness? No problem. We can work with any brand and model # TV on the market. Below are the models we are currently using as a base model:
Models of Televisions we use:
19″ Insignia
24″ Vizio D24F-G1
32″ Samsung QN32Q50R
43″ Samsung Q60A
50″ Samsung Q60A
55″ Samsung Q60A
60″ Samsung Q60A
65″ Samsung Q60A
75″ Samsung Q60A
Step #2: Choose Your Orientation
The orientation is where you would like to put your display at. Think, where do you want to look at while following your workout. Whether that is at the top, left, right, bottom or even in the middle of the mirror. You can even have your TV vertical or horizontal.  It is completely up to you with our custom design options! Most of our clients prefer it to be at the top, that way they can see themselves in the mirror while they're working out.
Step #3: Set Your Mirror Size
The mirror size is completely up to you, depending how big or small you would like your reflection to be. If you know where you will be placing your Workout mirror, measure the space to see how big or small you can go. If you would like the mirror to be the same size as your display, see the guide to the left.
Popular Combinations:
50″H x 26″W with 24″ TV – Vertical TV Orientation – Position: Centered
60″H x 30″W with 28″ TV – Horizontal TV Orientation – Position: Centered
Step #4: Lighting Solutions
For extra lighting on your workout mirror, you can add custom lighting to it! For a special lighting solution, contact us and we will happily create a custom quote just for you! Here are our standard lighting solutions you can choose from: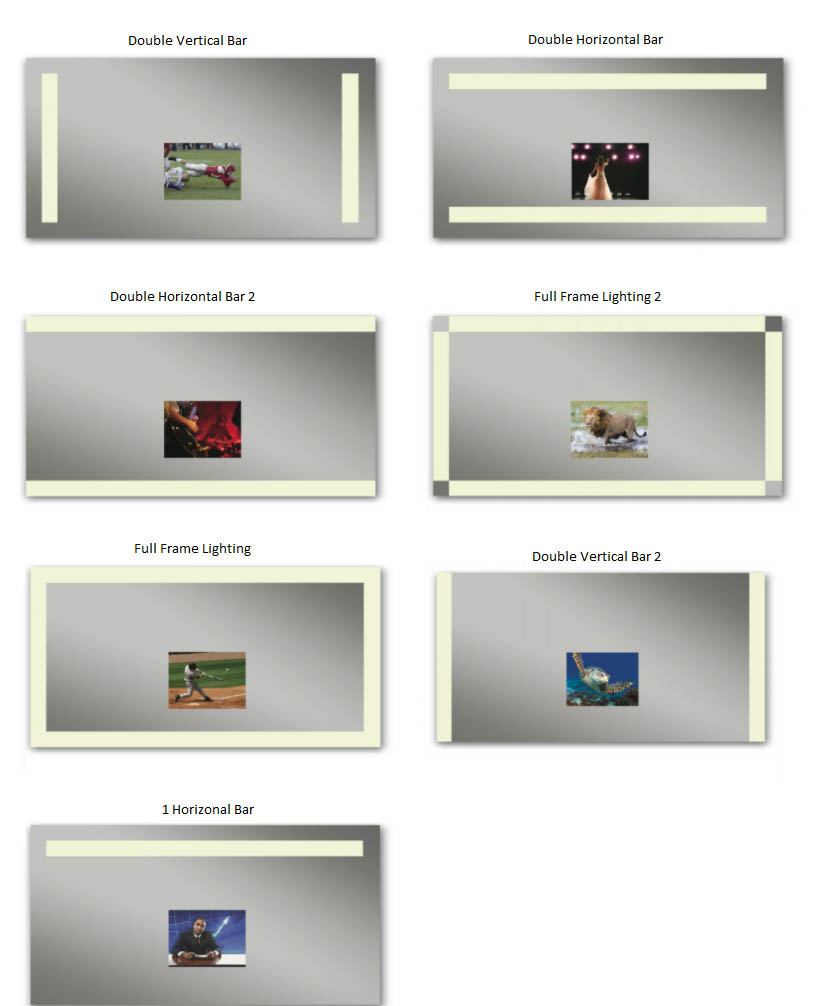 Warm Up Stretches are super important, it gets your body warmed up for intense cardio and gets your heart rate up.
For a full body workout, this is one my top favorite workouts!
Once you are done with your workout, a cool down stretch is important. This reliefs your body and also helps you with muscle recovery!
The lead time for a full system Workout Mirror is 2 weeks until shipped!