Our Rating: 97 / 100 (Reviewed June 2020)
The Samsung Terrace QLED TV provides the ultimate outdoor cinematic experience. Terrace Television's command a big premium in price over standard (indoor) televisions, since Terrace TV's include a multitude of intriguing, and unique features. These various features combined are what make Samsung's Terrace TV ideal for absolutely any outdoor space, while providing it's viewer with an unforgettable experience. A few of the must have features of the Terrace include, the outstanding 2,000+ nits brightness and the IP55 weather protection. In this guide, we've put together a complete list of all the Terrace Television's features, photos, videos from Samsung and independent reviewers, as well as downloadable technical specifications and Terrace TV manual.
Samsung's Promo For The Terrace TV
Samsung Terrace Television Features
Picture
• Outdoor-Optimized QLED Picture
• Wide Viewing Angle with Anti-Glare
• Direct Full Array 16X1
• Quantum HDR 32X
• Quantum Processor 4K
• 100% Color Volume with Quantum Dot2
• Real Game Enhancer+™
• Motion Rate 240
• Adaptive Picture™
Design
• Solid Metal Design
• Weather-Resistant Durability IP55 Rated
Smart Features
• Smart TV Powered by TizenTM
• Universal Guide
• Ambient Mode+3
• Multiple Voice Assistants4
• TV Plus
• Mobile View
• Samsung OneRemote
• SmartThings Compatible
Connections
• 3 HDMI Connections5
• 1 USB Connection
• LAN Port
• 802.11AC built-in Wi-Fi
• Bluetooth®
• RS232 Control (Ex-Link)
• IP Control Support6
• Optical Audio Output Port
• HDBaseT in
Audio
• Active Voice Amplifier
• Dolby® Digital Plus
• 20 Watt 2 Channel
Included Accessories
• Samsung OneRemote
Industry Certifications
• CTA 4K Ultra HD Connected
• HDR10+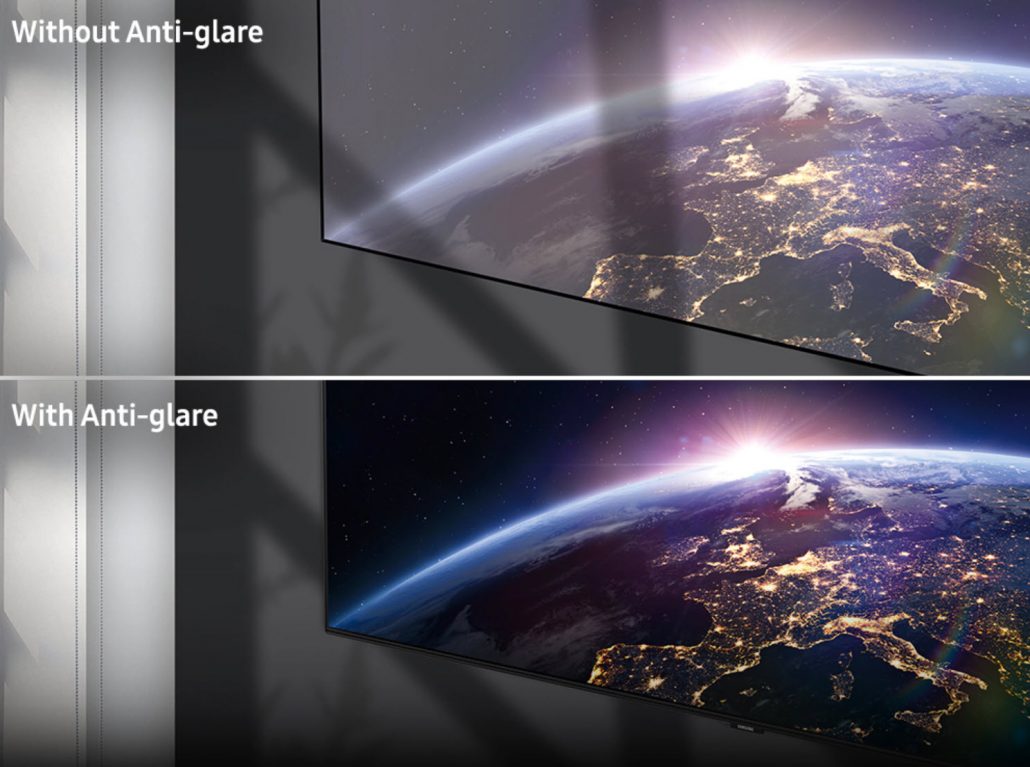 Enjoy TV Outdoors with Samsung's New Terrace TV
75″ 75LST7T $6,499.99 (MSRP)
65″ 65LST7T $4,999.99 (MSRP)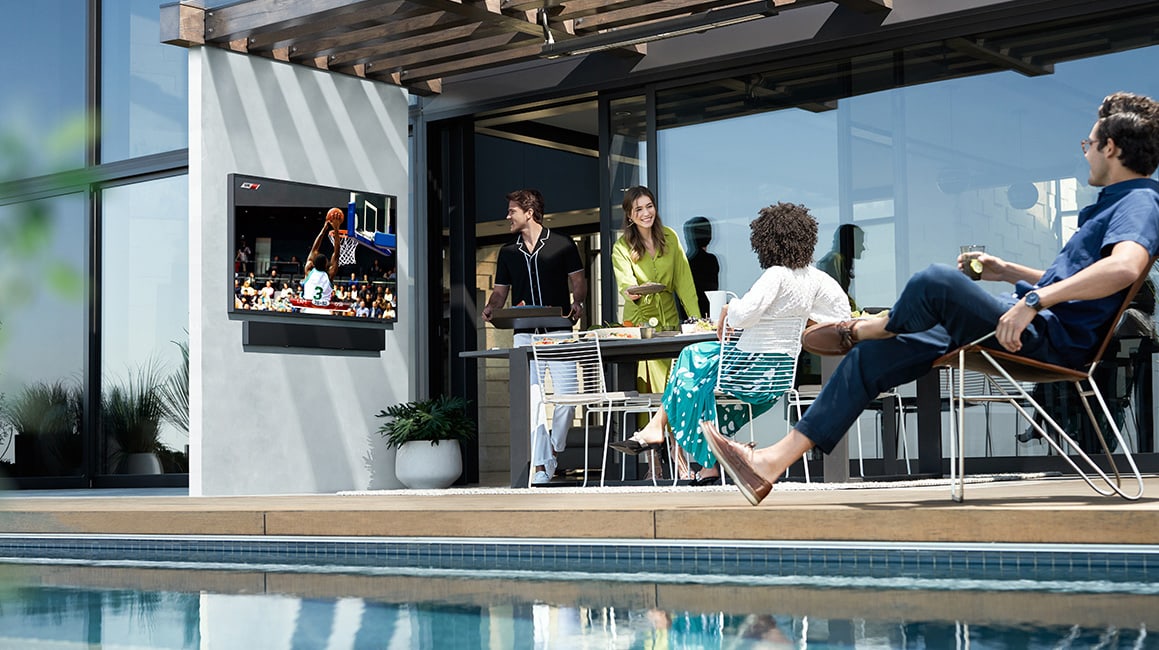 Introducing the Samsung Terrace Outdoor TV
As we all know, technology continues to progress in a multitude of unfathomable, incredible ways. Samsung has once again set a new standard for TV's with their new Samsung Terrace TV. Not only is the Terrace TV weather resistant, but this TV is also glare, and dust resistant. 
The Terrace TV is made specifically for outdoor use, such as on a patio or a deck. This Television provides the viewer with the ability to sit outside and enjoy the sunshine-while watching their favorite binge-worthy TV shows. The Samsung Terrace Television is the best outdoor TV available, due to the abundance of unique features it obtains.
Couldn't I Just Use My Home Television Outdoors?
Potentially a person could place a regular home Television outdoors, however the visual quality that would be admitted from a regular home TV would be overwhelmingly subpar, as well as disappointing. The disappointment a person would experience is due to many significant factors regarding the home Television's manufactured specifications, such as the home Television's lacking the ability to handle moisture and unpredictable weather.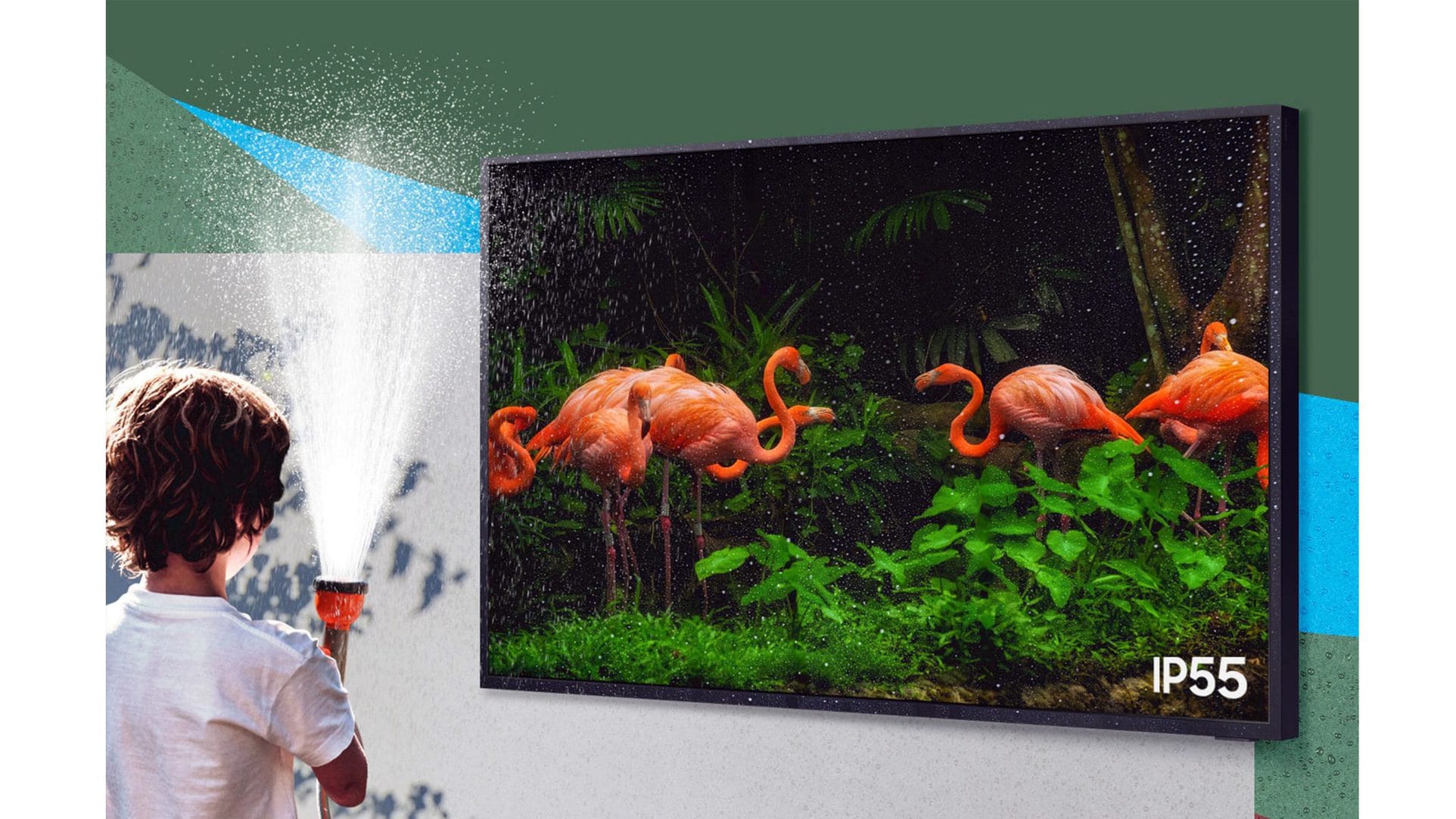 Samsung's Terrace TV is rated to IP55, making this TV not only dust resistant but water resistant as well. An IP55 rating provides enough protection for the TV to be able to withstand "low-pressure water projected from a nozzle", as well as "contact with harmful dust". 
Terrance Televisions also are equipped to withstand heavy rain falls, moisture, temperature variations, and dirt. The TV's body is manufactured to be completely weather-proof and features narrow 10mm bezels, with a depth that measures 59mm deep.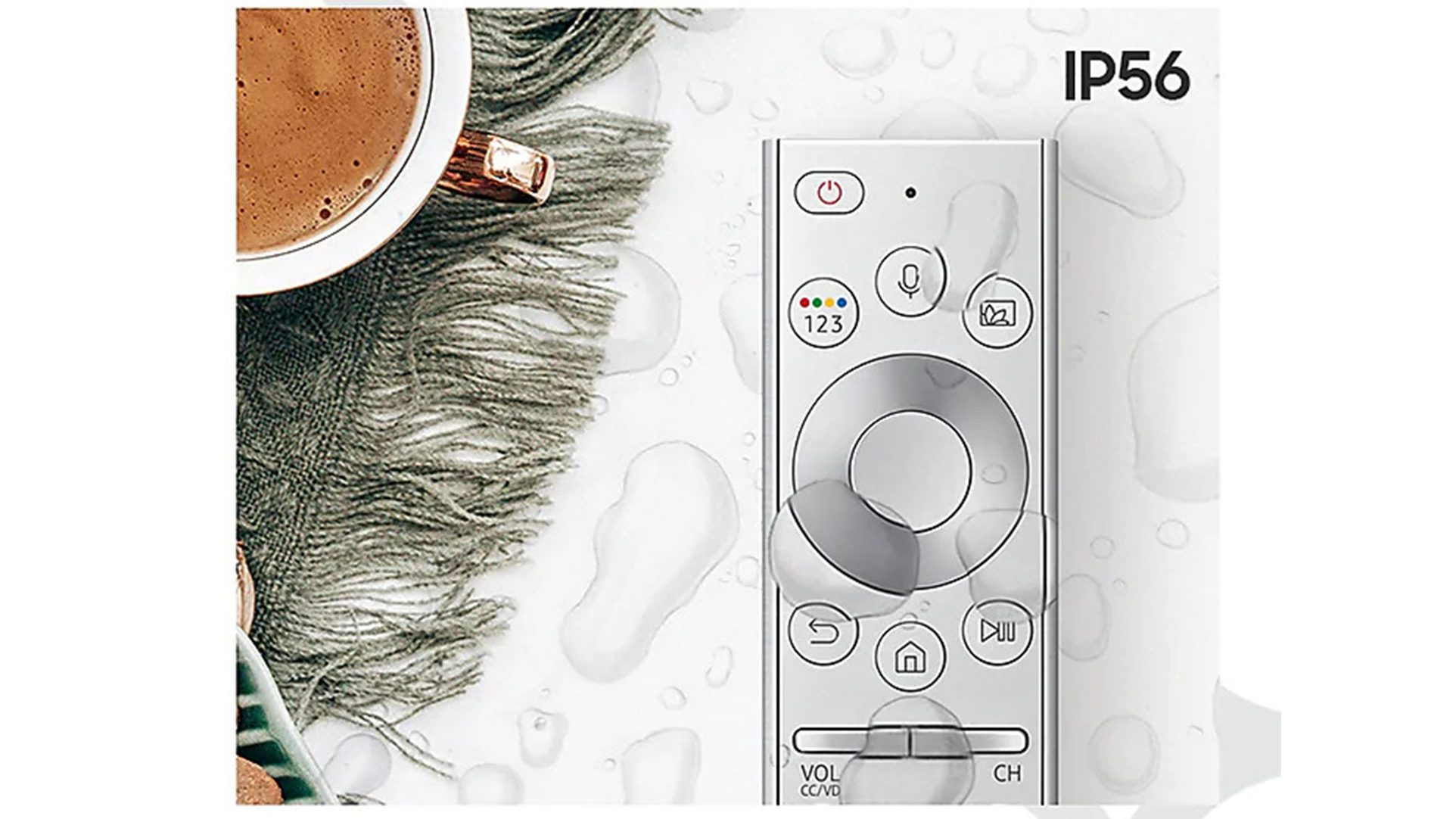 Samsung provides one "Samsung One Remote" with the purchase of a Terrace Television, which also has incredible built-in features. The remote itself comes readily prepared to withstand the varying weather conditions and dust, since it's equipped with an IP65 rating. 
One of the best precedents as to when a person would absolutely need a Samsung Terrace TV is on beautiful sunny days, where someone simply wants to enjoy the sun, but yet still wants to indulge in their favorite TV shows.
Attempting to watch a regular home Television in the outdoors on a bright, beautiful day would ultimately result in excruciating disappointment, as well as discouragement. Home televisions do not come readily prepared to be placed in direct sunlight, since they lack a multitude of the necessary aspects. When a home Television is placed in a bright environment, it will lose the immaculate picture quality that would be provided inside of the home.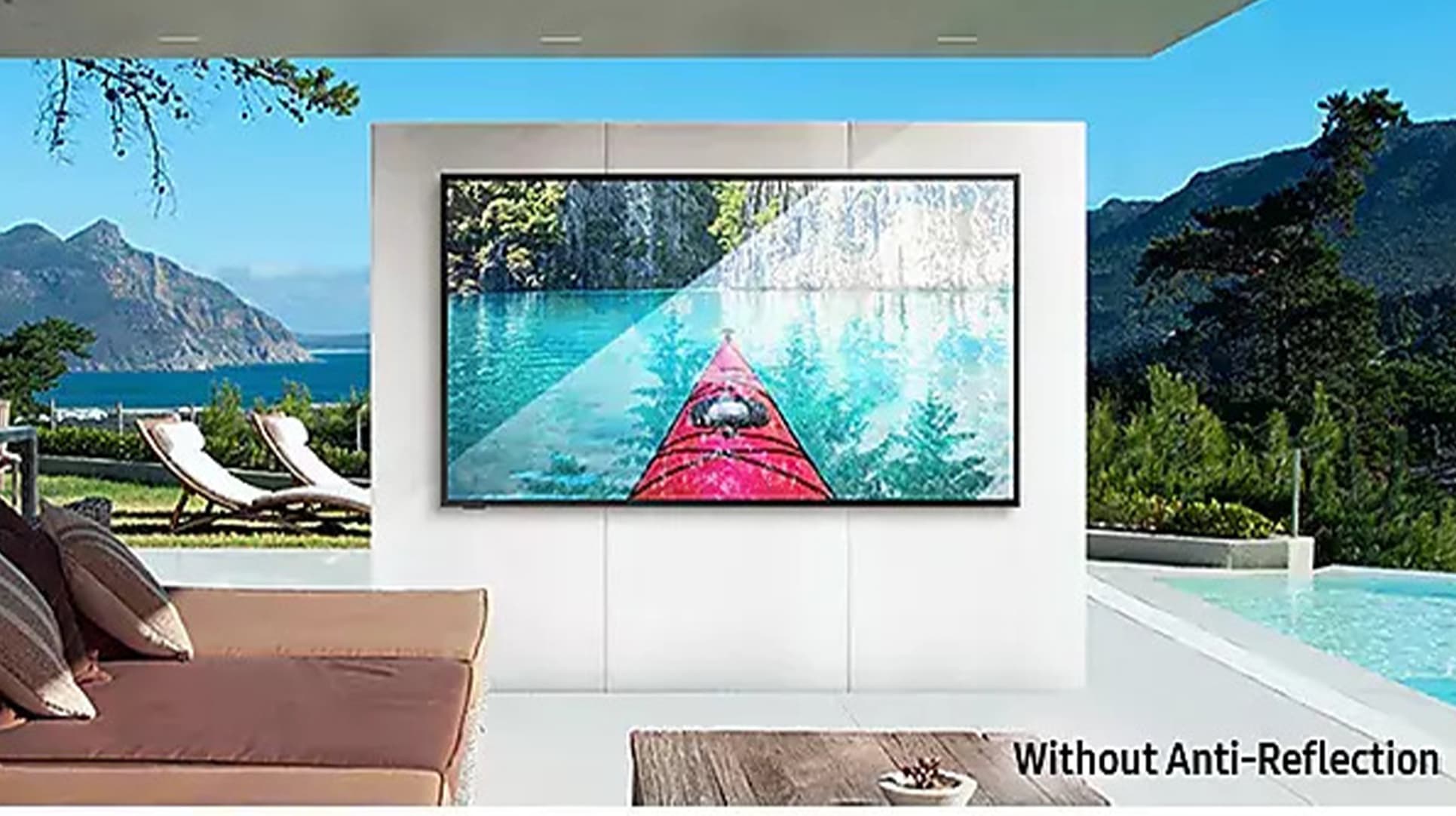 A regular homes Television is not manufactured readily prepared to be placed in any direct sunlight or in overly bright environments since they lack an Anti-Reflective screen. Home Televisions lacking the Anti-Reflective screen is just one of the many crucial aspects as to why regular home Televisions perform so poorly outdoors. 
Placing home Televisions outdoors will ultimately result in the TV's screen appearing practically non-visible. This is due to the levels of brightness and sunlight in the outdoor environment hitting the screen's surface, and the screen lacking the capability to reflect the ambient outdoor glow.
One of the many incredible features provided by the Samsung Terrace Television is that this TV does come fully prepared to be placed in the sunlight, as it does possess the Anti-Reflection screen. 
In addition to possessing the Anti-Reflective screen, the Samsung Terrace TV also provides a vivid, immaculate picture quality since it's fully equipped with QLED 4K, 100% Color Volume with Quantum Dot, along with the 2,000+ nit brightness levels. 
The Terrace Television is manufactured with built in adaptive brightness technologies, allowing the screen automatically to dim itself when the outdoor lighting conditions change due to a cloud passing through, or a storm rolling in.
Samsung Terrace Televisions are also equipped with LCD panels that allow the viewer to see everything on the screen in direct sunlight, without diminishing the screen's appearance overtime due to fading. In a typical home Television, harsh sunlight will often diminish the screen's appearance after extended exposure.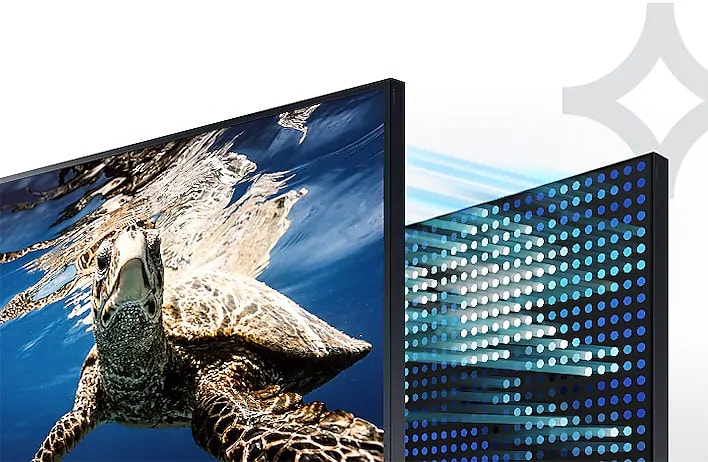 The Terrace TV provides everyone with the amazing ability to watch their favorite action packed movie outdoors, as it is equipped with a billion shades of brilliant, vibrant colors. The outstanding variety of colors will never wash out, or diminish-even in the brightest of environments. 
Motion Rate 240 is also included in the Terrace Television to provide the viewer with the best possible viewing experience. This mesmerizing feature ensures a significant decrease in motion blurring, which is especially noticeable when compared to other, ordinary Televisions. Motion Rate 240 always ensures that your favorite sports, as well as action packed movies remain appearing crisp and smooth.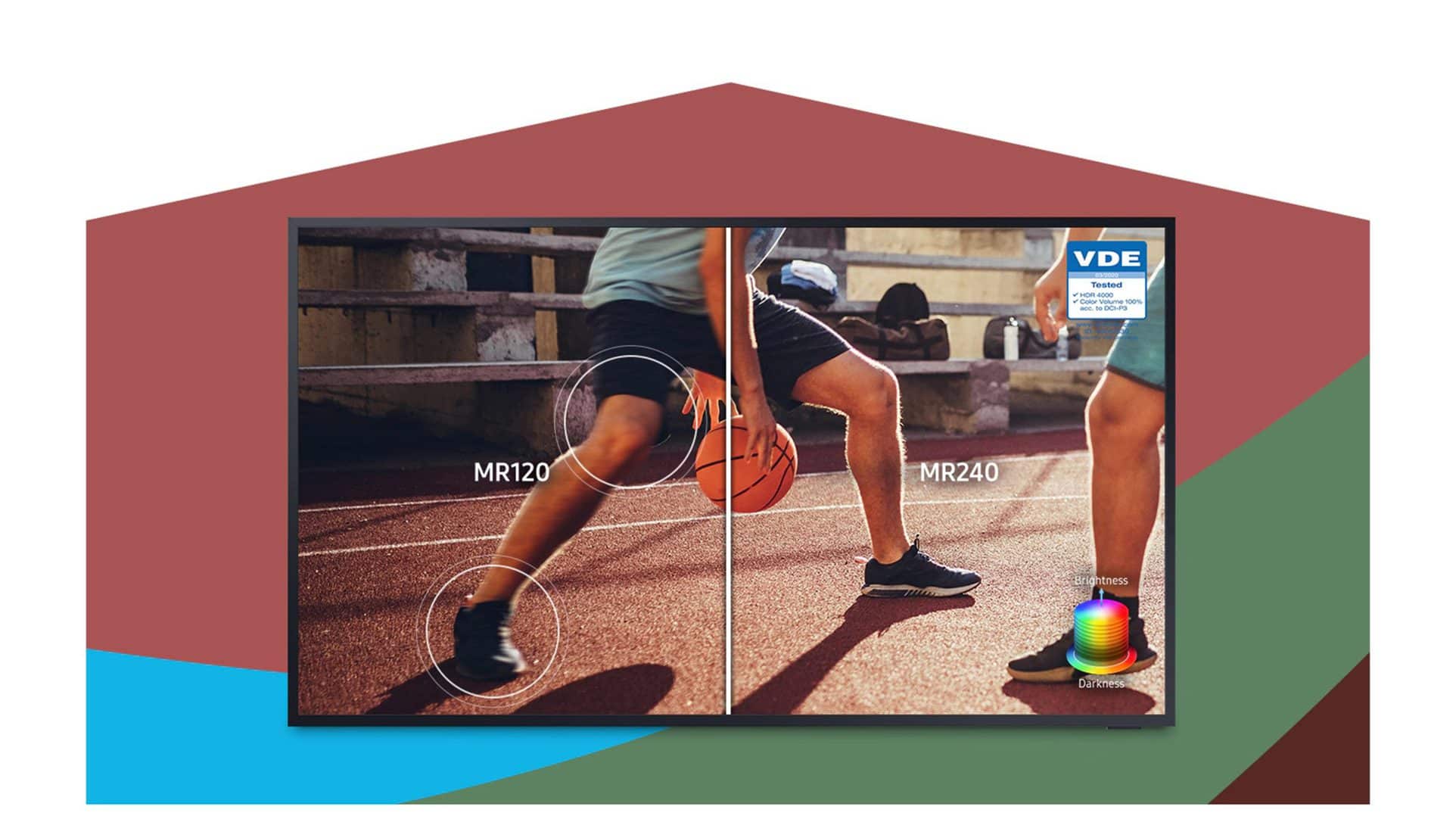 Terrace TVs are manufactured to provide it's viewer with an immaculate cinematic viewing experience, since this TV utilizes the 100% Color Volume in the DCI-P3 color space. This is the exact format used in the majority of cinema screens and HDR movies for television. 
Samsung has truly outdone themselves with the outstanding HDR picture quality that's provided within their Terrace Television. Beyond doubt Terrace Televisions have set a new standard for television screens everywhere, since it comes with the Quantum HDR 32X. 
Quantum HDR 32X provides exquisite, immaculate precision details, and brightness. Anywhere, anytime, this TV allows the viewer to experience rich, accurate color, improved brightness, as well as a deeper contrast. Thus providing unbelievable details in your favorite shows and movies.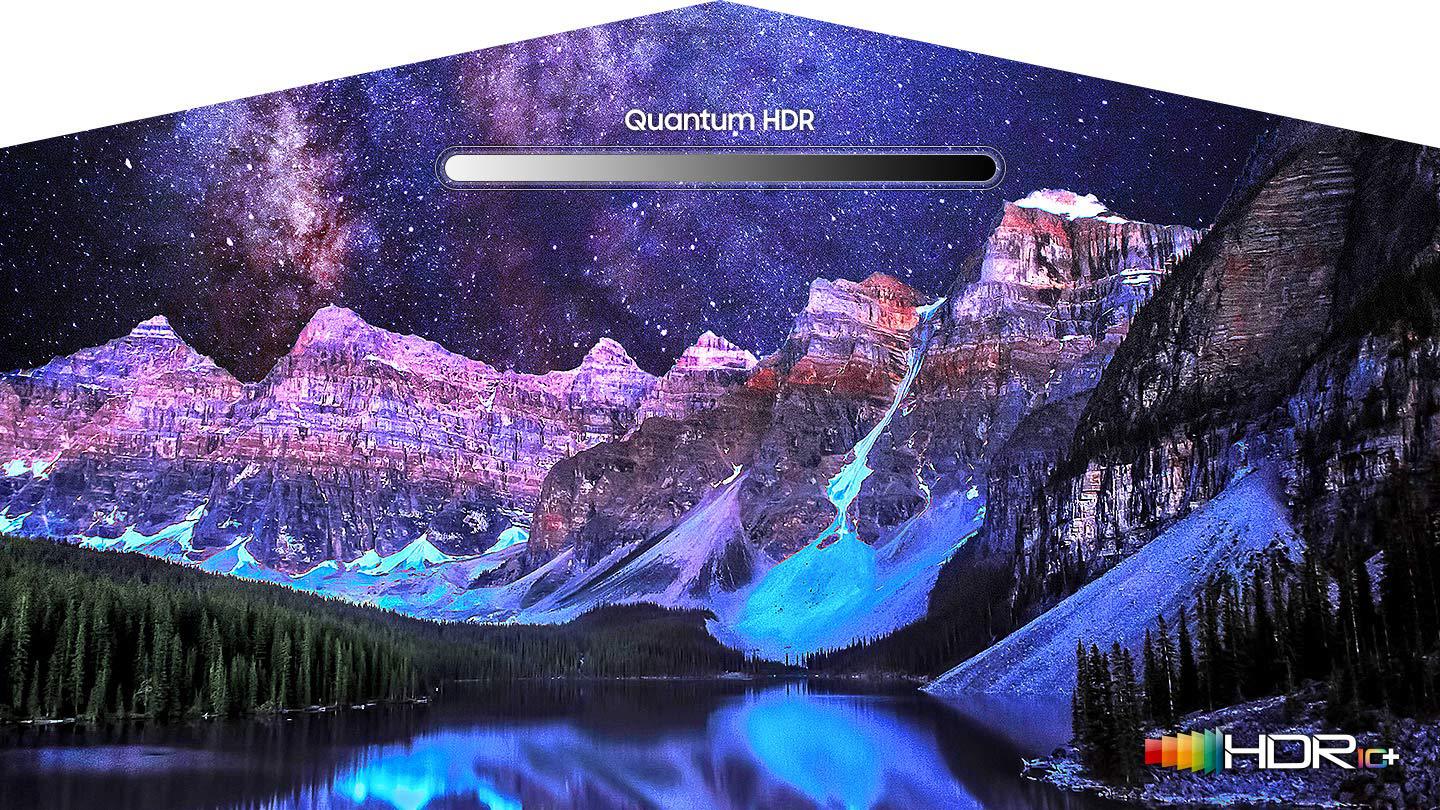 In addition to the Quantum HDR 32X that Samsung has added, they also added the HDR10+ into their Terrace TV. HDR10+ automatically adjusts both the color and contrast of each individual scene of any show, or movie. This incredible feature ensures a breathtaking, dynamic viewing experience for all viewers.
Let's not forget about the 4K Al Upscaling that is beautifully featured in the Terrace Television. 4K Al Upscaling allows the viewer to transform any show, or movie into 4K resolution-with no hassle. The 4K Upscaling will automatically reduce image noise, while providing an immaculate crisply defined view of any footage, regardless of the input source. In addition, the 4K Upscaling will also automatically restore any lost details of the footage being watched.
How Does the Samsung Terrace Television Perform in Dark Environments?
Though the Terrace Television works phenomenally in the direct sunlight, the quality of the Terrace does not disappoint in even the darkest of environments.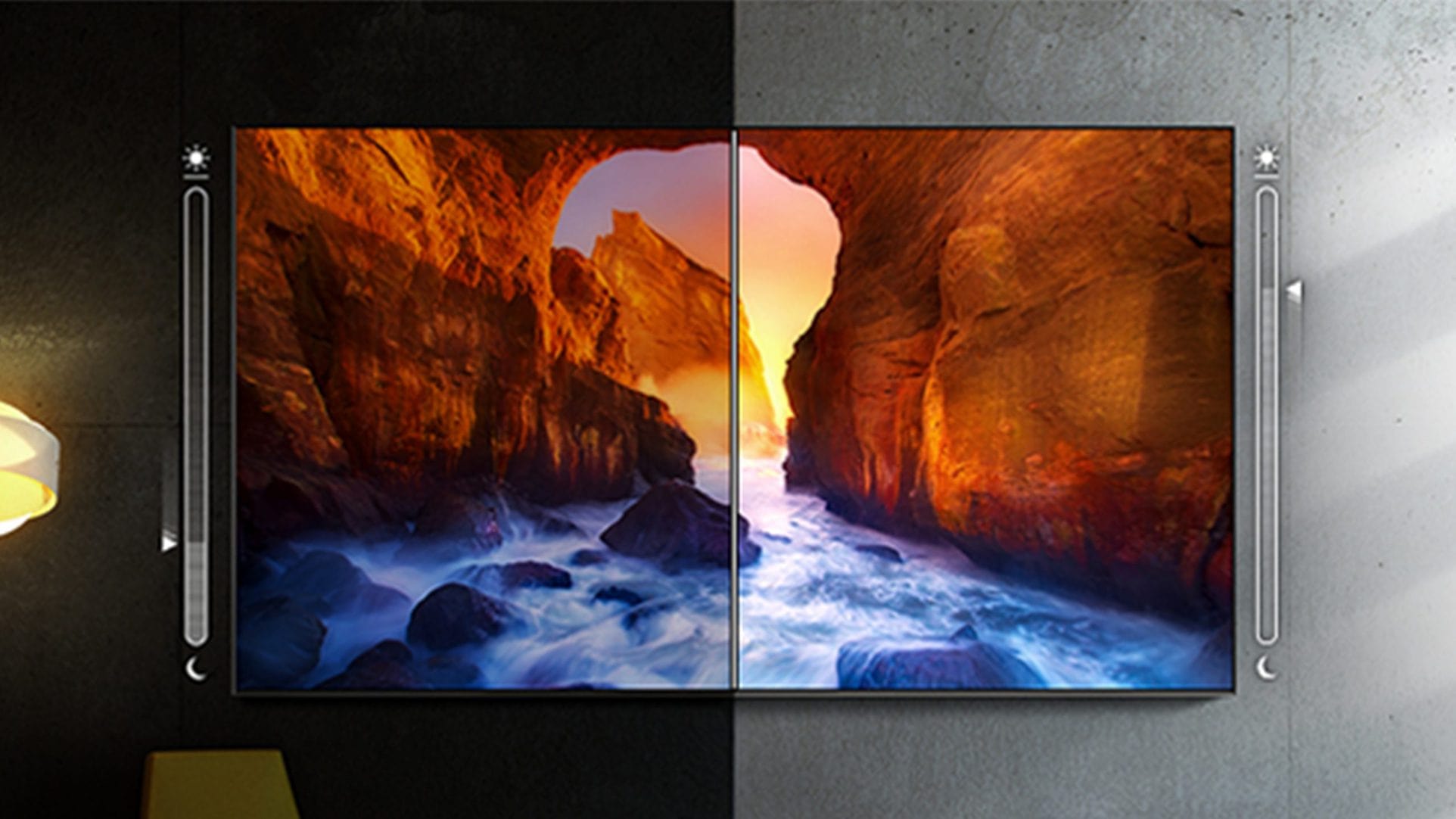 Terrance TV's provide the viewer with the finest of details- in any environment. This is due to the amazing feature of the Direct Full Array 16X which brings a stunning eye catching depth, as well as precision contrast to anything the viewer chooses to watch. Direct Full Array 16X also provides the viewers with fine control of the lighting zones, that are conveniently located behind the Television screen. 
Say Goodbye to Tangled Wires!
When setting up or utilizing a regular home Television the wires can rapidly become tangled, inevitably causing the viewer to become severely frustrated and overwhelmed. The Samsung Terrace Television comes prepared with the solution to eliminate that issue. 
The HD Base-T Receiver is included free as a built-in feature with every Terrace Television, eliminating the need to purchase extra equipment in order to connect external devices. After receiving your mesmerizing top of the line Television, all you must do to begin watching your favorite shows is plug the included cable into a nearby AC outlet. Once the TV is plugged in, simply lay back, relax, and soak up the sun-all while enjoying your new private outdoor cinema.
HD Base-T Receivers not only provide tangle-free wires, but are also equipped with built-in Media Bay. Media Bay easily provides the wires with the needed protection in order to withstand any dust or water, as well as providing additional support for media sticks. 
A New Standard for Smart Televisions
The typical smart Television capabilities have now been surpassed by the Samsung Terrace Television. The Terrace has now set an entirely new standard for future smart TV's, as it is equipped with numerous features such as controlling the TV with just your voice, controlling any connected devices with your mobile device, an extensive variety of apps, the capability of managing the lighting among other aspects inside of your home, AirPlay, Multi View, as well as Tap to Mirror.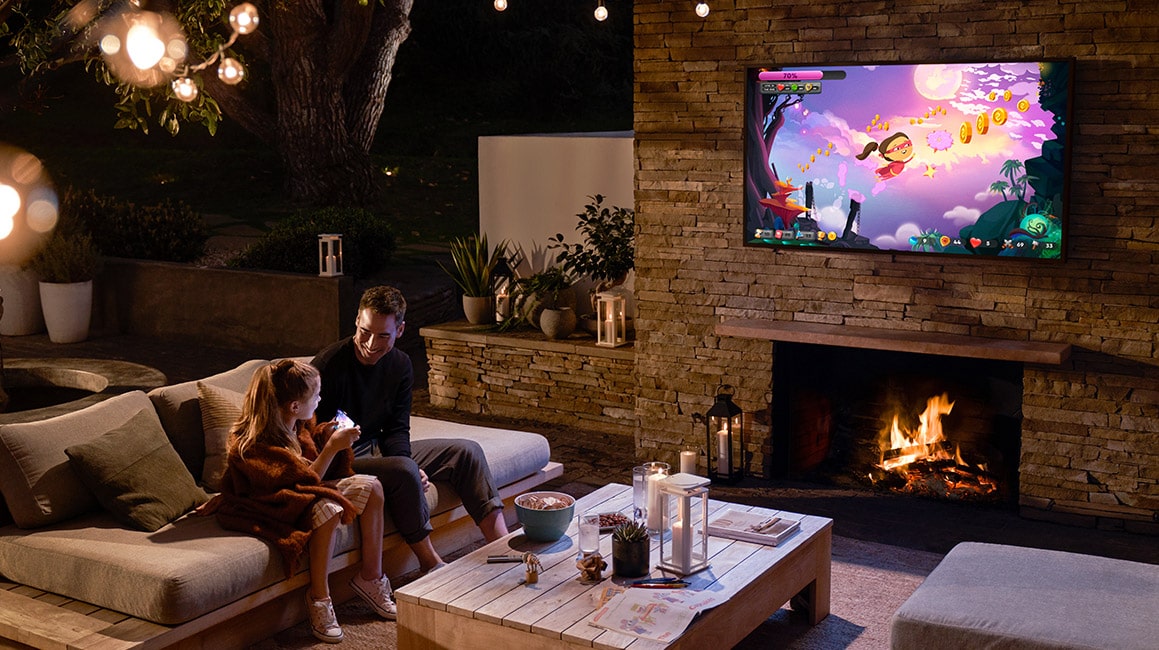 Samsung included it's Tizen smart TV platform within the Terrace Television in order to provide the ability to stream the same media and apps that a regular home Television offers. However, Samsung took everything a step further when creating the Terrace Television. 
The Terrace TV can be controlled by an array of voice assistants including- Google Assistant, Amazon Alexa, as well as Samsung's Bixby with several options for the source-viewing modes such as Tap View and Multi View. By simply speaking to the Samsung One remote control that is provided with the Terrace, navigating a TV has never been easier. 
Samsung's Terrace Televisions are also capable of controlling the lights inside of your home and even allow you to take a look inside of your refrigerator, plus much more, all without being forced to leave the comfort of your patio. The Terrace uses the SmartThings software which connects the TV to your IoT devices. The only small downfall of this would be that you may have to install the SmartThings app onto your compatible device.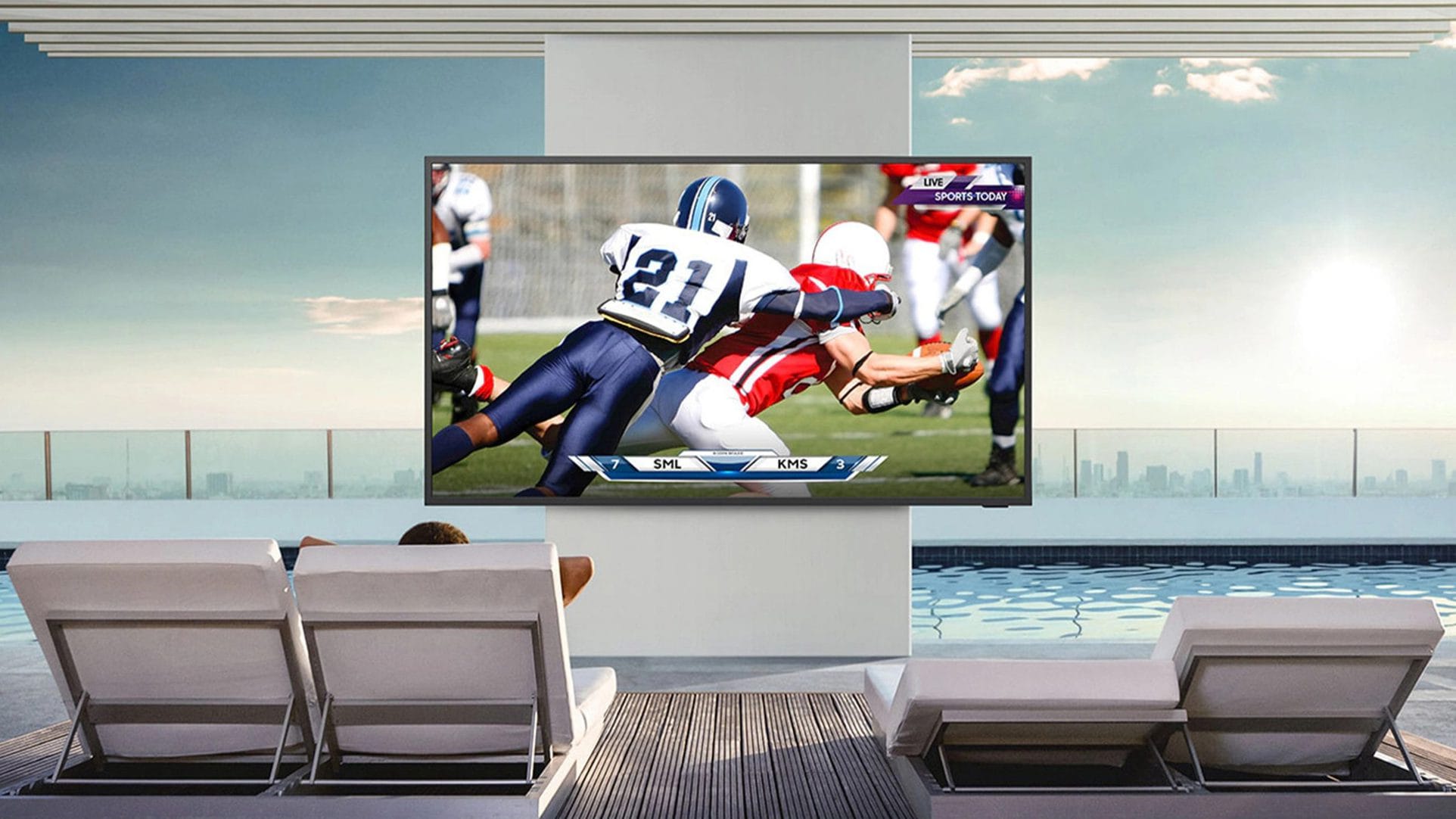 Additionally, the Terrace allows the viewer to mirror their favorite apps, videos and much more directly onto the TV's screen. The process of mirroring is extremely simple on the Terrace Television, all that you must do is tap the screen of your mobile device. Tap View is available on the Samsung Galaxy devices that are equipped with Android Ps 8.1 and higher. 
Multi View is also included within the various features of the Terrace Television. Multi View allows the viewer to continue watching their shows, while mirroring their mobile device at the same time. This amazing feature provides you with the ability to watch your favorite shows, while watching your workout videos or checking your favorite sports teams stats. This feature is accessible on Android OS 4.2 and higher, but is also compatible with iPhones and iPads that support AirPlay 2.
Newly introduced in 2020, AirPlay 2 comes built-in to the Samsung Terrace Television. AirPlay 2 provides the viewer with the ability to effortlessly share photos, play music and home videos directly from their iOs device directly onto the TV's screen. This feature requires an iOS 12.3 or later device, or macOS 10.14.5 or later. 
Among all of the incredible features provided by the Samsung Terrace Television, is the Terrace Sound Bar. This Sound Bar, like the Terrace Television, is IP55-rated and is specially designed for use in the outdoors. The Sound Bar features distortion-cancelling technology and is weatherproof. As Samsung puts it, the Terrace Sound Bar "packs powerful and crisp audio for a truly immersive outdoor home theater experience."
The Terrace Sound Bar connects to the TV via Bluetooth or WiFi, but also has the ability to be controlled by Alexa voice commands. This outstanding addition will inevitably eliminate any need for wires or cables. Similar to the standard sound bars that Samsung has provided in the past, the Terrace Sound Bar does not include a sub woofer-but does include a specially designed Terrace Television mounting kit. 
As one would expect, any and all Televisions that are specifically manufactured for outdoor use are going to come with a substantial cost. This is mainly due to the extensive and necessary features that are provided to ensure that the TV is protected from the differing weather conditions, as well as the multitude of differing features that allow the viewer to have the best visual experience available. 
In conclusion, the price that is attached to the Samsung Terrace Television is solely based on the features and quality that Samsung has provided. The high-quality, as well as the one of a kind cinematic experience the viewer receives from the Terrace TV is definitely worth the price.