Mirror mazes are a fun activity for family and friends for entertainment.
So lets learn a bit more about these mirrors and see what it different out  there in the world.
How does a Mirror Maze work?
Mirror mazes themselves are a pattern combining several characteristics of geometric patterns.
They show a repetition, symmetry and tessellation using repeated equilateral triangles.
Many mirror mazes have you bump into mirror walls, perceiving false spaces ahead.
Sometimes you can see multiples of you or not see yourself at all.
It can leave things distorted.
The walls' angles and the geometry of the mirrors' reflections turn you invisible at different moments.
These type of mirror mazes can really disorient you.
Also referred to as house of mirrors, a maze-like puzzle.
Who Invented the Mirror Maze?
Adrian Fisher is the person who invented the mirror maze.
He worked on a lot of different puzzles and mazes and is responsible for more than 700 mazes in 35 countries since 1979
Overall he created 48 mirror mazes
When creating these mirror mazes, he also pioneered the extensive use of thematic chambers within mirror mazes, to achieve Mirror Maze Adventures.
What types of mirrors are used?
The type of mirror used for many mirror mazes is the plane mirror which has a flat surface.
Curved mirrors are also used to produce a magnified or diminished image or focus light or simply distort the reflected image.
Choose a mirror maze design that allows you to change your themes so you can make a profit any time of the year.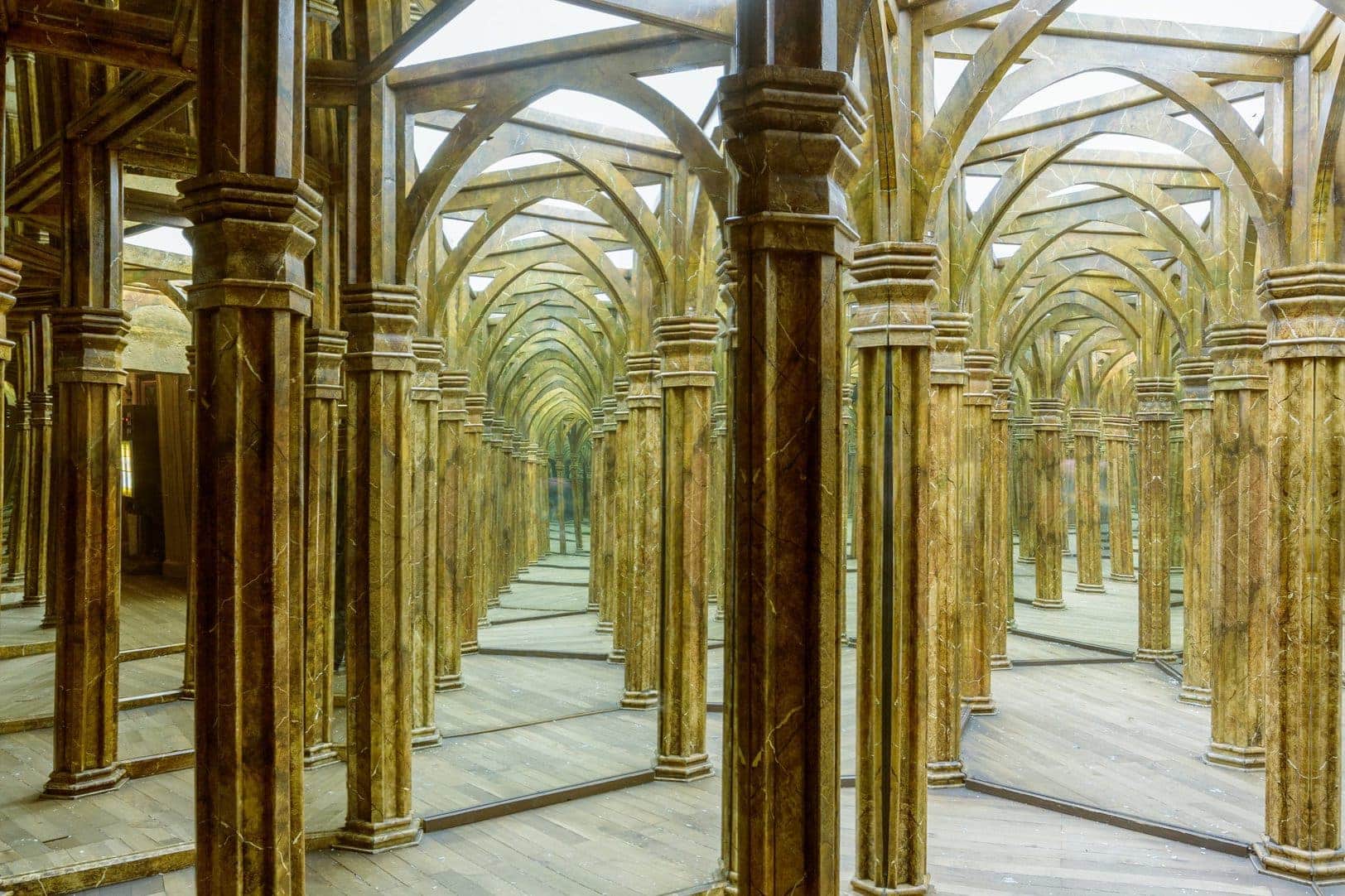 They can be a great investment, but mainly in certain seasons.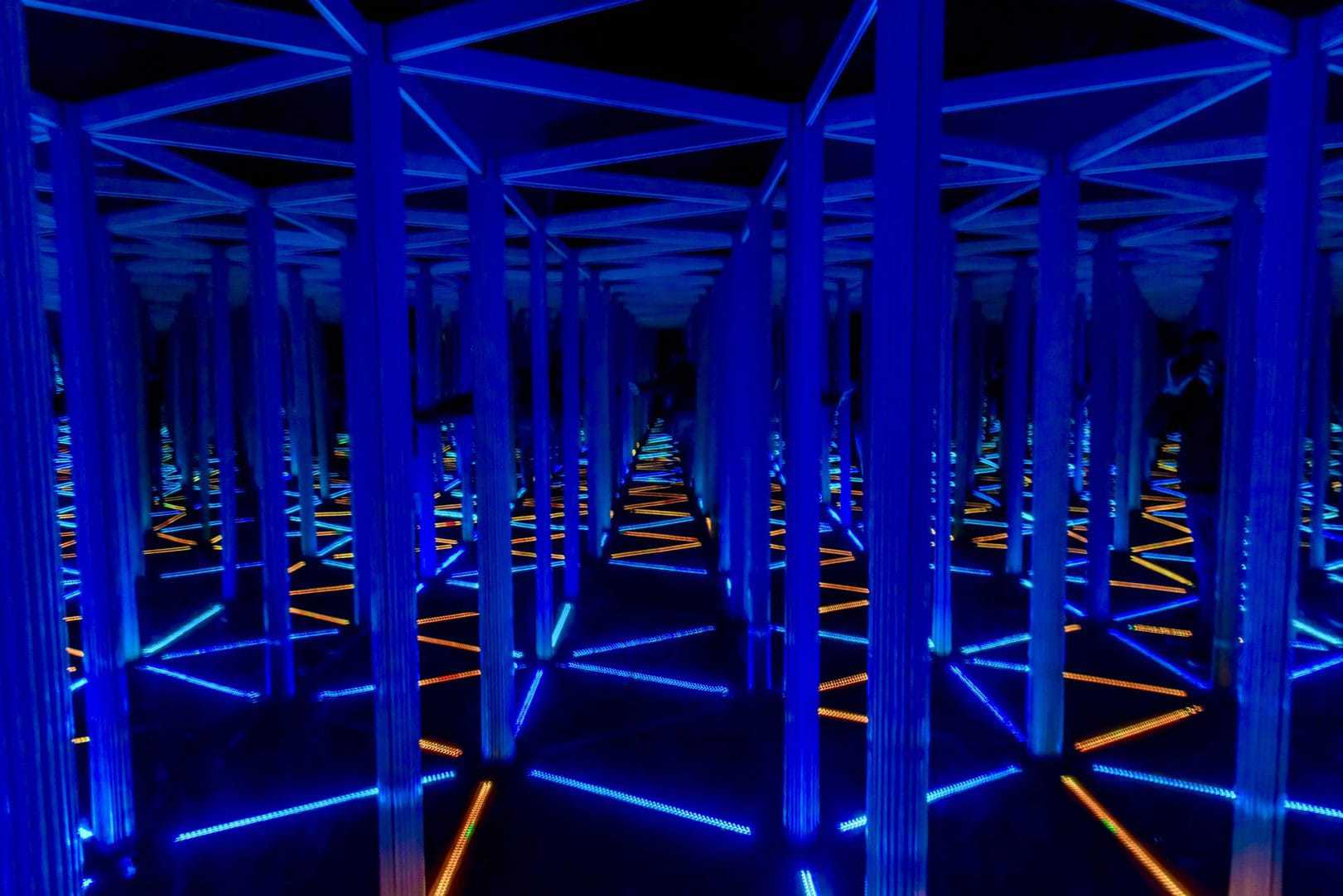 Know how much space and cash you have to spare.
You don't want to run short on either.
Understand the cost means looking into the size of the maze and theme.
Is can be dangerous to build your own maze, especially if it's your first time.
You want to make sure there is no cause for injury when your installing.
You don't want the cost to increase because of that.
It's just best to hire a professional to help build one.
Building a mirror maze can be complicated.
How long will it take to go through a Mirror Maze?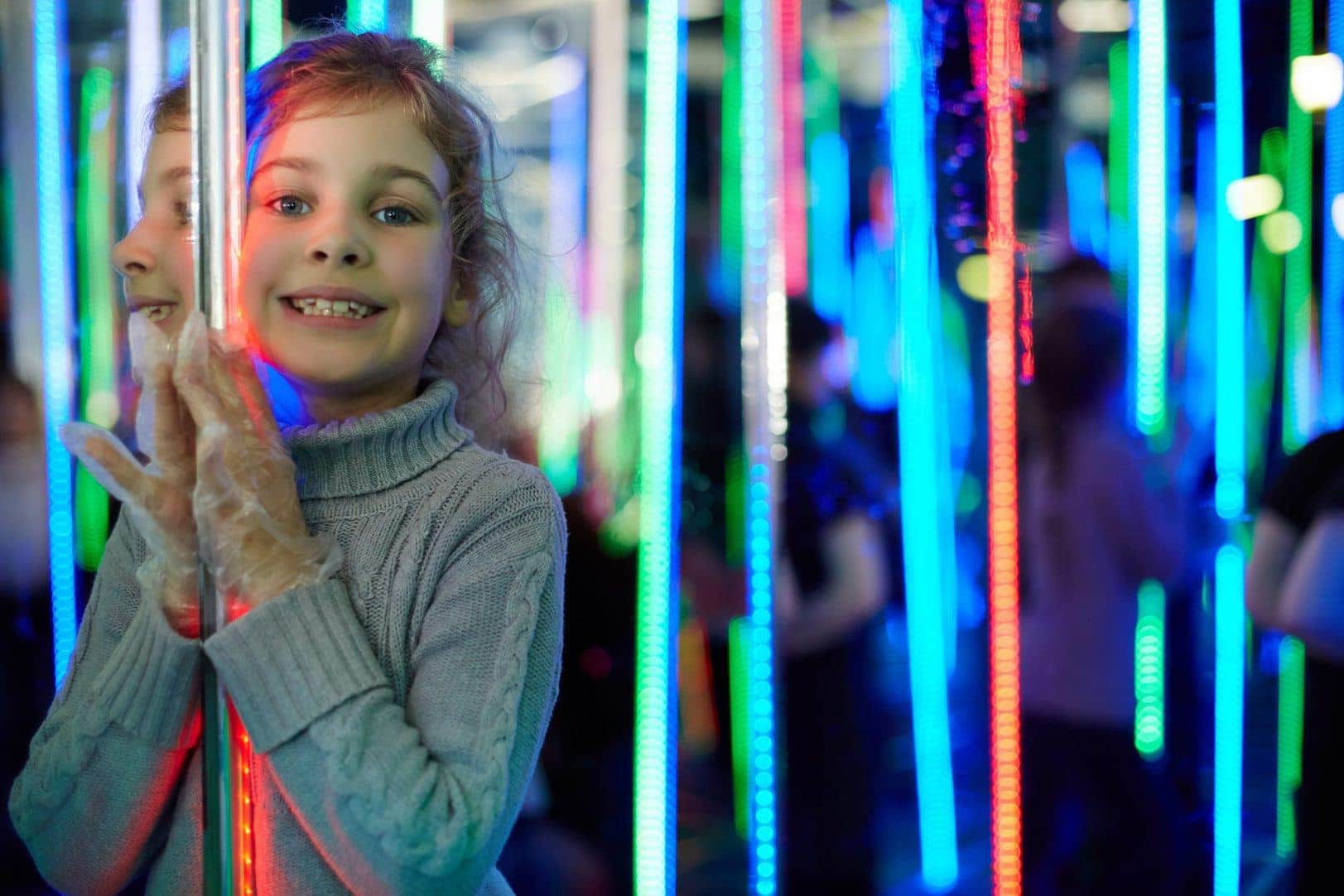 Most mazes can be a little difficult but it doesn't take too long to go through one.
The Ripley's Mirror maze actually takes an average of 3 min to go though.
Most other Mirror Mazes can also take up to 10 mins to go through.
It really depends how much fun you want to have when going through them.
Mirror Mazes around the world!
With more than 700 different types of mazes in 35 countries, there are at least 48 that are mirror mazes.
Here are some of them around the world.
Birmingham Sea Life Centre Mirror Maze, Birmingham, England;
Edinburgh Dungeon Mirror Maze, Scotland;
London Dungeon Mirror Maze, England;
Longleat House Mirror Maze, Wiltshire, England;
Louis Tussauds Mirror Maze, Blackpool, Lancashire, England;
Warwick Castle Dungeon Mirror Maze, Warwickshire, England;
Wookey Hole Caves Mirror Maze, Somerset, England;
York Dungeon Mirror Maze, York, England;
'Punch and Judy' Mirror Maze, Dreamland Theme Park, Margate, England, 2015;
Mirror Maze, Haunted House, Legoland, Billund, Denmark
Peaugres Safari Park Mirror Maze, Annonay, France
Berlin Sea Life Centre Mirror Maze, Berlin, Germany
Hamburg Dungeon Mirror Maze, Hamburg, Germany
'Police Station Breakout' Mirror Maze, Legoland Deutschland, Germany, 2015
Amsterdam Dungeon Mirror Maze, Netherlands;
Skyline Caverns Mirror Maze, Front Royal, Virginia, USA;
Noah's Ark Water Park Mirror Maze, Wisconsin Dells, USA;
Cannery Row Mirror Maze, Monterey, California, USA
'Palace of Sweets' Mirror Maze, Wildwood, New Jersey, USA
'Hannah's Maze of Mirrors', Hollywood Wax Museum, Pigeon Forge, Tennessee, USA
Elusive Butterfly Mirror Maze, Butterfly Wonderland, Scottsdale, Arizona, USA, 2013
Coral Reef Mirror Maze, Gran Plaza Mall, Guadalajara, Mexico, 2011
Candy Mirror Maze, Chetumal, Mexico, 2011
Egyptian Mirror Maze, Monterrey, Mexico, 2011
Pirate Mirror Maze, Pachuca, Mexico, 2011
Squirrel Mirror Maze, Harbin, China, 2015
Imax Theatre Mirror Maze, Hyderabad, India
Disco Club Mirror Maze, Gurgaon, Delhi, India, 2011
Ali Baba Mirror Maze, Esselworld Theme Park, Mumbai, 2015
Huistenbosh Park Mirror Maze, Japan;
Seibu Park Mirror Maze, Japan;
Spanish Village Mirror Maze, Japan;
Tobu Zoo Mirror Maze, Japan
Tokyo Dome Mirror Maze, Japan
Tokyo Tower Mirror Maze, Japan, 2015
Ripleys Mirror Maze, Pattaya, Thailand