Height
Width
Thickness
Unit
Tempering
Edges
Quantity
Calculate
Unit $
Order
$0.00
Smart Mirror Product Information
A smart mirror, also known as a magic mirror, displays the time, weather, calendar, news, and social media updates. The magic is created by placing a transparent mirror over a tablet, monitor, or TV. The technology is driven by a Raspberry Pi or PC, combined with voice recognition and touch technology.
Smart Mirror – Complete Guide
Looking to build a smart mirror? Order the smart mirror by itself, or order a framed mirror to fit over your display. We specialize in manufacturing glass and acrylic mirrors that are superior to standard 2-way mirrors. Unlike 2-way mirrors, which block most of the light, smart mirrors provide crystal clear text and graphics.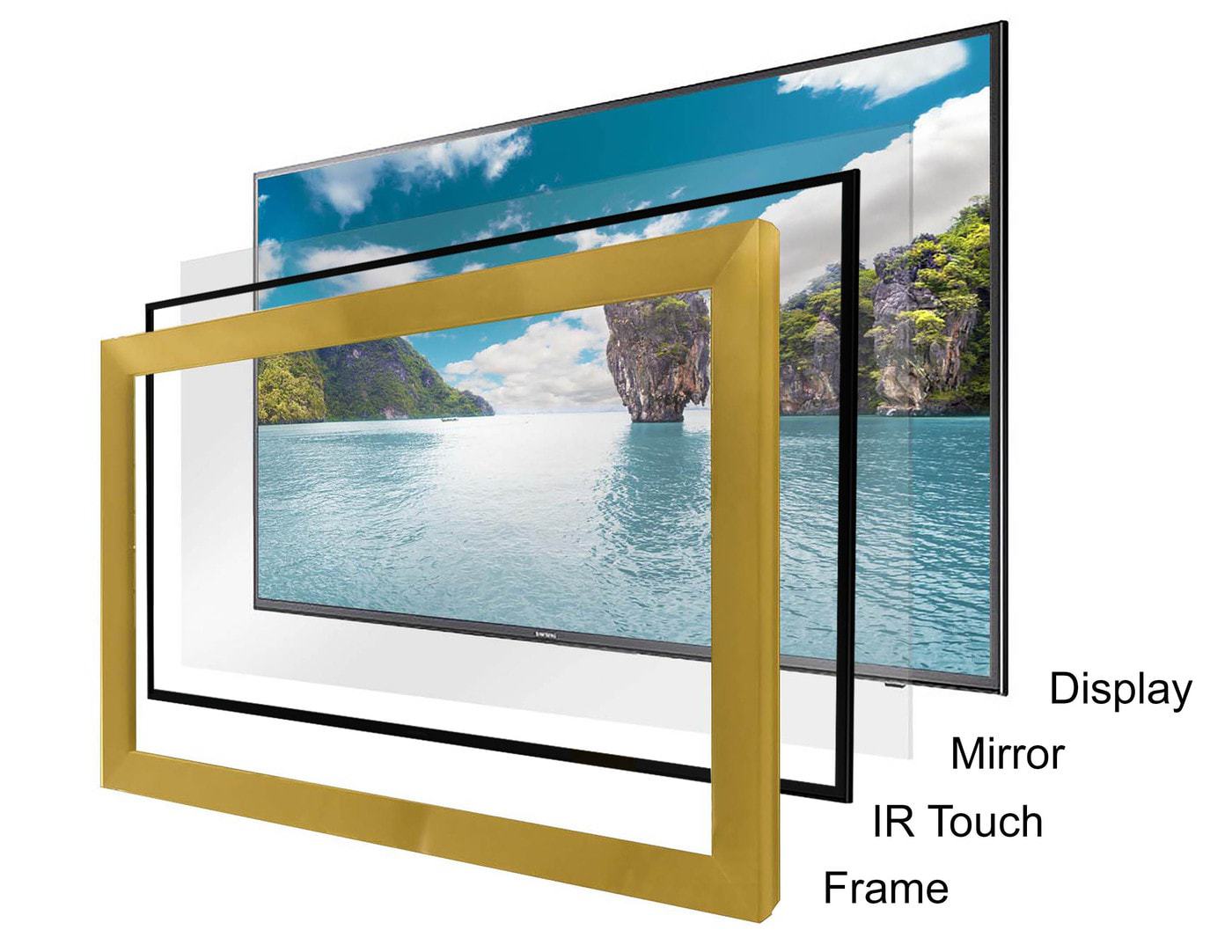 On this page, you'll find complete step-by-step tutorials on how to build a smart mirror, how to add touch and voice capabilities, and free software for Raspberry Pi, Windows PC, and Android.
Mirror Only
70% Reflective
30% Transparent
Custom Sizes Available
Custom Smart Mirror
Large Smart Mirror TV
Plug & Play Solution
Easy Installation
The mirror & frame
A monitor, tablet, or TV
Raspberry Pi, tablet, or PC.
IR Touch overlay or PCAP film (optional)
IR Repeater (optional)
Superior optical quality
Your choice of glass or acrylic
70% Reflective, 30% Transparent
Matches a standard mirror
Careful packaging & fully insured
Waterproof (Glass)
Works with touch overlay
Cuts like regular glass
Edges sanded for safety
Easy to clean
Scratch-resistant coating
Polished & beveled options
Temperable for extra strength
Better quality than 2-way glass
Ships immediately
Hidden TV Bathroom Vanity
Interactive Commercial Displays
Augmented Reality Displays
Digital Signage
Advertising
Touch Overlay Displays
Voice Activated Magic Mirror
Home Monitoring & Security
Haunted Magic Mirror
Check out our glass samples by holding the mirror in front of your display. Tempering is ideal for installations where the glass could be broken, such as a table, door, or public space. Beveling adds decorative flair to the edgework.
Maximum Size: 96″ x 126″
Temperable Pyrolytic Coating
One Side Transparent
Clear Glass Substrate
Thickness: 5mm
70% Reflective, 30% Transparent
Can be laminated
Cutting Accuracy +/- 1/16″
Contact A Smart Mirror Expert
We started building Smart Mirrors over 15 years ago with a Windows PC, eventually upgrading to Raspberry Pi and MagicMirror2 software. Every day, we've been perfecting our support, manufacturing, and packaging to ensure a flawless experience for our clients. We've built an extensive library of DIY guides, specifications, demo videos, and frequently asked questions.
Shipping and Delivery Time
Our team is standing by to process your order right away. Cutting and packaging is usually done within a couple hours. If your glass requires tempering, please allow one week for manufacturing.
Shipping Location
All orders will ship directly from our factory at 5232, Airport Hwy, Toledo, OH 43615.
Office Hours
Mon-Fri 9am-6pm EST
Lead Times
1 Day until shipped for custom sizes Up to 63″ x 96″
1 Week until shipped for sizes larger than 63″ x 96″
1 Week until shipped for tempered smart mirrors
Urgent processing available for time sensitive orders
Transit Times
FedEx Ground – 2 to 5 business days
FedEx Economy International – 2-5 business days to most locations
FedEx Priority International – 1-3 business days to most locations
For international transit times, we can estimate it more precisely with a postal code or complete shipping address – contact us for exact delivery dates.
Frequently Asked Questions
Can you cut different shapes?
Yes, we can cut glass to various sizes and shapes. The acrylic is available in rectangles and squares, but is easy to cut or drill using standard tools. Please email us a drawing and we will quote it for you.
Which is better, glass or acrylic?
Glass is easy to clean, scratch resistant, and a flatter mirror. The acrylic, while susceptible to scratching, is lighter and safer. The acrylic is also bendy when you get above 24″ x 48″ in size.
Do you offer wholesale discounts?
Please email us with the size and quantity you're looking for and we will send a price quote and vendor application form.
What size should I order the mirror?
The great thing about the Glass Smart Mirror is that it is highly reflective, so you can do any mirror size and use a smaller display behind the mirror and it will vanish completely. In our most popular framing instructional guides, we are cutting the mirror to be the same size as the overall size of the TV.
Which is better to use, a monitor or TV?
If you're making a small smart mirror, a tablet is often the best choice because it is thin and smart mirror apps are easy to find now. For a large smart mirror, it's generally better to use a TV, preferably a thin TV.  A TV typically has a flat backside and you can turn it on and off with a remote straight through the mirror.
Can the mirror be larger than the display?
Yes, if you're not using a touch overlay. Simply back paint the backside with black paint everywhere except the TV and IR sensor. We recommend masking off the area with blue painters tape, and using a paint that works well on glass such as Black Rust-Oleum UltraCover 2x.
What are the advantages/disadvantages of tempering?
Tempered glass is heat-treated to increase the strength 10x. In addition, if tempered glass should break, it breaks into small shards which are less sharp than regular glass. The main disadvantage of tempered glass is that it causes distortion, similar to a fun-house mirror effect. For that reason, it's generally not recommended unless going in a public installation.
How close of a match is it to a standard mirror?
The glass smart mirror has been formulated to match a standard mirror exactly when they are side by side. No longer do you need to order matching mirrors for the other mirrors in the room.
Can I drill holes in this material?
Yes, you can drill holes in non-tempered glass and acrylic. Please contact us for a price quote.
What should I use to clean my Smart Mirror?
One of the best features of our glass mirrors is that the mirror coating is extremely durable. You can clean it with standard Glass Cleaner and Microfiber Towels without worrying about scratches. The acrylic is a lot more prone to scratches, but no more so than regular acrylic. Novus 1 cleaner and Polish Mates are recommended to minimize abrasion and repair small scratches.
What is a magic mirror?
A magic mirror is another way of saying smart mirror. It is a screen behind a semi-transparent mirror. You power it with a computer, raspberry pi, or tablet to make it look like the text is floating on the face of the glass.