With many different types of first surface mirror on the market, how do you know you are purchasing the correct option for your project? Don't waste any more time or money. Read our overview of each mirror material to achieve a better understanding of what you may or may not need.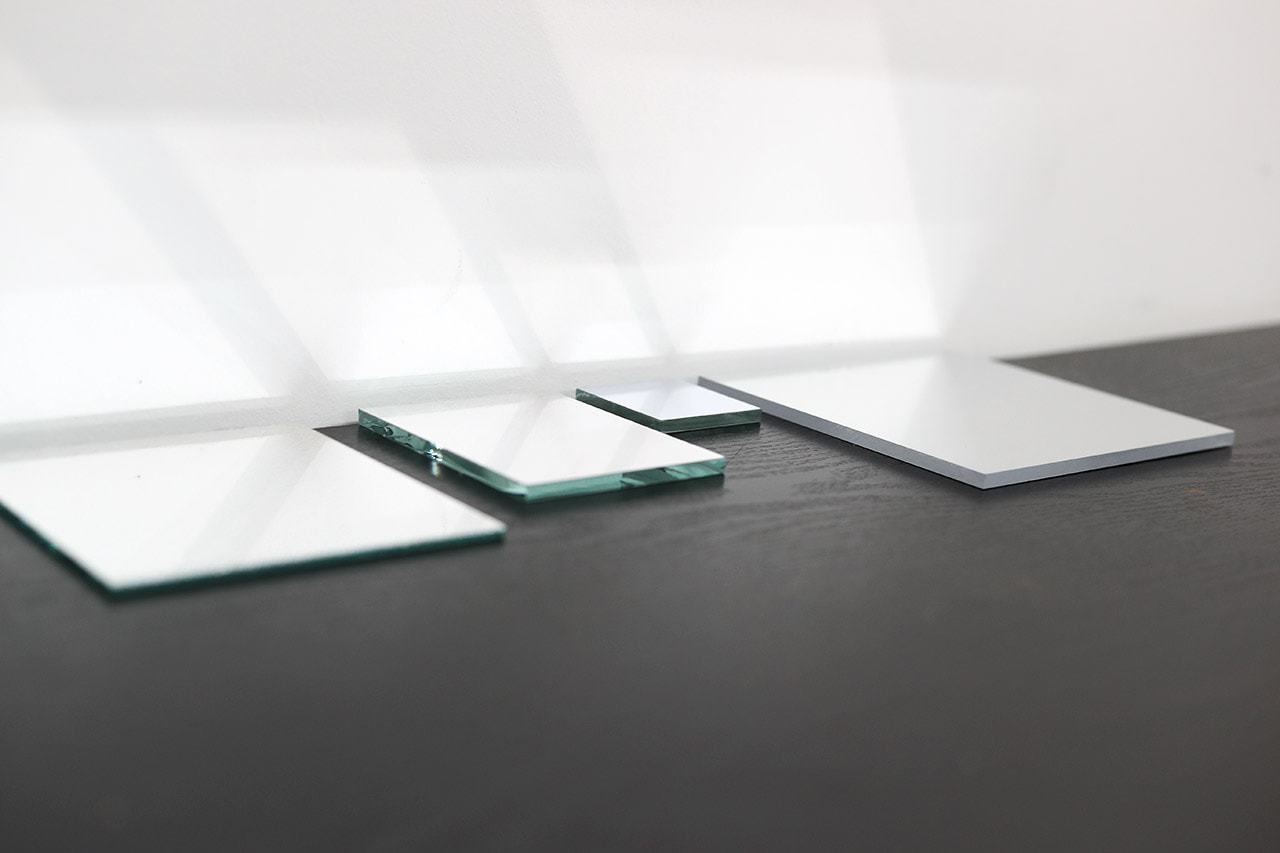 Glass First Surface Mirror Types
First of all, we only supply Enhanced Aluminum first surface mirrors because it is the most durable and very high reflection over a wide range. For engineering and robotic applications, surface flatness is the key factor. For most applications, the 1-wave flatness is more than sufficient to use.
For faster processing speeds and superior reflection when draw lines are a bigger factor, the 1/4 wave and 1/8 wave are preferred because they go through a specialized process to remove draw lines.
When surface flatness is still a factor but also needs to be combined with strength, the Chemically Strengthened mirror is ideal, rather than using Acrylic since that is more for hobby purposes.
Watch our video below or read the transcript.
How to select the best first surface mirror when you need to consider surface quality versus durability.
The most popular option out on the market is glass first surface mirror in 1/4″ thickness. Its affordable and has an enhanced aluminum mirror coating. The flatness is 1 wave per inch. It is flatter than standard float glass. Standard float glass has a flatness of 6-8 waves per inch. In thinner three-millimeter thickness glass first surface the flatness is 6-8 waves per inch as well. This makes the 1/4″ glass first mirror more durable, flatter and the most popular option.
You can use 1/4″ glass first surface mirror for binocular mounts, bar-code scanners, infinity mirror projects and science/engineering applications that require flat and cost-effective first surface mirrors.
If you are searching for an even optically flatter substrate, you would consider the λ/4 and λ/8 glass first surface mirrors. The manufacturing process includes an intricately detailed substrate polishing process. It slowly grinds down the mirror until it achieves a superior flatness. Which is why these two mirror types come in 5mm thickness instead of the usual 6mm.
For nonoptical applications where you are in need of strength and durability over flatness, you would opt for the acrylic first surface mirror. Acrylic first surface mirror is great for hobby projects including kaleidoscopes, digital signage, and product displays. Any nonoptical applications are ideal for this material. The acrylic material increases in mirror distortion the larger the size.
Our Chemically Strengthened glass first surface mirror is a great in between if you need durability and surface flatness. This process includes the glass being submerged in a bath containing a potassium salt. This causes sodium ions in the glass to be replaced by potassium ions from the bath solution. Chemically strengthened first surface mirror is 6-8x stronger than standard float glass.
Glass First Surface Mirror Gallery
Important questions to ask yourself before deciding the right first surface mirror will be,
What flatness do I require?
What is my desired surface quality?
How and where will I be mounting the mirror?
Once these questions are answered you will be pointed into the correct dimension on the perfect material for your project. Hopefully, this post helps in your quest for a first surface mirror. If you have any further questions feel free to contact us.